Rough Science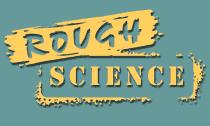 Host
Co-hosts
Rough Scientists: Mike Bullivant (1-6), Hermione Cockburn (6), Vanessa Griffith (1), Jonathan Hare (1-6), Mike Leahy (1-3), Anna Lewington (1), Ellen McCallie (2-6), Iain Stewart (4), Kathy Sykes (2-5).
Broadcast
BBC for Open University, BBC2, 26 May 2000 to 7 December 2005 (30 programmes in 6 series)
Synopsis
Five scientists on an island in the middle of nowhere. Are they working on a top-secret rocket silo for an evil mastermind intent on world domination? Only in their dreams.
Rather, they are being given silly things to do by Kate Humble. Originally announced as Castaway Science but - presumably - renamed after Castaway 2000 proved not to be a hit after all, Rough Science is approximately akin to The Great Egg Race, with a more exotic location. The emphasis is heavily on education (this is an Open University production, after all) as the team attempt the seemingly impossible armed with a few useful odds and ends flown in specially, and whatever they can find in the local environment. Survivor it certainly isn't - there's no deprivation, nobody gets voted off, and the series isn't even filmed in a single block. What there is, though, is a lot of ingenuity. Ask the team to produce anything from a suncream to a liquid-cooled spacesuit, and they'll come up with the goods. Well, usually. They have three days to complete each challenge, which is pretty generous by the standards of most technological gameshows.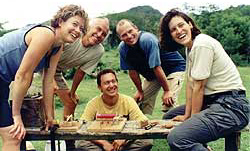 Scientists, roughly. Left to right: Sykes, Bullivant, Hare, Leahy, McCallie.
Locations
Series 1: Capraia, Mediterranean
Series 2: Carriacou, Carribean
Series 3: Westland National Park, New Zealand
Series 4: Death Valley, California
Series 5: Coast of Zanzibar
Series 6: San Juan mountains, Colorado
Key moments
Any time one of the team's creations fails to work. Though conversely, Ellen McCallie "moonwalking" in Death Valley was quite a triumph, and pretty darn cool.
Trivia
In case you see a repeat of series 3 and wonder what happened to the gold pendant afterwards, it was given away in a competition on the Open University website.
Merchandise
Web links
Jonathan Hare - Creative Science Centre (click on "TV Work" link)
Feedback