Kate Humble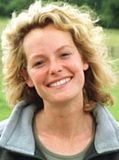 Biography
Kate used to travel widely, working in various jobs from model to waitress to assistant on a crocodile farm.
She worked her way up the TV industry since the age of 20, from production secretary to presenter. She used to be a regular reporter for BBC magazine shows such as Holiday and Top Gear, and nowadays is particularly associated with animal programmes such as Animal Park and Springwatch.
Trivia
Her favourite places in the world are the peaceful deserts.
She is married to Ludo Graham, who's got a clutch of game show credits of his own: he produced Time Commanders, directed Around the World in 80 Seconds, and was the narrator for Grandad's Back in Business.
Contact
c/o Rosemary Scoular at United Agents, 12-26 Lexington Street, London W1F 0LE
Web links
Feedback