Safeword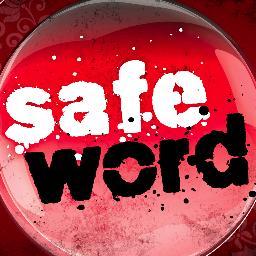 Host
Co-hosts
Team captains: Katherine Ryan and David Morgan
Broadcast
STV Productions in association with GroupM Entertainment for ITV2, 23 July 2015 to 7 July 2016 (13 episodes in 2 series)
Synopsis
Celebrities have their public profiles scrutinised and their social media accounts hijacked with their teammates poking around their personal and professional lives. The only thing that can help the celebrities stop the embarrassment is by using a "safe word" to make it all stop.
After introducing the panel and celebrity guests, host Rick Edwards establishes a "safe word" - something embarrassing that the celeb can call when they want to bring a round to a close.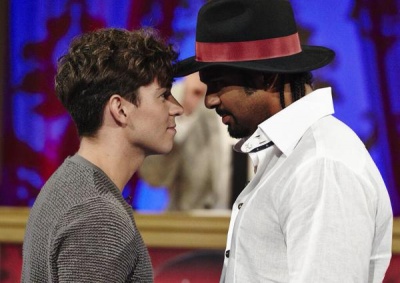 Joey Essex and David Haye appeared in the first episode.
The first round, "Hacked", involves specious nonsense being posted to the celeb's social media accounts. For instance, a member of a pop group might post "I'm leaving the band", that kind of fib. The round works on interaction between genuine fans and the duplicitious team who are impersonating their idol.
In subsequent rounds "Burned" and "Slam Down", the panelists mock the opposition celebrity, and the two guests come up with one-line insults. These rounds are contained in the studio, they don't attempt to mislead the wider public.
This classes as a game show because points are awarded, and a winner is declared. The losing celeb disappears into the scenery, and the winner addresses the ITV2 viewers for a moment.
Safeword polarised viewers. Some said, "never laughed so much in my life" and "Safeword had me rolling on the floor". Other comments were "Is it meant to be funny?" and "Rubbish TV show, encouraging verbal abuse". No-one had a tepid opinion.
Inventor
Developed by STV Productions.
Theme music
Scholar and Stix were credited as "Composer".
Web links
The show publicised the hashtag #itv2safeword. Mmm, catchy.
If you've been affected by the issues raised in this programme, there are some bullying helplines.
Feedback