Stand by Your Man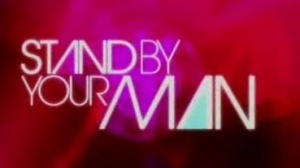 Host
Brian McFadden and Laura Jackson
Broadcast
ITV Studios and GroupM Entertainment for Channel 5, 13 June to 15 August 2014 (10 episodes in 1 series)
Synopsis
"A cross between Geordie Shore and Take Me Out", according to the pre-launch publicity, it was "set to make even the biggest exhibitionist wince."
The basic idea is simple. Forty single women line up in front of four men. After half an hour, the most popular gent gets to pick someone from their queue, and go on a date with them. The programme starts with a "look at what you could be winning" picture, and finishes on something embarrassing about the men.
Between these rounds is "Pillow Talk", in which each of the gentlemen is lies in a double bed with someone from another player's line. She asks him questions. Everyone keeps their clothes on throughout; Stand By Your Man might air around midnight, and it might have one thing on its mind, but it's not overtly rude.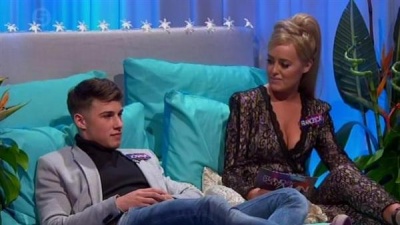 It's the dating show where people talked on a bed.
Host Brian McFadden said he was nothing like Paddy McGuiness. "There's no cheesy catchphrases", reported the stool-dweller, tempting us to watch the show enough to find a catchphrase. We didn't find one, but we did suffer Brian's problem with his autocue. Or was that a bad joke by scriptwriter Richard Easter?
Without exception, the prizes were cheap rubbish. Back to the pre-publicity, when Laura said, "We told them the date was a safari and they thought it was Africa. It was actually a safari park in the north of England. And one of the boys chose a spicy date so he thought it was India. It was actually an Indian meal for two round the corner."
No-one is ever going to confuse Stand By Your Man with intellectual television. It's a bit of cheap filler, made for the post-pub crowd, and best enjoyed after a large number of drinks.
Catchphrases
"Ladies, stand by your man."
McFadden: "It's not official until we hear from the big man upstairs."
Trivia
Filmed at the Dock 10 studios in Salford.
Sponsored by Sodastream.
The show credited six make-up artists and four producers.
Theme music
Banks & Wag
DJ Arthur Gourounlian spun records at the side of the stage.
Web links
The show used @StandByYourMan. This was a reuse of @CelebritySuperSpa from Celebrity Super-Spa. They didn't bother to delete the old content.
See also
Feedback