Step Up to the Plate (2)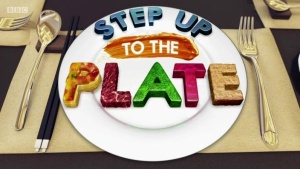 Host
Allegra McEvedy and Fred Sirieix
Broadcast
Lion Television (an All3Media company) for CBBC, 12 August 2019 to 20 April 2021 (28 episodes in 2 series)
Synopsis
Culinary queen Allegra McEvedy and suave service star Fred Sirieix test young contestants to discover if they have the skills to run their own restaurant.
Split into two teams (the "kitchen crew" cook, the "restaurant crew" handle the customers), our youngsters take training from the best in the business, then head out to run a small restaurant with celebrity customers and tricky requests.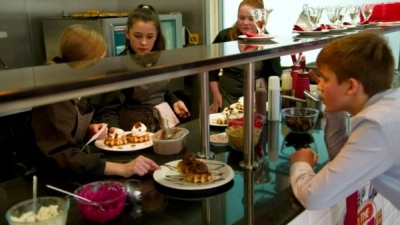 The K-crew prepare plates of waffles.
The best performers from the heats come back for semi-finals and a final, where the pressure is raised and eventual champions named.
The show is positive and encouraging - Allegra and Fred give feedback while the meal's being prepared and served, both criticism and praise. The result is a show that is joyful and positive and supporting, celebrating what the children have accomplished while briefly acknowledging where there's room for growth.
Champions
Mackenzie (kitchen crew) and Charlotte (restaurant crew)
Trivia
The winners are awarded special dinner plates, decorated with the show's logo.
Web links
See also
Weaver's Week review and comparison with The Chefs' Brigade.
Feedback