Weaver's Week 2019-09-08
Last week | Weaver's Week Index | Next week
This week, we review two shows tangentially related to cooking. They're not full of practical advice, there's very little knowledge for the viewer to take away. Instead, we get to see strangers doing their best under difficult circumstances. This column will demonstrate how one of the shows was positive and inspiring, and the other left us cold.
We'll also signal that television has fallen into a profoundly irritating habit, by spending 5% of the programme's running time unveiling a concept that needs no more than the briefest of introductions. This is the Week's review of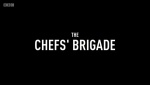 Expectation for BBC2, 30 July – 3 September
Seriously, the start of this show is taking the michael. They spent three minutes explaining the concept of the programme, and showing a huge amount of footage from within the show. Even after the incredibly long introduction, we're still not sure what to make of this series.
Jason Atherton is "the chef" of the title, and his "brigade" is a group of ten young cooks who he has trained and will trust completely. They're meant to work as a unit, for the glory of the team not the individual.
In each episode, Jason will assign people to the positions he thinks are correct – "sous chefs" one space beneath him, "chefs de partis" and "chefs de commis", and a kitchen porter who won't cook so much. It's a hierarchical structure, where everyone knows their place and there are clear lines of command – and praise, and blame.
Each week, Jason's "brigade" will go into a posh restaurant somewhere in Europe. They'll learn about the house dishes, and make them for the approval of a panel of judges. The night before, while Jason's team were practising their dishes, the same judges ate the same menu at the same restaurant. Whichever "brigade" receives the better mark is declared the winner. Let's hope it's Jason's lot, eh?
So, this is a show about making a better restaurant dish than the resident cooks? Right? Not entirely.
As the show moves from week to week, Jason will make changes to the line-up. Some of the strongest performers will move to higher places in the kitchen's strict pecking order. Some of the weakest will move down, to be the emergency additional pair of hands when required. Some will be off the show, sent home and replaced by someone else.
So, this is a show about building the best team to complete a task? Right? Not entirely.
From week to week, Jason and his squad go from one place to the next. Over the course of the series, we see local delicacies from Crete, from San Sebastian, and ultimately the haute cuisine of Paris. Is it a show about how to cook some of the fanciest dishes yet invented? No, that's about the one thing we're certain of. Viewers don't get recipes to make the best dishes from the Hotel du Snobb. Nor do we get any particular insight into why the food world's fashion police have fallen over themselves for this place rather than Maison du Mac down the road.
While each individual episode of The Chefs' Brigade made some sort of sense, the series as a whole was a difficult mixture. This column felt bombarded with loose comparisons – a mix of Masterchef and The Apprentice, with a dash of Coach Trip thrown in. Because we didn't see the regular restaurant, we couldn't step into the judges' shoes. The Chefs' Brigade forced us to identify with Jason and his merry band.
Every television show has to tell a story. Any drama programme – from Doctors to Downton Abbey – will tell an obvious story. The news will tell a story, selected highlights from the rest of the real world that you're not personally seeing. The Chase tells a story, four contenders in ritual combat against a quiz deity. The Chefs' Brigade told a decent story each week – a band of plucky outsiders against trained cooks – but was less clear from one episode to the next.
Changing positions on the team had merit, cookery is less specialised than association football. A star striker might not be a good left-back, but someone who has the talents for one week's dish may not be required to cook another week's food. Rotating the players also has merit, we can see who was doing well and who was not. But it meant that many of the cooks were background players in their own show, and some faces never stepped out of the shadows.
Fundamentally, we were confused as to the point of The Chefs' Brigade. What was the end product meant to be? Was it to construct a group of cooks who would work under this specific chef, who would support Jason Atherton in his work? Or was it to provide training for promising young cooks, in a made-for-television hothouse format? Was it to maximise the experience, not be sent home, and survive to the end of the tournament? Was it to win the week's challenge? All of these are valid goals, and at times we felt that the series wanted to push all of them as the final goal. But many of these aims are not compatible with each other; to win the week requires a different skillset from being good enough not to be sent home.
The show's name carries an apostrophe, The Chefs' Brigade is a "brigade" (unit, group) of chefs. In some listings sources, this programme was given as The Chef's Brigade, a "brigade" belonging to a particular chef. Cookery shows are all about precision, and we're sure that they selected the correct title for the show they wanted to make. It's not the show as this column understood it. It felt like the show was all about Jason and his new underlings: Jason made all the decisions, was always addressed as "Yes chef", and was by common consent the alpha cook of the group.
We were not impressed with the presentation. It's the music that annoyed us, a ceaseless background hum, hammering home its emotional points with no subtlety at all. That's not a slight on Wayne Roberts' composed score, but on the way the production team chose to layer it over the show like a cloying chocolate sauce. Even on the savoury dishes, cloying chocolate sauce. Anna Maxwell Martin was the narrator, given a script that added little to what we could already see ourselves, yet used many words to say it. When we find ourselves reaching for the mute button and subtitles just to understand the show, there is clearly something wrong with it.
Ultimately, we were not at all fans of The Chefs' Brigade. The show didn't make its point clear, had too many background characters suddenly arriving on screen, and was annoying to watch. These elements combined to make a thoroughly tedious viewing experience, and one we don't intend to repeat.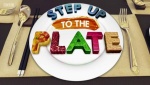 Lion TV for CBBC, 12-30 August
Tucked away in the summer holiday schedule was CBBC's own restaurant show. Effectively two contests in one, Step Up to the Plate tested some competitors in the kitchen, and other competitors as restaurant staff.
Heats were split over two episodes. In the first episode, the "kitchen crew" under Allegra McEvedy were introduced to the dishes they'd be cooking. The "restaurant crew" under Fred Sirieix took control of the "service", welcoming guests and passing on their food. The groups have already chosen the theme for their restaurant, and it's been decorated by the set designers. Looks far more welcoming and fun than these expensive oat cuisine places.
Allegra takes her cooks into the kitchen, and helps them learn about how to cook the chosen dishes – two mains and two sweets in the heats, a larger selection in the later stages. The restaurant staff are learning about some "mocktails" – interesting non-alcoholic drinks – and then get to hear about all of the dishes.
All of this is interspersed with very brief profiles of the contestants. It doesn't fill a full show, of course, so they bring along some CBBC-friendly comedians to act as "Difficult Diners". While there are only two people in the restaurant, they're deliberately as annoying and uncontrolled as possible. Fall asleep? Wander up to the cooking area? All of that. While this isn't entirely realistic, it's not a gazillion miles away from the real world.
In the second episode, the crew of eight are to lead the restaurant – Fred and Allegra will watch what's going on, and step in if things are falling apart. Each of the cooks has their own dish, except that one is the "head chef", lending a hand to all of the dishes and keeping everything on track. The restaurant crew each look after three tables, deal with the customers and keep out of each other's way. Oh, and there's a CBBC star amongst the guests, one the contestants might not have been warned about.
As the meal continues, we see where things go well, and where mistakes are made. Things go well, and Fred makes his pleasure clear. Things go badly, and he gives constructive criticism. In the kitchen, we see the stress of things coming up and down, with orders and times and everything going on at once. The atmosphere is always one of support, encouragement, and giving the little word to bring out the best in someone.
"It's a bit slow, but we appreciate it" seems to be the order of the day. These are young cooks and waiters, learning and practising and visibly getting better as the show goes on. It's not like The Chef's Brigade, where all of the cooks are already at the top of their game and we're not going to see improvement during the show.
Grown-up shows would gauge success by how much money they took, or they'd ask the diners to rate their experience on a totally subjective scale. Step Up to the Plate works out success on the observations of Allegra and Fred, judges and critics and mentors and friends. By the end, half of the kitchen crew and half of the restaurant crew are selected to go through to the next phase.
We don't see the cooks practising on their dishes, indeed we don't see the cooks learning the dishes at all. Are these dishes they've brought with them, or learned off screen? We may never know, and for the CBBC audience it doesn't really matter. Instead, Step Up to the Plate tells its emotional journey – these young people work hard, and achieve greatness through their effort. And it shows just how hard people work in a restaurant, perhaps something not obvious to the young viewers.
Final score: did we enjoy Step Up to the Plate? We did. It was a light and entertaining show, with a clear structure, and it was positive from start to finish – in a way only children's television allows itself to be. In all seriousness, we wonder if they've thought about making a version for an older audience, empowering young cooks and waiters in the next generation up.
This Week and Next
Two recommissions from the BBC. Catchpoint is renewed for a second series, it's the one where Paddy McGuinness asks people to answer questions by catching a ball. And, as if there wasn't already enough cooking on the telly, Ready Steady Cook is also coming back. Rylan Clark-Neal is the new host, the format is still speed cookery on a budget, and we're promised a one-month series in daytime next year.
Waar is de Mol? Merel Westrik, defending saboteur on AVROTROS's massive show, has left her job reading news for NPO. She'll present a current affairs talk show on RTL's channel Ned5.
BARB ratings in the week to 25 August.
Coronation Street remains the most popular show (ITV, Mon, 6.65m). BBC1's Peaky Blinders had 6.25m (Sun). Top game show is now Who Wants to be a Millionaire (ITV, Sun, 3.25m).
Just behind are Who Dares Wins (BBC1, Sat, 3.2m) and The Chase (ITV, Wed, 3.15m). Dragons' Den led on BBC2 (Sun, 2.35m), Channel 4 had the final of Jade (Wed, 2.15m).
Other new editions: University Challenge (BBC2, Mon, 2.15m), Interior Design Masters (BBC2, Wed, 1.8m), The Chefs' Brigade (BBC2, Wed, 1.2m), and Mastermind (BBC2, Fri, 770,000).
On the digital channels: A League of Their Own (The Satellite Channel, Thu, 840,000), QI XL (Dave, Thu, 380,000), Masterchef Down Under (W, Fri, 300,000). CBBC's Step Up to the Plate is the next new commission (Fri, 117,000).
For fans of lovely telly, The Great Model Railway Challenge sets out on a new voyage of adventure in miniaturised form (C5, Fri). Bear Grylls hosts Treasure Island (2) (C4, Sun), a prize version of his castaway series. We're interested to see Cooking Up a Fortune (C4, weekdays), selling dishes to the retailers. Perhaps they'll be on the shelves of Rylan's Supermarket Sweep (ITV2, weeknights).
The Chase Celebrity Special returns next Saturday (ITV), though beware as Bonnie Langford is involved. Radio 2 has a special edition of Pointless Celebrities, the Popmaster stand-ins (Jo Whiley and Gary Davies) go up against Ken Bruce, and Rick Astley sings his hit "Ruddy big pig".
Photo credits: Expectation, Lion TV.
To have Weaver's Week emailed to you on publication day, receive our exclusive TV roundup of the game shows in the week ahead, and chat to other ukgameshows.com readers, sign up to our Yahoo! Group.