Weaver's Week 2019-09-01
Last week | Weaver's Week Index | Next week
Welcome to the Week's review of the decade. We're going to split the 2010s into six headings:
And if we cover one topic every three weeks, we've enough space to deal with the more topical matters arising.
Shall we begin? Pull up a mixing bowl, grab a spatula,
On your marks, get set, bake!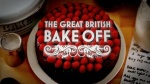 Lest we forget, back in 2010, Greggs still sold – get this! Fast food 'n' pies 'n' pasties 'n' rolls chain Greggs still sold loaves of bread! A bakery that actually sells bread!
At the start of the decade, BBC2 had a new cookery programme. The Great Bake Off was all about baking, the items we'd expect to find in the Greggs of 2010. Sponge cakes. Fancy cakes. Pasties. Loaves of bread. The show travelled from place to place, making items appropriate for the location – a visit to Mousehole would deliver a Cornish cream tea, the trip to Sandwich in Kent asked for bread and filling.
This first series had all of the tropes we'd expect from a cookery show. Mel Giedroyc and Sue Perkins were the light-hearted hosts who are there to put the competitors at their ease. Mary Berry and Paul Hollywood were the serious judges who would give criticism where it was merited, and praise where it was earned. The Voiceover Man explained what the contestants were cooking, how their creations were similar to – and different from – each other.
As the series was recommissioned, there were a few changes. While they still cooked in a marquee each week, they didn't ask the contestants to move from place to place. Voiceover Man's explanations were sharply reduced, and given by Mel or Sue. The hosts made inserts about the history of baking, these were quietly phased out.
But the core points remained the same. The format was static: a "signature bake", an unseen "technical bake", and a flamboyant "show-stopper". A commentary just on the safe side of smutty, in the best traditions of music hall. Most importantly, the show committed to its emotional core. Bake Off was feelgood television, contenders were there to prove what they could do, it's almost incidental that one of them would win. By cutting out the fluff, keeping attention in the tent, we viewers could focus on the central message.
By 2012, Bake Off was the biggest show on BBC2, and its final proved more popular than an England men's football match on ITV. Promoted to BBC1 in 2014, Bake Off captured everyone's hearts. 15 million people saw Nadiya Hussein confirmed as champion, the sort of audience we'd only expect for major sporting events. Bake Off was hot property, pleasant viewing that appealed to all ages. Spin-offs grew: celebrity editions for Comic and Sport Relief, junior shows on CBBC, a professionals tournament, Mary and Paul giving seasonal tips, and latterly a Christmas special.
And then, the indie makers Love Productions got greedy. A remarkable week in September 2016 was dominated by questions about the future of Bake Off. The BBC offered £12.5 million a year, Love wanted twice as much. Channel 4 agreed to pay that exorbitant fee, and took over the programme from 2017.
Only Paul Hollywood made the move to commercial television, and we have to say that Bake Off on Channel 4 is a different programme. Even after two years, hosts Sandi Toksvig and Noel Fielding try a little bit too hard to be Mel and Sue, while Prue Leith is nowhere near as charming as Mary Berry. It's perfectly good television, but we've seen it done better.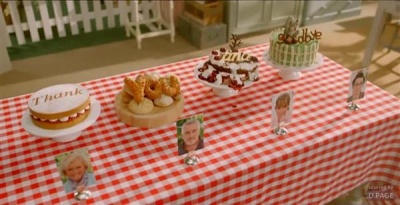 Lovely Productions
Back in the 1960s, anthropologists came up with the term "cargo cult", to describe some of the actions of islanders in the Pacific. They'd been visited by rich white people in their aeroplanes, and those rich white people had brought gifts and things to trade. The islanders liked this attention, and held ceremonies to bring back the giant metal birds and their wealthy occupants. The islanders hadn't realised that they couldn't just replicate the conditions when the aeroplane arrived, there had to be an aeroplane in the first place.
And so it is with hit TV shows. Once the television industry smells a hit, there's a fast reaction as producers and broadcasters try to replicate the success on their channel. We can tell these by the way they deliberately try to emulate the hit's elements, often without understanding why those elements are in place.
Bake Off spawned a notorious "cargo cult" show on ITV. Food Glorious Food was created by Simon Cowell, and supported by a well-known high street chain selling clothes and groceries to grannies everywhere. Food Glorious Food ran in spring 2013.
All of the Bake Off elements were there. Cooks would make their dishes at a chintzy country fair (gingham tablecloths, check), have it appraised by a no-nonsense expert (Paul Hollywood look-a-like, check), and – then what? Some fluff about an overall winner, and mass-producing the dishes. It lacked the cosiness of Bake Off, everything was going to be copied in a culinary photocopier and sold in a shop near you. The show was a high-profile flop, and the winning curry came off the shelves within weeks.
Best Bakery (ITV, 2014-15) was full of rustic charm, bakers from up and down the land made their best loaf, and their best cake, and had them judged and winners came back. It was, if anything, closer to Bake Off than its own Professionals series. Just because something's got the Bake Off name doesn't mean that it's full of sweetness or goodness.
As the decade wore on, we could feel cookery shows become a little more celebratory, a little more cosy and homely. By 2016, ITV daytime's Chopping Block was a residential cookery course, almost apologising for its eliminations. Channel 4's Too Many Cooks made food for stand-up buffets on a small budget, celebrating small portions in an understated way. This year, Beat the Chef invited amateurs to face off against professionals, and celebrate their abilities if they could convince just one person to like their dish more. This is how the lessons of Bake Off seeped into the culture: let us celebrate what we can do, we can all learn, remember to appreciate your good bits.
Mel and Sue didn't follow Bake Off to Channel 4, and we'll meet both of those talents in other areas. Mary Berry remained with the BBC, and was part of Best Home Cook (2018) – we found the programme functional but dull, and functional but dull proved fatal.
The Beeb also made The Big Family Cooking Showdown (2017-18), with as much emphasis on co-operation within the family teams, and cooking to a restricted budget, as on the technical brilliance of the cookery. This one didn't work so well, because a heats-and-final format meant we barely got to see the winner – an error they corrected in the second run.
The most recent entry in cookery class is Step Up to the Plate (2) on CBBC, which combines both sides of restaurants – the kitchen cooking, and the front-of-house meeting and serving people. The children learn what they have to do, a very high standard is demanded, and when it's achieved the praise is fulsome. We'll review that, and The Chef's Brigade, next week.
The Yin and Yang of Cookery
Not all cookery competitions are as pleasant as Bake Off. It's possible to have a competition where the competition is to the foreground. Masterchef Goes Large has been the archetype since 2005, and it has had annual civilian, celebrity, and professional editions, with a children's show on CBBC.
At the start of the decade, this was the only style of cookery show in town. Every cookery show had to be brutal. Celebrity Pressure Cooker on daytime ITV. Ramsay's Best Restaurant on Channel 4. Even S4C's children's show Cog1nio was hard, sharp, brutal. There will be a winner, and everyone will be made to squirm in their seat.
As the decade wore on, so the contests became a little less tense, and a little more fun to watch. Cook Me the Money (Shiver for ITV, 2013) was a good deal lighter than any earlier cookery contest – the host was drawn from finance, not cooking, and the tone was to entertain as much to scare. By 2015, primetime's BBQ Champ felt like a blast from the past, and not in a good way.
The purest example of the form was Marco Pierre White's Humble Pie (UKTV's Watch channel, 2015). Here, a group of contestants would be given a task to do, a dish to cook. They'd be able to see and taste each other's dishes, and try to bluff each other out of the game. After each round, one player could take a small cash prize and leave the game; if no-one did, the worst cook would be eliminated with no prize at all. This show combined the hard-nosed perfection of Masterchef with the "we're all bumbling amateurs" ethos behind Bake Off. The combination was too sharp for viewers' tastes, and the show only lasted one series,
Later the challenges got quite precise – The Box (BBC1, 2016) was the mystery box round from Masterchef turned into a half-hour show. Yes Chef (BBC1, 2016-17) added the concept of a "kitchen", head chef and underlings. And there have been many, many, many more cookery shows – we cannot cover all of them in this article.
Collapsed soufflés
Channel 4 has had one very successful cooking show this decade. Come Dine with Me has continued to show the best – and worst – of dinner parties up and down the land. And while Channel 4 bought up the most successful cooking show, it's also bought up the genre's two most notorious flops.
On paper, The Taste (C4, 2014) should have done brilliantly. Its gimmick is the distillation of a wonderful dish, reduced and diminished until it fits onto a large spoon. From this one mouthful of food, a cook will be judged. There has to be flavour, texture, a whole gamut of sensations crammed into the little china dishlet.
The hosts and judges – television chef Nigella Lawson, extremely French cook Ludo Lefebvre, and travelling master Anthony Bourdain – knew what they wanted to see, and made sure they got it. The auditions were the best bit, inviting the successful chefs into the host's "kitchen", on their team, to be mentored and encouraged by them. A weekly guest picked someone to be safe from elimination, then the worst performers at a technical challenge are to cook again, with the worst leaving.
The Taste had a style and ambience of its own. This column so wanted to love it, but we fell out of love after about four episodes, because it's the same show every week. Worse, the show loses faith in its own conceit – the technical challenge is judged anonymously, but there's no way to hide who's cooked what in the final. It was just a little too brutal for the nice world of Bake Off, but far too homely and polite for the ruthless Masterchef, and falling between those stools proved fatal.
My Kitchen Rules (C4, 2016-17) was imported from a land down under, where it's a massive hit. Over here, not so much. We loved the weekday heats, the fun of having a pop-up restaurant in your living room, decorated for the night. It's like Come Dine with Me for couples, with professional chefs giving their opinion as well.
But then the best couples are whisked off to the My Kitchen Rules Academy, where they're given precise cooking challenges against artificial deadlines. It's got absolutely nothing to do with the rest of the week, but it's how they'll decide the champion at the end of the series.
And then we consider all the little irritating little things they did: branded bags, cymbal swishes all over the soundtrack, a narration that gaslit us into thinking yesterday's slightly below-average performance was a "disaster", and how many of the things we see before the meal can only have been filmed afterwards. It felt dishonest and misleading, and none of us can be doing with shows that lead us up the garden path. 0898-gate is so last decade.
Viewing figures were strong for the dinner party episodes, but fell away as the series got more technical. Because My Kitchen Rules is an imported format, Channel 4 couldn't keep only the bits the audience wanted, but had to take the bits we hated as well. This school dinners model of television doesn't work any more, we can easily pick something else up from the smorgasbord of channels.
And that's the key point about cooking game shows in this decade. We've had a lot of choice, and we've all become discerning viewers. Some of the cakes have unified viewers like no other programme. Some of the spam fritters have been unimaginative television, and deserved to fail. The shows with a putrid aftertaste got left. And the spoon-shaped hedgehogs were just a bit too strange to work.
In three weeks, our review of the 2010s continues with Reality shows: the observational, the contrived, and the dating.
The Weeks of the 2010s: Cookery | Reality | Quiz | Talent | Crafts and Childrens | Entertainments
This Week and Next
In Dubai, The Masterchef Experience restaurant has opened. Its staff include winners and stars from the internationally-successful series. Diners may, for a sky-high fee, challenge the champs to make something out of a box of ingredients they put together. This column does not expect to file an in-person report.
The Rotterdam Convention is an international treaty that aims to protect people from hazardous substances that are exported from other countries. While it's not illegal to send these noxious products across borders, the convention insists that they're properly labelled so they can be handled with appropriate care. This principle will be tested in May next year, as Rotterdam hosts the annual Senior Eurovision Song Contest. The final will be on 16 May, one week after the FA Cup final.
From The 3rd Degree, congratulations to the students of Oxford Brookes university, defeating their lecturers in the radio quiz.
BARB ratings in the week to 18 August.
Coronation Street remains the most popular show (ITV, Wed, 6.6m). Top game show is still The Chase (ITV, Wed, 3.55m).
Next come Dragons' Den (BBC2, Sun, 2.85m) and Tipping Point Lucky Stars (ITV, Sun, 2.65m). Pointless Celebrities is BBC1's top game (Sat, 2.45m), with University Challenge (BBC2) and A Question of Sport (BBC1) both on 2.2m.
Channel 4's Jade documentary slipped, but only a little, to 1.95m (Wed). BBC2 did well with new series Interior Design Masters (1.9m, Wed). Good score for Portrait Artist of the Year, acquired by Channel 4 from Artsworld (Sat, 675,000).
KYTV also have the top digital game show, A League of Their Own (The Satellite Channel, Thu, 840,000). Next come Have I Got A Bit More News for You (Dave, Sun, 395,000 – the most-seen HIGNFY repeat on Dave this year) and Masterchef Down Under (W, Tue, 315,000).
Other new shows are Scrapyard Supercar (Dave, Sun, 210,000), Step Up to the Plate (CBBC, Thu, 105,000), and the Asian show Kitchen Champion 2019 (Colors, 20,000).
Television's autumn season begins with a vengeance, and a choice of viewing on Sunday night: 5 Gold Rings (ITV) for most, Cash Machine (STV) in Scotland. Strictly Come Dancing kicks off next weekend (BBC1, Sat).
All of your daytime favourites are back. New episodes of Tipping Point and The Chase (both ITV), Pointless (BBC1), and Eggheads (BBC2). We're looking forward to Pointless Celebrities (BBC1, Sat), with top astronomer Heather Couper and eager young space cadet Rick Edwards.
Brainboxes will appreciate Only Connect (2) (BBC2, Mon) and QI (BBC2, Fri). Cookers will enjoy Celebrity Masterchef (BBC1, Mon / Wed / Fri). And fans of music have Junior Eurovision (TG4, Sun) and Chwilio am Seren Junior Eurovision (S4C, Tue), and music quiz Counterpoint (R4, Mon).
Photo credits: Love Productions, Maidmetal, Shine, Voltage TV, Whizz Kid Entertainment / County of Kings, Fizz, Red Arrow and CPL Productions, Shine Soho, EBU / Andreas Putting.
To have Weaver's Week emailed to you on publication day, receive our exclusive TV roundup of the game shows in the week ahead, and chat to other ukgameshows.com readers, sign up to our Yahoo! Group.