Superstar Dogs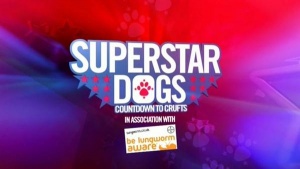 Host
Co-host
Jim Rosenthal (commentator)
Broadcast
Tuesday's Child in association with Dock 10 and Be Lungworm Aware for Channel 4, 17 February to 6 March 2014 (15 episodes in 1 series)
Synopsis
The Channel 4 press office barked at us, "dogs and their owners from all over the UK compete in a number of challenges, culminating with the final spectacular Dogstacle course."
Regular challenges included "Swim and Fetch", where the owners would throw something into a pool, the dog swims to it and brings it back. There was a game inviting the dogs to push footballs into a net, and another asking them to bring back a toy from jumping over hurdles.
The Dogstacle Course was a standard dog agility course - hurdles, plastic tunnel, that weaving thing. The novelty was Temptation Alley, through which the dog was expected to run without pausing for the sausages, the bone, the lamppost...
The dogs were put front-and-centre of the show, always described with the human's name last.
Champion
Smurf, and owner Sarah.
Trivia
Some listings magazines used an expanded title, Superstar Dogs: Countdown to Crufts. It aired in the three weeks before the Kennel Club's annual show, which had television coverage on More4 and Channel 4.
Partly funded by advertisers Be Lungworm Aware.
See also
Weaver's Week review with Top Dog.
Feedback