Weaver's Week 2014-03-09
Last Week | Weaver's Week Index | Next Week
In a busy Week, we have the BBC opening the Eurovision box and proposing to close the Eurovision channel. There's a speculative buzz on University Challenge, expansion for Puzzled Pint, and a Pointless coincidence.


Superstar Dogs: Tuesday's Child in association with Dock 10 and Be Lungworm Aware for Channel 4, 17 February – 6 March
Sport Relief's Top Dog: BBC Events Production London for BBC2, 3-21 March
There's some viewer confusion about this pair of shows, so we'll run through the similarities and differences under a number of headings.
Hosts: Superstar Dogs has John Barrowman, the campest host we've discussed since Ludus. Top Dog has Gaby Roslin, the calmest host we've discussed since Coco the computer. Both can be excitable, both know when to cut through the giggles and stick to the script.
Other celebrities: Top Dog has two additional famous people (for instance, next Monday has Caprice the model and Sharron Davies a less famous The Big Breakfast presenter). It also has commentator Matt Williams commentating with one raised eyebrow. Superstar Dogs has Jim Rosenthal commentating as though this was a formal sports event.
Pals?: Superstar Dogs is a contest for dogs and their owners. The dog's name is always put forward first, so it's "Barney and his owner Helen". It's an individual contest, the winners of each heat come back in the next phase. Top Dog is a contest for teams of three owners with their dogs. In our example, "Helen and Barney" might be teamed up with "John and Patch" and with "Peter and Prince". It's a team contest, and only four of the twelve winners will make the final phase.
Sit! Wait!: Both programmes introduce the animals and owners. Superstar Dogs does this by a substantial video package; briskly edited, it rarely drags. Top Dog prefers to have all six pets and humans in a line, and Gaby walks down to meet them. And go "awww" over every dog. Every. Single. Dog. The faffing about quotient is huge.
Wet wet wet: After the introductions, both shows began with a very similar challenge. "Swim and Fetch" involves the owner throwing a ball into a tank of water. (Did we mention the tank of water? No dog programme is complete without a tank of water. It's how we tell the genre from Top Cat.) The dog leaps into the tank, brings back the ball. On Superstar Dogs they do this once, and time is of the essence; for Top Dog, it's all about the repetitions possible in a minute or so. Such small differences between the programmes.
Chum: It may actually be coincidence that both programmes are airing at the same time. Top Dog is made to promote the BBC's Sport Relief appeal, and in particular to promote a Sport Relief toy for dogs. Superstar Dogs has been commissioned to promote Channel 4's coverage of the Kennel Club's annual dog show – its full title is Superstar Dogs: Countdown to Crufts. This show has received additional funding from an advertiser.
Friskies: After the water torture, there's another game – on Superstar Dogs, it's usually an athletic challenge, like getting footballs into a net, or jumping over a couple of fences to retrieve some more balls. This is done by all three competitors at once, because everyone plays everything. Top Dog doesn't have a commercial break, allowing one challenge per dog before the finale: some will be invited to sit and stay on marked targets, others might bring back the ball from a coconut shy, or (er) knock balls into a goal. This will be the sport part of the Sport Relief tie-in. On both shows, trailing after these rounds gives a time penalty for the final round.
Bonio: Both shows feature composed music, Top Dog from Burt Bros. and Superstar Dogs from Paul Farrer. Farrer's work runs through the show, Top Dog uses a soundtrack of mostly stock music. Neither show features composed music we could hum an hour later. We might have included this entry just for the pun, except Top Dog has enough puns to make Accumulate! blush. "On your barks", "The Pup Quiz", and those are the ones we can repeat.
Winalot: The climax to all the episodes is an obstacle course. Dogs will leap over hurdles, run along bridges and through tunnels, and do that weaving thing. On Superstar Dogs, this "Dogstacle Course" is enlivened by Temptation Alley, during which the competitor is not to sniff at some sausages, nibble at a bone, play with a tennis ball, or stop under a lamp-post to check his pocket watch. Top Dog prefers to theme the entire "Bark Off" course, turning it into a tour of the UK in a way that I Love My Country decided would be too crass. With six people running the same course in a few minutes, this bit just goes around and around like a time-filling reporter on a roundabout.
Caesar and Chappie: So, which is the better to watch? Both shows are fun for viewers who enjoy this sort of thing. They are light and fluffy entertainment, they are a celebration of dog and man united. From the sample episodes we've seen, Top Dog seems to be going a little too far towards the entertainment side, the celebrities in particular are treating this as a lark. When Ainsley Harriot's dog walks away with the tennis ball, that's slapstick; when they're upstaging talented dogs, that's irritating.
While it is just a bit of fun, Superstar Dogs knows when to inject a dash of seriousness, and got properly competitive towards the end of its run. Sadly, the final was spoiled by a factually incorrect call from referee Dave Ray, unable to see that a 21-foot throw had just made its distance, his decision eliminated the team. Very few things annoy us more than inept umpiring.
If someone held a gun to our heads and forced us to pick a side, we would class ourselves as not being amongst the viewers who enjoy this sort of thing.
University Challenge
Group Phase 2, Match F: Clare Cambridge -v- Queen's Belfast
In phase 1, Clare lost to Somerville Oxford, Queen's Belfast fell to Southampton, and Manchester lie in wait in phase 4 for the winners. Here's the first starter for ten words:
Q: What surname links a major figure of the satire boom of the 1960s...
Joseph Greenwood, Queen's: Cook
Game on! History and the moons of Jupiter score for Queen's, but the side falls down on a question about vessels named Challenger; within moments, the lead is down from 35 to 15, and it falls further.
Q: In an article of April 2013, in the London Review Of Books, it was noted that Shakespeare and Freud were the most written-about people in its archive. Which British political figure was third?
The only person to retire from her substantial career in order to be a professional quiz answer. Thumper goes on to point out some of the landmarks in Salford – no, all of the landmarks in Salford – and then we get the most remarkable buzz of all time, evah!
Q: For your picture starter, you'll see the route of a notable motorsport endurance event. For ten points...
Joseph Greenwood, Queen's: buzzes
Thumper: I haven't even put the picture up yet!
Perhaps a little lucky to avoid a penalty there. Eventually, this evolves into the first visual round, after which Clare has a 45-30 lead. "These bonuses are on megafauna of the Pleistocene epoch." To the rest of us, dinosaurs; not to be confused with megafauna of the Plasticine epoch, better known as Wallace and Gromit. Clare didn't know about the coiner of the term "feminism", Queen's knew about Margaret Atwood, and there's the difference. The bonuses give Queen's a 60-55 lead at the audio round.
Clare take the audio bonuses, without much success, then Queen's come back with a couple of starters of their own. The second visual round is on a French painter unknown to the teams, Queen's lead is 95-60. A couple of missignals from Queen's, a starter from Clare, that lead's down to 15 points. Two bonuses, down to 5 points. But then Queen's medic gets the starter about a medical condition, and that earns them questions of the year 1555. Where's Englebert Humperdinck when we need a contemporary?
Queen's only gets the one bonus, but Clare manage to completely mess up their Canadian geography, putting Vancouver (west coast) on the St Lawrence (east side) where one finds Montréal. With the bonuses, the lead is 45 points with two-and-a-half minutes. Clare gets the next starter, and two bonuses. Queen's need a starter and a bit; they get the starter, and run down the clock while not answering the bonuses. That means Clare needs two starters, and they get the bonus of a missignal. But the gong goes before Clare can finish the first bonuses.
So Queen's Belfast progress after winning a low-scoring contest, 125-105. Barely half of the questions were answered correctly tonight.
A Song For Europe
The BBC announced its entry to the Eurovision Song Contest this week. "Power to the people" is a hands-in-the-air song. It would like to be an anthem when it grows up, but is more likely to pull on a faded denim jacket and dream it's being weally webellious. We're entirely sure the song will go down tremendously in Millstreet, it's just that everyone else will be competing in Copenhagen. Still, it's an improvement that the BBC is only trying to win the contest of two decades ago, and with a song that Eurovision regular Ralph Siegel would be happy with.
The singer, Molly (Miss Smitten-Downes to her mother) is exactly the sort of person we'd hope the BBC could pick. An accomplished live performer, she's supported Labrinth, Bombay Bicycle Club, performed with Sash! and Basshunter. We can expect that she won't be fazed by performing live to a hall of 10,000, and will be familiar enough with her own song to be in the right key. And we're also pleased to see the BBC using its public service abilities, using their local BBC Introducing programmes as a springboard to internal success. We hope that this is a long-term development deal, and the BBC will continue to promote Molly for a year – which Strictly Come Dancing results show does she want to appear on?
This is a very pedestrian, middle-of-the-road, predictable song. This may be a minor positive. It isn't going to offend the Hungarian equivalent of Tony Blackburn, the juries will be able to give it decent marks because juries tend to go for bland and inoffensive stuff. The BBC's entry isn't going to offend the casual viewer in Podgorica; we don't think it'll compel them to pick up the phone and call Montenegro Telecom in great numbers. Fifth-to-tenth in the jury votes, mid-table in the phone votes, that translates into a lot of small points for the BBC. Votes from half the national panels is possible, and that's the target we'll treat as a BBC win.
Crucially, it's not a song we hear once and think, "Yes! Must hear that again, right now!" as we did for "Waterfall" and "Euphoria". We don't even think we can see the closing credits over the top, as with "Only teardrops" and "Running scared". With good staging, a favourable draw, juries who like this kind of thing, and a bit of luck, respectability is possible.

BBC No Choice
The way things are going, BBC3 will be off the telly by autumn next year. The Beeb's management wishes to reduce spending by another £100 million per year, and have alighted on BBC3 as the target. The channel has three main strands of programming. It's a youth channel, commissioning about 15 hours of programmes each week through the year – there are drama, documentaries, comedy, and experimental programmes. It's also a catchup channel, showing The Voice on Sunday nights and giving a late evening repeat of The Eastenders. And BBC3 is used as an overflow channel for minority sports and other events such as the Eurovision Song Contest.
The BBC management's plan is for BBC3's new shows to go online, with late-night repeats on BBC1 and BBC2. There's evidence that more "content" is being "consumed" online these days – just in the game show circles, we've seen attention to programmes from Korea and the Netherlands subtitled into English and put up for viewing at one's leisure. The space used by BBC3 will be an extra hour for CBBC, and the timeshift channel BBC1+1.
This column has two serious reservations. First, the BBC is again thumbing its nose at young people. BBC3 is the top channel amongst people aged 16-24, and it's the only BBC television channel to superserve the C2DE working class viewer. These are exactly the opposite to politicians and management, who tend to be old and upper-middle class. It's no wonder that sneering nobs (including Harry Hill, sadly) don't get BBC3; it's completely not for them.
And second, the plan will not actually save much money. BBC3 has a budget of £80 million; the revised schedule costs £25 million. Management has pledged £30 million for drama on BBC1, and it's estimated that the additional internet costs from all this online traffic will be at least £5 million.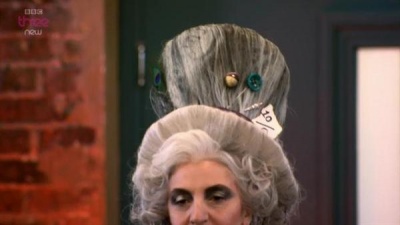 What the blazes? A hair-hat from Hair, currently on BBC3.
The net result? BBC3 closes, and the corporation has a net saving of about 20 million quid. Is it worth it? A fraction of the amount management wants to cut, and clearly damaging to the BBC's own interests. We set out the argument that BBC3 is sport and repeats and a little new material. We can set out precisely the same argument against BBC2, a channel that lost its purpose at the start of the digital revolution and has no coherent schedule. Unlike BBC3, the 2 has no unified voice or tone: primetime swings from Jeremy Vine to Mary Berry to Charlie Brooker to gardening to Top Gear.
The BBC management's proposals are currently proposals. They are yet to be approved by the BBC Governors, and the Guvs have already struck back when management suggested closing radio services 6 Music and the Asian Network. Some have argued that this is a bluff, a management proposal in a battle against the government. Management might hope to get a license fee that actually increases with inflation. Or they might threaten to take the knives to BBC4 and/or Radio 3, because eviscerating those channels would fill the funding gap and seriously annoy politicians.
This Week and Next
No Mastermind this week, it was taken off for running.
Brain of Britain reached its first semi-final. Not until the second round did anyone strike a lead, Azeez Feshitan profited from Mount Whitney, the highest mountain named after a pop singer in California. He didn't know the 808 was a drum machine – evidently this contender was not a fan of Madchester dance band 808 State. This wasn't costly, but he missed his next starter, and the gap closed a little. After Beat the Brains, Mr. Feshitan pulled further clear; with just six rounds in this contest, a good guess on his first question allowed him to score, and that wrapped up the contest.
It was a programme for low-scoring contenders: the winner and Dave Taylor both won heats with 13 points, Fiona Somerville took her heat with 9 points. Highlight of the night was the heat runner-up Elizabeth Gore identifying the opera Lucia di Lammermoor from a flute and a woman screeching.
Something interesting on Pointless this week, when players were asked to name the Blue Peter presenter appointed following a viewer vote. Will anyone remember Lindsey Russell? They won't, so she's both a player on Pointless Celebrities and a Pointless answer in her own right. Thanks to Lewis from The Fifty 50 Show for spotting that nugget.
Nominations for the Royal Television Society awards have been released. A game show will win the Daytime award, it's between Pointless, The Chase, and Four Rooms. Swashbuckle is nominated for the Children's Programme gong, and the Entertainment award sees Saturday Night Takeaway battle with A League of Their Own. Ant and Dec are also up for the Entertainment Performance award, with Leigh Francis also nominated. And we'll be cheering in the Presenter category – it may be for the documentary Long Lost Family, but we'll always back Davina McCall. Winners will be named on 18 March.
BARB ratings for the week to 23 February.
The Voice (8.35m) stays behind Call the Midwife (10.5m) and now behind two episodes of The Eastenders.
What hurt the singing? Saturday Night Takeaway is back (6.05m), ahead of Who Dares Wins (5.35m).
The music industry had their BRIT Awards bash (3.85m), barely beating Take Me Out (3.65m), University Challenge (3.6m), and The Great British Sewing Bee (3.5m).
8 Out of 10 Cats Does Countdown (2.5m) proves more popular than Antan Dec on Celebrity Juice (2.2m); regular Cats had just 1.5m.
Biggest digital show that wasn't new Celebrity Juice? Celebrity Juice, the Saturday repeat (680,000), then the Takeaway Sunday repeat (655,000). We don't have figures for The Satellite Channel.
It's the second Tuesday next week, so Puzzled Pint is go. Readers in or around London will get the usual heads-up on Monday evening; those in and around Seattle or Portland know the drill. But wait! There's more! Puzzled Pint will be popping up in Chicago, and in Missoula. (Where?) Montana. Top-left corner, in the mountains inland from Seattle, halfway between Moscow and Anaconda. This month's theme is casinos, so do remember to wear a bad shirt or a bow-tie. Possibly both.
We say farewell tonight to Dancing on Ice (ITV, 7pm), the show has run out of ideas and closes with the championship final. It's also the last The Taste (C4, 9pm Tuesday) and with viewing figures around a Celebrity Juice repeat, we can't expect it to return. Sport Relief season is upon us, and Glee Club is back (CBBC, 4.15 weekdays). Horse racing means there are big changes to Channel 4 daytime, but Four in a Bed remains (4.30 weekdays). A new run of Celebrity Juice (ITV2, 10pm Thursday), and Saturday night has Saturday Night Takeaway (7pm) against It's The Voice Knockout (7.15) and 3-2-1 Vintage Hollywood (Challenge, 7.15).
Photo credits: Tuesday's Child, BBC, Granada.
To have Weaver's Week emailed to you on publication day, receive our exclusive TV roundup of the game shows in the week ahead, and chat to other ukgameshows.com readers, sign up to our Yahoo! Group.