That's Showbusiness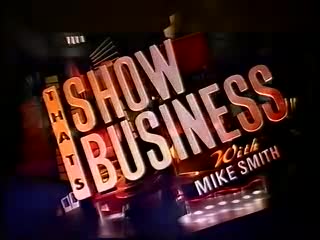 Host
Co-hosts
Team captains: Gloria Hunniford and Kenny Everett (1989-91)
Broadcast
BBC North for BBC1, 20 May 1989 to 8 July 1996 (132 episodes in 8 series + 9 specials)
Synopsis
Light-hearted celebrity entertainment quiz that seemed to be on Saturday nights perpetually during the nineties. Mike Smith was apparently enough of a draw for the show to grow a "With Mike Smith" moniker in the titles during the later years.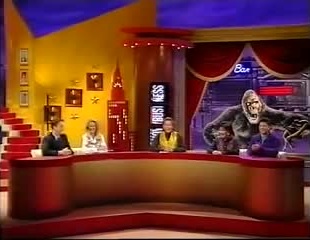 George Lucas would kill to having a dressing room like this.
Originally it was two teams of three, with the same team captains weekly. In the later series there were no team captains, just two teams of two celebrites. This is the show as we remember best.
Rounds are pretty standard fare for the most part beginning with Telly Addicts style three questions based on a comedy clip, the "romantic triangles" round where the teams must try and guess which celebrity two other celebrities had been romantically involved with, the "guess which of these three people said this particular quote" round, the movie round where each team member would see a clip of a classic or newly released film and asked relevant questions on the film and/or stars, the infamous "videoke" round where teams would sing along to a music video or performance, the video would fade out and hopefully when it's faded back in again they're in the right place, and finally the quickfire round, 12 questions answered alternating between teammates loosely connected by theme to be answered within a minute. Scoring was usually two points per answer (one point if offered across for a bonus), up to three points awarded on Smith's whim for the Videoke round, and two points per answer in the quickfire round but dropped to one point if the teammate has to give help.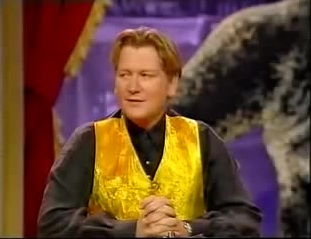 Who's that staring in Mike Smith's direction?
Extra fun is had as questions are sometimes geared towards amusing and slightly embarrassing facts about the contestants' pasts and backgrounds (plenty of Before They Were Famous style shenanigans here).
Not really a show you can get excited about, but entertaining enough to earn its place on the schedule year after year.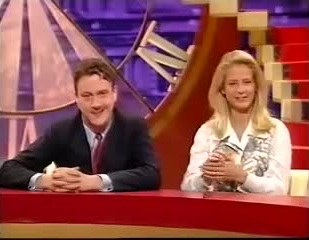 It's Stephen and Ulrika staring at a camera.
Inventor
Devised by Jeremy Pascall and Phil Swern
Theme music
Ed Welch (1989-91)
Debbie Wiseman (1992-94)
Helene Muddiman (1995-96)
Web links
See also
Weaver's Week review, as part of a Mike Smith tribute.
Feedback