The Big Flower Fight
Host
Vic Reeves and Natasia Demetriou
Co-hosts
Judge: Kristen Griffith-VanderYacht
Broadcast
Multistory Media for Netflix, 18 May 2020 (8 episodes in 1 series)
Synopsis
Ten teams create large flower installations. One is exiled to the compost heap every episode. The series winners design a sculpture for the Botanic Gardens in Kew.
If you can help us to expand this entry, please provide as much information as possible, using the feedback form below.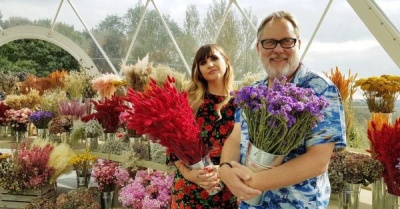 Natasia and Vic hold the flowers.
Trivia
All eight episodes were released at the same time to the subscription service Netflix.
You may be wondering why Jim Moir is credited as Vic Reeves here, since he doesn't normally use that name for his non-comedy projects. It turns out that he did want to be credited as Jim Moir but Netflix overruled him.
Web links
Feedback