The Fake News Show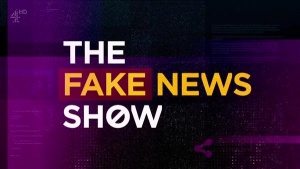 Host
Co-hosts
Team captains: Katherine Ryan and Richard Osman
Broadcast
Hat Trick Productions for Channel 4, 6 February to 4 June 2017 (Pilot + 4 episodes in 1 series)
Synopsis
A panel game exploring the topical themes of lies and misinformation.
Stephen Mangan led his panel (in the pilot: Richard Osman, Richard Ayoade, Katherine Ryan, Jon Richardson) in a discussion about various myths being peddled in early 2017. It was an era when the news had the feel of a surreal comedy show, and Brass Eye was more accurate than Jon Snow.
Rounds included the teams making up false narratives about historical events - didn't they do that on I'm Sorry I Haven't a Clue years ago? Players were also asked to propagate rumours on social media. Katherine Ryan's effort about botched plastic surgery made the mainstream media; Richard Osman deleted his falsehood within ten minutes. (Kanye West will not appear on Pointless, but apparently P Diddy is interested.)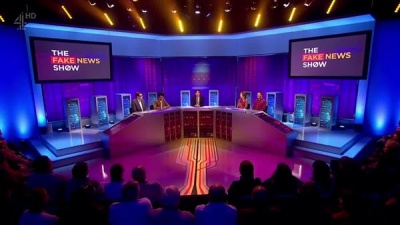 The set was made to look like a large computer room.
The show teased out a distinction between liars lying to puff up their own ego, and falsehoods spread to damage a target.
The Fake News Show went out at 8pm, before the watershed, so it had to be witty and inventive rather than rude. Stephen Mangan awarded "clicks" in an arbitrary and capricious manner, and declared one team or other as the winners.
Trivia
The pilot episode went out on 6 February, as part of Fake News Week across Channel 4. A short series ran on Monday evenings during the Westminster election campaign in May and June 2017.
Web links
See also
Feedback