Weaver's Week 2017-02-19
Last week | Weaver's Week Index | Next week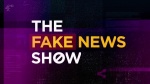 Seventeen billion people saw this show! It's the most popular show about stuff they made up ever! Big league!
Hat Trick for Channel 4, 6 February
Let's set down a marker for future historians. Early 2017 is a time when the news feels like a surreal comedy show. A cast-off wheat snack has moved from The Apprentice to The West Wing, and tweets like an emo. The resistance is led by librarians, Teen Vogue, and park ranger Smith. The Day Today is reassuringly tame, Christopher Morris could not write a script this eccentric.
Channel 4 spent most of last week discussing misinformation, lies, and the media. To introduce the topic, they had a one-off panel game.
Stephen Mangan hosted the show, with panel members Richard Osman, Richard Ayoade, Katherine Ryan, and Jon Richardson. In the background, Stephen awarded "clicks" (points) in an arbitrary and capricious manner; at the end he declared Katherine and Jon the winners.
The Fake News Show was set in "The De Bunker" – a room where they fact check everything, and looked like a massive computer server room.
For the opening round, "Post a Post Truth", players were asked to propagate rumours on social media. Katherine Ryan's effort about botched plastic surgery made the mainstream media. Richard Osman deleted his falsehood within ten minutes.
Fact check! Kanye West will not appear on Pointless, but P Diddy is up for it. P Diddy is up for anything.
"The Echo Chamber" contains all the fake news stories in history, because this isn't a new phenomenon. What fake news isn't represented by the picture? How many people were actually at a mall in the Potomac drainage basin? Fewer than were watching Best Friends Forever on the Disney Channel at that moment, and that is actual truth. Full stop.
There was discussion of the Bowling Green Massacre, a completely fabricated atrocity that never happened. And a chat about Alex Jones; not the presenter of The One Show, but someone who lets Andrew Neil say "We have an idiot on the programme" without talking about himself.
Angela Merkel is not related to Hitler: there was no incident involving Eva Braun's sister, frozen embryos, and an implement used on turkeys. Whatever you might read on a fake news website.
Shall we talk about straight bananas? What a wally, wrote Amie Gordon. Who would base her vote on this nonsense that the EU deals in the curvature of green-and-yellow fruit. Wherever did she get this sort of nonsense from? Fib-laden stories like "Ban on crooked bananas", written by Amie Gordon.
To close the show, teams made up false narratives about historical events. "Alternative Facts" was a novel and innovative round, completely unlike anything they've ever done on I'm Sorry I Haven't a Clue. And the show closed with a round of "Fact or fib"; was Stephen Mangan reading fact-based stories, or ones he'd made up?
The Fake News Show went out at 8pm, before the watershed, so it had to be witty and inventive rather than rude. It had lots of autocue, something suspiciously like the picture spin quiz, and judicious archive footage. But unlike Have I Got News for You, this show was topical.
What did we learn?
Richard Osman summed up the lessons:
This fake news thing has come to mean a number of different things, and it's one specific thing. It is genuinely people in Eastern Europe, in the pay of the KGB or various other people, who are making up things for clicks. That's what they're doing. That's fake news, it's deliberate.
Things like people lying, that's lying, that's what politicians have always done. But fake news is something really specific and incredibly dangerous, and it's this stuff. It's what they're doing to Merkel in Germany, which they've done with some of the immigration stuff, fake news is a really genuine thing and a terrifying thing.
The Fake News Show teased out a distinction between liars lying to puff up their own ego, and falsehoods spread to damage a target. There was no coverage of a third strand: powerful people reject news that they find difficult or embarrassing, and claim truth is "fake".
Fake news is real, we know because Richard Osman said so. But not everything that gets called fake news is actually fake news. Some of it is someone denying the observable truth, and that's real news about fake ideas. Some of the fake news is fake news as Osman would put it, someone lying to put fake ideas into people's heads.
But some of the fake news is real news, the real ideas are dubbed "fake" not because they are fake ideas, but because they are true ideas that would make the person calling them "fake" appear to be a fake. These fakers are faking their own abilities, they are imposters at whatever job they are doing. But they know enough to attempt to cover their own tracks, and confuse attackers by throwing up the flitter of "fake".
So it's real news when someone says "Black is white": that they've said "Black is white" is a fact, and reporting it is real news. But it's real news about someone saying something fake. For that same person to say "You said I said 'Black is white'! You're fake news! End of!" is also real news (because there's a new fact) but not fake news (the report was honest, the speaker was dishonest).
Good grief, this is confusing.
And that's the whole idea: the people behind fake news want to make it difficult to know what is truth. If they can say "The other stories are false, I have the one true source of news", build a false narrative that suits their ends, so much the better.
For instance, there's a myth going round that all the protesters at the moment are "paid" to protest. Who is paying them? Some suggest that the protesters rely on social security money, which means they're given money just for existing; by that argument, the Countdown viewers are paid to watch telly. Others point to articles on satire websites as "proof". Sensible people choose to repeat a very deliberate and very obvious hoax.
There are many other examples. "Coldest winter in three decades", scream newspaper headlines. "The terrorist atrocity in Sweden yesterday", unreported because it didn't happen. The myth of bent bananas. And many many more.
Craig Silverman, a longtime observer of error in journalism, has since come up with yet another definition: fake news is entirely false, knowingly created as false, and has an economic motive. Silverman says "propaganda" is fake news created for political reasons. The Fake News Show rejected Silverman's definitions, mixing the economic and political throughout.
The argument will continue.
Are those the facts?
What can the rest of us do? Craig Silverman – now Media Editor for Buzzfeed – offers some good habits.
"When you see something on a social network which triggers an emotional response in you, either good or bad, your next response should be to say 'Hold on' and take a good look at it.
"What's the real address? Have you ever heard of the site before? Does the story cite any credible places and does it link out to them? [..]
"Sometimes there is real new information that comes out which in its early moments can sound kind of sketchy and confusing. The best policy when that happens is to wait and see how it plays out before sharing."
Each of us has got to take responsibility for what we read, what we believe, and what we share. For instance, last week this column spoke of a "rumoured" re-boot of Blind Date. Other publications said it was certain, we did not.
Why "rumoured"? At the time, we hadn't seen any confirmation from the producers that they were involved, nor that Channel 5 had bought the series. So we reported what we knew, and were clear about what we didn't know.
(Indeed, we still haven't seen confirmation from Stellify or So Television or Channel 5 to confirm the rumour.)
Other bits of the web are waking up to the problem. The Facebook is reversing changes that promoted falsehoods up the rankings. Google says it will relegate false sites down its rankings.
That other wiki has decided that the Daily Mail is full of lies, falsehoods, and stuff they made up down the pub at lunchtime yesterday. Even by that other wiki's low standards, the Mail is unreliable.
Shaun Bannon has demonstrated to his satisfaction that black is white, and is now approaching a zebra crossing. And we wait for P Diddy to appear on Pointless Celebrities.
Time to look north for all things letters and numbers.
Richard Hayward was the carryover champion from last series, but he lost to Darren Godfrey at the first opportunity. Two wins for Darren, then Suzy Turner took the champion's chair. She looked in strong form, but lost a poor game to Ian Cockerill. He won one, as did Louise Wilson. Sam Wickham battled to three wins, but crumbled before Dave Ryan.
Dave was a strong competitor, but he came up against the juggernaut of Elliott Mack. Elliott ran the board: eight wins, eight conundrums solved, 804 points including four centuries. While his play might not have beaten the greats of a few years back, it might prove enough for this series.
Carl Whitby took the vacant champions' chair, and defended it once. Peter Brinkley, Willie Brazil, Ashwin Abinashi all won once. Then Wesley Jardine walked in, and he's won all so far. Played four, won four, solved four conundrums, and four centuries already.
More Countdown, including the seeds table, in about six weeks.
Semi-final 5
Richard Aubrey answered 8 on Isaac Newton. He's broken our theory that they're taking the losers in descending order, as he was last of the six. In his heat, Richard had a very strong general knowledge round, and it was possible that he might go from fifth to first. Wasn't to be: a couple of early errors left him behind the clock, and 17 felt light.
Emma McAllister scored 9 (2 passes) on Creation Records. She'd won her heat on the specialist subject, and had passes to consider here. Slightly unlucky not to take the lead, the final was 17 (4 passes).
Adam Barr took 9 from Johannes Kepler, the astronomer. His general knowledge round was to answer swiftly, guess if he could, pass if he could not. That allowed an extra question, but threw him into a spiral of error about halfway through. 19 (3 passes) doesn't quite feel like a winning score.
Lee Holmes made 10 on The Hunger Games books; the one about the Mockingjay pin has to be from the books, they changed it for the film. For comparison, this column claims 5 on books we read a few years ago. In his heat, Lee had scored a dozen general knowledge points, fewest of this week's contenders. In his semi-final, another low score took him to 18 (1 pass).
Frances Slack also scored 10 on the films of William Goldman. Hers was the best heat performance, seventeen was an unlikely target tonight. Ten to win was achievable, and six answers were made quickly. Then there were passes and answers. Three passes, but what was the final score?
John teased it for as long as he could. Frances's final total was 20 (3).
Phew, just avoided another tie-break. One last semi-final next week, then the final on 3 March at 7.30.
This Week and Next
How well were you paying attention to the lead review? We've put one item of fake news into this section.
Two moments of high cheer. A researcher's job for CBBC leaves us wondering if Raven – or something similar – might be coming back. And there's life in the old dragons yet: The Adventure Game could be out on DVD in June.
Trouble at the Eurovision Song Contest, as many organisers have left the show. No fewer than 21 of the organising team have left their posts, reacting against the new head producer Pavlo Hrytsak. Almost on cue, the Eurovision fans squealed, because something might come between them and their beloved concert.
The show will go on, tickets have been sold for the main shows between 9 and 13 May. Even this fact didn't meet with the fans' approval, as sales were confused and difficult, not the slick operation of recent years. But this is the first event in the East for some time, and fans have been spoiled – SVT, ÖRF and DR are used to handling big events. NTU isn't.
Fire the cannon! Bradley Wiggins left The Jump after breaking his leg in practice. Mark Dolan left the contest in the normal manner. The replacement contender has not yet been confirmed, though we understand "P Diddy" has been named in the Endemol office.
The Chase showed us how even minus amounts of money have value. On Thursday, a player took Minus £6000, and scraped home with one error left. The prize reduced from £42,000 between two to £36,000 between three. The contender then answered two questions in the final, and the extra step meant three extra points in a total of 21. Anne Hegerty reached 18; without the extra player, she'd have won with moments to spare.
Theatre news, and Quiz is to feature at the Chichester Festival Theatre this November. The play is loosely based on Charles Ingram, convicted of fraud against Who Wants to be a Millionaire. James Graham wrote the work.
University Challenge saw Emmanuel Cambridge reach the semi-finals, defeating Corpus Christi Oxford by 170-55. The Cambridge side won almost every buzzer race, restricting the Oxford team to one starter in each quarter. The winners' bonus rate was 14/30, and we think they might have a slight weakness on modern history.
Beekeepers and Oscar Men on Only Connect, losers go home, winners have to come back yet again. For the first time in eight shows, the team that won the toss chose to select first rather than defer to the walls. This pays off, the team gets their own question and picks up a bonus – the 3-0 lead feels big, and we're only a few minutes in.
Bonuses swapped on the next couple of questions, then the Beekeepers pick up three on letters deleted from official usage. And then the Boaty McBoatface Memorial Question: the people have spoken, they have made a mistake, they will be ignored. 8-1 after the connections round.
Three points each to start Sequences – recent Yankee presidential slogans, and they all played Batman in the movies. Since this episode was recorded, a pile of Lego bricks has become the correct answer. Bonuses on eras of old cars and the 147 break. Reasons for Tim Vine's Brother to be far too excited left the Beekeepers 14-5 ahead.
Groups of brothers including the Chuckles gave ten points to me, to you, to me, to Oscar Men. Did Keates ever write an Ode to The Flumps? No, but the Beekeepers did untangle a delicious group linked by "Florence". Ten points all round. Missing Vowels didn't need to decide it, the Beekeepers win by 29-19.
BARB ratings in the week to 5 February.
Call the Midwife (BBC1, Sun) remains the top show, 10.4m viewers. BBC The Voice of This Territory (ITV, Sat) the top game, 5.9m.
Let it Shine (BBC1, Sat) follows with 5.25m. Ninja Warrior (ITV, Sat) stays ahead of The Chase (ITV, Fri) – but there's little in it, 3.75m to 3.65m. Through the Keyhole (ITV, Sat) recorded 3.3m.
University Challenge (Mon) led on BBC2 with 3.05m. Dragons' Den (Sun, 2.65m) and The Great Pottery Throw Down (Thu, 2.2m) did well. But Mastermind (1.85m) and Only Connect (1.8m) are struggling on Friday.
The Jump (C4, Sun) came back with 2.65m. Celebrity Big Brother concluded (C5, Fri) with 2.4m. Bit on the Side broke a million on finals night.
Coach Trip Road to Marbs (E4, Mon) led games on the new channels, 625,000 viewers. Four in a Bed (More4, Sun, 420,000) and Have I Got a Bit More News for You (Dave, Sun, 315,000) followed behind.
A slight dip for Dancing With the Stars in Ireland, down to 435,000. Winning Streak returned to 291,000 viewers, and that's about 290,000 up on the equivalent show for Camelot. BBC The Voice of This Territory goes out on TV3 to about 128,000 viewers.
Did you think P Diddy had signed up to The Jump? That's the fake news: we didn't say it, you assumed it. Find out who will replace Bradley Wiggins tonight (C4). Celebrities go for Take Me Out (ITV, Sun), and Masterchef Us returns to W (from Tue). Next Saturday has the final of Let It Shine (BBC1), and – by complete coincidence – something returns to ITV. But we can't tell you what it is because ITV embargo their listings until next Tuesday.
Photo credits: Hat Trick Productions, Warner Brothers, %library%, BBC
To have Weaver's Week emailed to you on publication day, receive our exclusive TV roundup of the game shows in the week ahead, and chat to other ukgameshows.com readers, sign up to our Yahoo! Group.