The Great British Sewing Bee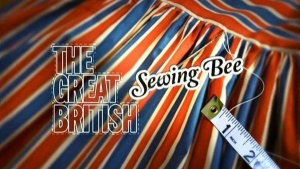 Host
Claudia Winkleman (2013-6)
Joe Lycett (2019-21)
Sara Pascoe (2022-)
Jenny Eclair, Sara Cox, Anita Rani (guest hosts, charity editions)
Co-hosts
Judges:
Patrick Grant
May Martin (2013-15)
Esme Young (2016-)
Broadcast
Love Productions for BBC Two, 2 April 2013 to 2 April 2019 (34 episodes in 5 series + 2 specials)
as The BBC Children in Need Sewing Bee, 21 to 24 October 2014 (3 episodes in 1 series)
Love Productions for BBC One, 22 April 2020 to present (2022 final on BBC Two, 29 July 2022)
Synopsis
Following the spectacular success of The Great British Bake Off, Love Productions branched off into another traditional craft, sewing. Eight amateur fanatics are asked to stitch, quilt, embroider, and tailor.
Each episode features three challenges. The first round is the pattern challenge in which the contestants have a pattern thrust upon them and have to make whatever they're given. The results are ranked from worst to best.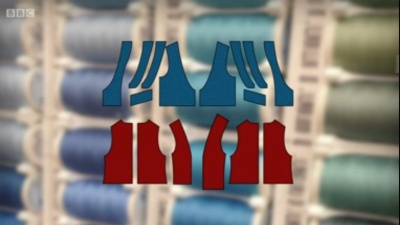 Part of an animated graphic showing the construction of a double-breasted waistcoat, a pattern challenge from the 2019 final.
Second comes the transformation challenge in which they have to recycle old clothes into something completely different. Sometimes it's not even old clothes they're given - particularly for the annual "reduce, reuse, recycle" week and the finals, their initial material has included things like bags, upholstery, parachutes, scraps from previous challenges, and even bouyancy aids. This round is judged "blind" with the judges not knowing whose is whose, and again a full ranking is given.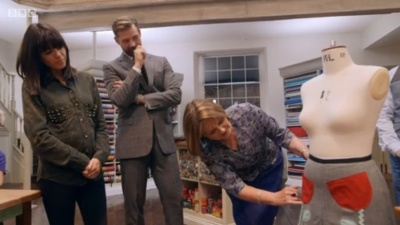 Claudia Winkleman and Patrick Grant look on as May Martin examines a jazzed-up skirt.
The final round is made-to-measure, for which the contestants are given a brief and source or create their own patterns beforehand. On the day they have to make up their garment from scratch to fit an actual human being (supplied). This round is not ranked. At the end, the judges select their "garment of the week" (usually, but not always, from the made-to-measure challenge) and send one contestant home. It's not explicitly stated that the maker of the garment of the week is immune from elimination, but it would feel a bit cruel to crown a "best in show" before immediately chucking them out, and this is very much not a cruel show.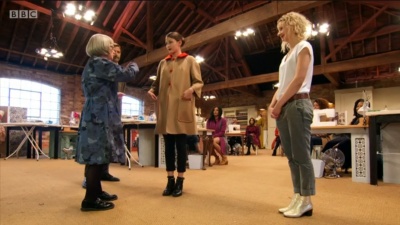 Patrick and Esme judging a made-to-measure woollen coat made by contestant Leah.
Judges for the first three series were May Martin from the Women's Institute, and internationally-renowned tailor Patrick Grant. Esme Young took over from Martin for series 4. Claudia Winkleman hosted the first four series and Joe Lycett took over after a three-year break, presumably in order to let the air clear over The Great British Bake offing to Channel 4.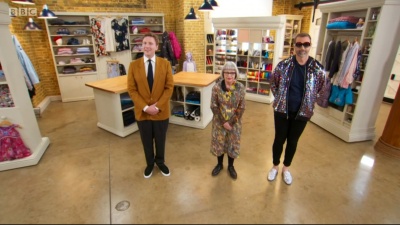 Joe and Patrick supposedly wearing each other's hand-me-downs in a visual gag from "Reduce, Reuse, Recycle" week 2020.
Champions
| | |
| --- | --- |
| 2013 | Ann Rowley |
| 2014 | Heather Jacks |
| 2015 | Matt Chapple |
| 2016 | Charlotte Newland |
| 2019 | Juliet Uzor |
| 2020 | Clare Bradley |
| 2021 | Serena Baker |
| 2022 | Annie Phillips |
| 2023 | Asmaa Al-allak |
Key moments
Given Esme Young's distinguished career in the costume business, it was inevitable that on occasion a contestant will mention being inspired by some iconic outfit or other, only to be surprised by Esme telling them it was one of hers.
Catchphrases
"Needles up, sewers!"
Trivia
The 2022 final was shunted to BBC Two due to overrunning coverage of tennis from Wimbledon on One.
Participants
The BBC Children in Need Sewing Bee
The show winner is in bold and listed first.
Show 1

Show 2

Show 3

Timmy Matley
Gemma Cairney
Helen Lederer
Kathryn Flett
Merchandise
"The Great British Sewing Bee" (book)
Great British Sewing Bee: Sustainable Style (hardback)
Great British Sewing Bee: The Techniques (hardback)
Great British Sewing Bee: The Modern Wardrobe (hardback)
The Great British Sewing Bee: Sew Your Own Wardrobe (book and patterns)
The Great British Sewing Bee: Fashion with Fabric (book and patterns)
The Great British Sewing Bee: From Stitch to Style (book and patterns)
Web links
BBC programme page (The Great British Sewing Bee)
BBC programme page (The BBC Children in Need Sewing Bee)
See also
Feedback