The Great Cookbook Challenge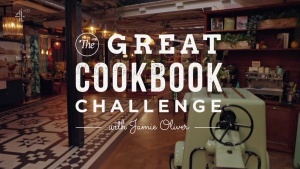 Host
Narrator: Liza Tarbuck
Co-hosts
Mentor: Jamie Oliver
Judges: Louise Moore, Jimi Famurewa, Georgina Hayden
Broadcast
Plum Pictures and Jamie Oliver Productions for Channel 4, 31 January to 14 March 2022 (7 episodes in 1 series)
Synopsis
What does the world need most of all? Peace, harmony, love for all? Jamie Oliver knows exactly what the world needs: A new cookery book!
The Channel 4 chef has his name on over 20 recipe books. To extend the market, he wants to promote another cookbook author. Preferably someone new, someone who doesn't have their own six-part series every autumn on another channel. And because he's the Channel 4 chef, Jamie will televise the process.
Split into three groups of six, would-be cookbook authors make one dish for the panel. They present their cookery, and answer questions about their proposed book. The most promising ideas (and/or food) go through to the elimination rounds, where one is dropped each week until the winner emerges. The judges are Louise Moore from publishers Penguin Books, restaurant critic Jimi Famurewa from a London freesheet, and published recipe author Georgie Hayden.
Unlike Masterchef Goes Large and its ilk, this show is mostly about the book. Or, to be precise, about the presentation of the book. It's a show about photography and marketing and designing the cover - the actual words on a page are an afterthought.
Successful proposals were aimed at the mass market - anything too "cheffy" was thrown out at the first opportunity, and a book for teenagers was sent packing (and not before the panel had insulted the character of every teenager). Anything that rubbed against the fashion was also taken out - books specialising in bread or cheese didn't capture the zeitgeist in 2021 and were rejected. Anyone who offered too much meat was treated with suspicion: the fashion is to be "mindful" about animal flesh.
Like all mass market cookbooks, the author is expected to embody a whole cuisine, advocate their one true specialism on the page and while promoting their work. Clearly defined topics - lasagne, food from the Philippines - advanced because they're easy to sell. More nebulous ideas - most notably one offering traditional dishes and then a variant "with a twist" - didn't fit into the publisher's vision.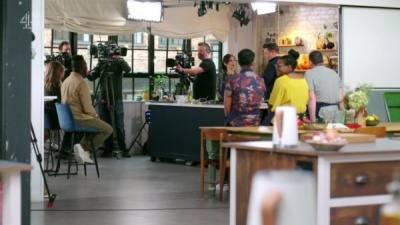 A self-referential moment: people actually on telly being filmed pretending to be on telly while on telly.
Before it began, we were intrigued by what The Great Cookbook Challenge would bring us. We weren't disappointed: it proved to be a fascinating tale about the state of cookbook publishing, a quarter of the way through the 21st century. It all comes down to what the publisher thinks she can sell. The publisher - Louise Moore from Penguin Michael Joseph - came across as a small-c conservative character, fearful of leaving her own comfort zone while encouraging the cooks to push their boundaries. We're sure that any other publisher from any other publishing house would have come across in a similar way.
There was marketing muscle behind the show, interviews to all the press and websites, Radio Times chose it for a cover feature (and, let's be honest, slapping Jamie Oliver on the front of your mag never hurts sales).
Even though it was billed as The Great Cookbook Challenge with Jamie Oliver, the star chef was a background element in his own show. He's not the host – Liza Tarbuck does the voiceover. Jamie doesn't talk to the viewers, only to people in the room. In the kitchen, he's a sous chef, helps the amateur cook, and he asks questions to help explain things to the viewers. After helping to serve the food, he literally leaves the stage. You don't watch this show for Jamie Oliver.
So if we don't watch the show for Jamie Oliver, why do we watch it? Truth to tell, we don't think there's a good answer to that question. In the end, the show felt like a group of lovely people follow their a passion and try to sell a book to a publisher who neither rejects nor encourages them. We didn't have any reason to root for - or against - anyone, and no way to predict who would win and who would leave.
Champion
Dominique Woolf, whose book had the working title "Let's Cook Asian".
Inventor
Will Daws and Shula Daws, credited for "Original concept".
Theme music
Gil Cang and Malachai Lillitos, credited as "Composers". It's a pleasant if unremarkable piano-led score.
Trivia
Though the series finished in mid-March, the winner's book wasn't published until June. We don't know if this was always the plan, or if the book needed more editorial work to finish, or if production delays due to a global paper shortage were solely to blame.
Web links
See also
Feedback