The Last Millionaire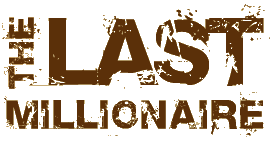 Host
Not known
Broadcast
BBC Three, 12 November - 17 December 2008, 4 January 2009 (6 episodes + 1 review)
Synopsis
Twelve young entrepreneurs - all worth a million or more - give up weeks of their time, and the trappings of luxury, to see if they can make it anywhere. Living out of a cheap hostel, they pair up, are given a mobile telephone and some contacts, and invited to build a business from scratch. The business with the most profit at the end of the week is declared the winner, and the people running it are given a night in a luxury hotel before flying home. The remaining competitors fly on to the next destination. The show visited exotic cities - Istanbul, Berlin, Cairo, Naples, Bangkok, and finished in Hong Kong. The businesses were meant to be themed each week, but the themes were so broad that someone could always rely on putting on a party.
The show was an interesting twist on the likes of Tycoon, as the most successful players each week were eliminated from competition, and only the unsuccessful people played on, culminating in a race around Hong Kong's T-shirt factories to avoid being the last loser. Viewers who wanted larger-than-life personalities got them in spades, with twelve egos competing for space. Viewers who wanted businesspeople making a fool of themselves got that in spades, with at least one complete flop each week. Those who wanted a tutorial in how to make their own million will have seen fewer tips - these projects were designed to fall over after five days.
The programme aired as part of BBC3's Money season.
Key moments
Oliver and Lucy selling uncooled water in the 40 degree heat of Istanbul.
A web-marketing seminar delivered to an audience of precisely no-one.
Last Millionaire
Natalie Haywood
Web links
See also
Feedback