The Travel Quiz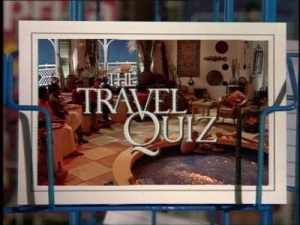 Host
Broadcast
BBC1, 19 November 1993 to 22 April 1994 (20 episodes in 1 series)
Synopsis
Another one-series wonder - although if you ever saw it, you would understand why!
Presented by Andi Peters, who struggled at times with the pronunciation of some of the more exotic locations.
This was was a fairly slow-paced general knowledge quiz show for two, two-person teams, with many of the questions having an international flavour. At the end of each program, the winning team answered questions alternately for 2 minutes. The more questions they got right, the better the prize.
Key moments
Famous out-take, that went along the lines of:
VT Package plays with music in background.
Andi: "Oh, they faded it out before it goes... Barcelooona! Okay, blue team, your question - what city was that?"
Trivia
The programme was one of three that was developed at short notice to fill the 1.50pm Going for Gold slot that was used by the lunchtime repeat of the BBC soap flop Eldorado. The show aired weekly on Fridays while Mondays to Thursdays were taken up by XYZ and The Great British Quiz.
Web links
Opening titles from the BBC Motion Graphics Archive
Feedback