The Vintage French Farmhouse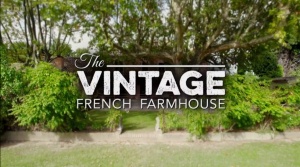 Host
Broadcast
Ricochet for BBC One, 25 September 2023 to present
Synopsis
A Sun, Sea and Bargain Spotting-style trading show taking antiques dealers, many of them familiar faces from The Bidding Room, and putting them up in a farmhouse in Provence. From there they venture out in search of collectables to sell online for a bigger profit than their rivals.
The show splits into three parts.
First, let's go out into the flea markets and les carboots to buy some things. Just two items per person. To make matters even more complex, one of the dealers sets a challenge to buy an item fitting a broad description - we found this an unnecessary complication.
After buying their items, the dealers retreat to the titular farmhouse. There, they prepare the items, take pictures and maybe do some restoration work. The objective is to sell the items in a flash auction, open online for just one day.
If we're unlucky, the items won't sell instantly, and we'll be treated to begging videos from the dealers trying to flog their wares. Once the sales have closed, everyone gathers in the kitchen and compares experience: the person who has made the most profit is today's winner.
The Vintage French Farmhouse is an incredibly low-stakes game. A winner is declared, but it's almost incidental to the process of buying, restoring, and selling.
Trivia
Somewhat to our surprise, the entire first series was released to iPlayer in one go, which doesn't usually happen with daytime shows (or with the sort of shows we deal with in general).
Web links
See also
Weaver's Week review and comparison with The Great Antiques Challenge.
Feedback