The Bidding Room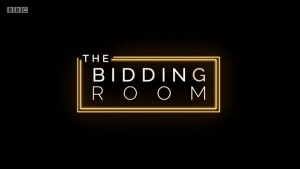 Host
Nigel Havers
Co-hosts
Dealers:
Estelle Bilson (2021-)
James "JB" Broad
Jane Cave
Melissa Downhill (2021-)
Natasha Francis
Adrian "Adi" Higham
Ian Humphries
James Gooch
Moses Otunla
Lucy Ryder Richardson

Resident antiques expert: Simon Bower
Broadcast
Ricochet for BBC One, 8 June 2020 to present
Synopsis
Selected applicants present a curiosity, rarity, or antique. After discussing their item with an expert, they will have the opportunity to offer their exhibit to five dealers for sale, and to sell it to the highest bidder for cash.
Each round follows a similar course. We'll meet the seller, and find out what the item means to them. We will often hear about the seller, and the good cause they're supporting.
Resident expert Simon Bower tells us about the object, and concludes with his estimate.
Our seller goes into The Bidding Room, and shows their object to today's panel of five.
After discussing it, they bid up the price. The seller has the option to take the highest price, or to walk away with their object.
Will the dealers make an offer the seller cannot refuse?
Repeat that four times to make up the complete show.
It's a very low-stakes game: the seller will either walk away with a wodge of cash, or they'll keep their original item. Everyone wins a few minutes with Nigel Havers, and a professional evaluation of the object.
The Bidding Room differed from the German original in a couple of ways. Their version has further jeopardy, where the expert needs to confirm that the seller can reasonably get their target price. It's a faffy complication and we're glad not to see it.
The Bidding Room also differs by changing its dealers every day. Five from a panel of eight experts appear each day; the German original kept the same dealers in each programme until the format was firmly established. We fear the Germans got this right: we need to see the same characters each day, it's how they build a rapport with us. That said, they were right to introduce two new female dealers for the staccato second series, as the first series felt very blokey.
Inventor
Adapted from Bares für Rares, a hugely successful afternoon show on Germany's ZDF channel.
Trivia
Episodes 1-20 of the first series aired between 8 June and 3 July 2020. Episodes 1-12, 19 and 20 of the first series aired at 3.45pm as a consequence of Covid-19; on days when Coronavirus Updates did not air, episodes aired at 4.30. Episodes 21-30 were aired between 12 and 28 October 2020; episode 25 was preempted due to impromptu resumptions of waffle, and aired at 3.50 on Sunday; after episodes 27 and 29 were also bumped, it was decided to air episode 25 the following Monday and episodes 27 and 29 the Tuesday and Wednesday of the following week. Repeats aired between 29 October and 9 November 2020.
The second series was also interrupted by "News Specials" from Downing Street. Episodes 1-24 of series two were intended to air between 4 January and 5 February 2021, with no episode planned for 20 January as the BBC preferred to carry a news special from America. When episodes 2 (5 January 21), 4 (7 Jan 21), 6 (11 Jan 21), 10-11 (15 and 18 Jan 21), 14-17 (22 and 25-27 Jan 21), 20 (1 February 21) and 22 (3 Feb 21) of series 2 were bumped… no weekend slots were allocated, so between 8 and 19 February 2021, second attempts were made to broadcast previously bumped episodes in the following order: episodes 2, 6, 11, 14, 4, 25, 16, 17, 15 and 10. However, when they reattempted to air episode 2 on 8 February 2021 and episode 11 on 10 February 2021, they again got bumped, and were tried again on 22 and 25 February; attempts to repremier episodes 20 and 22 were not made until 23 and 24 February. Episode 25, which would have aired on 5 February, was reattempted on 15 and 26 February and 1 March before finally airing on 2 March. All of this begs the question: if they could delay episodes by a day for the news on 20 January 2021, why couldn't they delay any of the others? From 3 March 2021 the show went into repeats.
A ten-part compilation series was planned to air from 6 January 2021 but - you've guessed it - the first episode was bumped, this time for a Question Time special to discuss the previous afternoon's jibber-jabber, and aired on the second channel. It was always going to air in BBC2 in Wales, as its local BBC1 preferred the archive-and-comedy of Tudur's TV Flashback. To make matters worse, when they tried to repeat that episode on BBC1 on 30 June 2021, Andy Murray overran, so the repeat had to air on BBC2 as well. Series four was affected by various Lizes; episode seven was delayed from 6 September 2022, as Liz Truss (remember her?) was being anointed Prime Minister and BBC1 preferred to broadcast two hours of pundits repeatedly telling us so, while episode nine aired a day late and on the second channel as the main channel was reporting on Queen Elizabeth II and the second channel decided to put out the displaced episode seven on Thursday.
Two episodes of this were sampled for the 10 July 2021 episode of It's Clarkson on TV.
Web links
See also
Weaver's Week review and comparison with Bares für Rares.
Feedback