The Great Antiques Challenge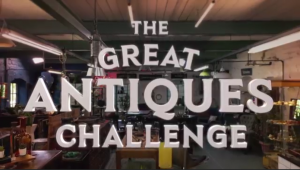 Host
Justin Moorhouse (voiceover)
Co-hosts
Dealers:
Ed Bailey
James "JB" Broad
Dawn Diggines
Natasha "Tash" Francis
Viki Knott
Jon Swanston
Broadcast
Ricochet for Really (on-screen credit "for Discovery+"), 18 September 2023 to present
Synopsis
In 2023, having built up a stable of antiques dealers for The Bidding Room, Ricochet started putting them to work in other formats, including The Vintage French Farmhouse and this one, in which two dealers compete to source the best item to fit the brief given to them by a customer. The winner is whichever dealer makes the sale at the end.
Each episode features two contests (with different dealers), cut together over the hour. They could easily be disentwined to fill a half-hour slot, and we wouldn't be at all surprised if that were to happen at some point.
See also
Weaver's Week review and comparison with The Vintage French Farmhouse.
Feedback