There's Something About Movies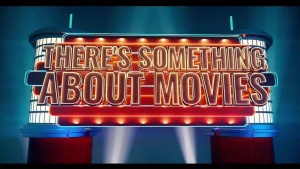 Host
Co-host
Team captains:
Michael Sheen
Micky Flanagan (2019)
Jennifer Saunders (2019-21)

Regular panellist:
Tom Allen (2019-21)
Broadcast
CPL Productions and Motion Content Group for Sky One, 2 May 2019 to 16 December 2021 (23 episodes in 4 series + 2 specials)
Synopsis
Alan Carr hosts a fun-packed show that puts comedians and actors' film trivia to the test.
Regular rounds include the one where Alan and Micky or Michael (or from series 2, Jennifer) re-create a famous scene from a movie, exploring how the scenes work with a drama coach. In the studio, the invited guests improvise a scene based on other famous clips. There are questions based on, yes, more famous film clips, and the guests discuss their own life in movies.
There's Something About Movies was loosely based on A League of Their Own from the same production company. It's a very similar style, it treats the art form with equal amounts of love and cheeky disrespect.
While there's barely a game in the show, There's Something About Movies is certainly worth a watch. It's an entertainment show, doing unfamiliar things with familiar clips. Micky Flanagan is in his element, Michael Sheen adds some necessary gravitas.
Title music
Nik Haley and No Sheet Music
Web links
See also
Feedback