Tibs and Fibs
Host
Co-hosts
Team captains: Phil Hammond and Tony Gardner
Expert: Dr Hilary Jones
Broadcast
Mike Mansfield Productions in association with Paramount Comedy Channel for Channel 5, 3 November 1997 to 1998
Synopsis
Medical quiz fronted by Tony Slattery. The two team captains were joined by a different celebrity in each show with guests including Davina McCall, Margi Clark, Richard Blackwood etc. The rounds were themed and included identifying a range of maladies by their symptoms and the application of a range of bizarre surgical instruments from the Royal College of Surgeons.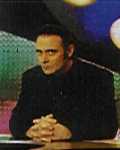 Tony Slattery
The format was roundly panned by critics at the time, mainly due to very low ratings, but as this was a late night format in the early days of Channel 5 it can't be entirely blamed for that.
Inventor
The format was devised by Tony Slattery himself who has an informed interest in the subject.
Feedback