Tony Slattery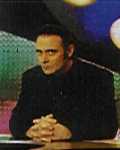 Biography
Comedian and actor who was president of Cambridge Footlights and whose first TV job was as a member of the supporting cast on Chris Tarrant's Saturday Stayback, closely followed by a few appearances in Yorkshire TV's children's sketch show, 'Behind The Bike Sheds'. His starmaking role was as a regular panellist on Whose Line is it Anyway?, which led to him turning up all over the place, on comedy shows, chat shows and straight drama - to the extent that his apparent ubiquity became a frequent target of other (jealous?) comedians' jokes.
He was diagnosed with bipolar disorder in the mid-1990s after a period of severe depression during which he became a recluse for six months.
Since then, he's appeared in various roles on TV, including a spell in Coronation Street and a recurring part in Kingdom with long-time friend and Footlights contemporary Stephen Fry.
Trivia
Played the lead role in Dead Ringer, the thriller mini-serial produced for the observation round of the 1992 series of The Krypton Factor. In fact, he also played the baddie, since they were.. well, you get the idea.
Slattery played the lead role in a 1993 ITV comedy series, 'Just A Gigolo', which was an enjoyable and witty series, but unfortunately failed to return for a second series.
He served as Rector of the University of Dundee from 1998 to 2001. His predecessor in the post was Stephen Fry and he was succeeded by Fred MacAulay.
Web links
Feedback