Stephen Fry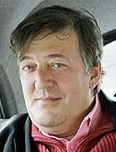 Biography
One of the most famous graduates of Queens College, Cambridge - although it seems from a talk to non-Oxbridge students in 2005 [1] that he didn't get on with everyone there. A member of Footlights, he is most associated with partner in crime and the voice of Pampers nappies, Hugh Laurie. Fry and Laurie continued for umpteen series in sketch shows, drama (Jeeves and Wooster), adverts (mostly for the Alliance and Leicester) and in many episodes of Blackadder. Fry has also acted in a recent ITV1 adaptation of 'Tom Brown's Schooldays', in which he played Dr Arnold, the headmaster and, more recently, as the eponymous (and troubled) Norfolk-based solicitor in ITV1's 'Kingdom'. Lately, Fry espouses his arcane knowledge to the great unwashed as the QiMaster on BBC Two and he's the voice of many Harry Potter audio books - oh, and Direct Line Insurance too.
Trivia
His method of speaking is so distinct that in 2005 Stewart Ferris released a book called Tish and Pish: How to Be of a Speakingness Like Stephen Fry - A Delicious Collection of Sumptuous Gorgeosities.
He probably holds the record for the most appearances, (after Bamber Gascoigne and Jeremy Paxman obviously), for the greatest number of appearances on University Challenge. As well as having been a contestant on the show in the early 1980's, he has been on virtually every celebrity special during the Paxman-era and he presented the trophy to the winners of the 2002 'Reunited' series. He was also in the 'Young Ones' spoof of the programme - and he has contributed to all the programmes celebrating the show's history and success.
He was the subject of an edition of the BBC's 'Who Do You Think You Are?' in 2005. He was also the subject of a 2006 programme on the medical condition bipolar disorder, from which he suffers - this was apparently the reason why he famously disappeared from public life for some time in 1995. However, during the programme, he and other sufferers revealed that, given the choice, they would not be without the condition, because the 'highs' that they experience more than outweigh the 'lows'.
In his youth, he spent three months in jail after stealing a credit card.
Reputedly, Fry was one of the first people in Europe to own an Apple Macintosh. He and author Douglas Adams each always insisted that the other bought the first one in the UK, and they bought the second. Fry seems to have got the last word on that one by dint of outliving the other party - certainly a very effective way of winning an argument, though we wouldn't count on it as a regular debating tactic.
One of the few things Fry has in common with Noel Edmonds is that both drive black cabs (for personal use, that is - they don't take fares). However, the Qimaster seems to be accepted rather more readily by proper London cabbies than the Blobbymeister is by their Bristol counterparts, such are the benefits of "national treasure" status and proper shaving.
He appeared as the quizmaster of School Challenge (based on University Challenge, of course) in the 2007 St. Trinian's film.
He made a brief and memorable appearance in the BBC's police-based comedy series "The Thin Blue Line" in 1995, playing the character Brigadier Blaster-Sump, who was very similar to Fry's more famous role as General Melchett in "Blackadder Goes Forth", i.e. a crazy and gung-ho armchair warrior. Presumably the likeness was intentional, since "The Thin Blue Line" was written and produced by former "Blackadder" co-writer Ben Elton.
He served as Rector of the University of Dundee from 1992 to 1998. His successor in the post was Tony Slattery.
In a special BBC interview marking his 50th birthday, he admitted being a Countdown addict - despite his famous spoof (and he has often appeared in Dictionary Corner on that show) - as well as Georgette Heyer novels, darts, ABBA, Led Zeppelin, swearing and a predeliction for Farley's Rusks.
He is allergic to champagne.
Books / Tapes
Web links
Feedback