Tim Vine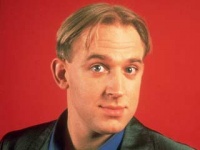 Biography
Surrey-born stand-up comic known for his quickfire style and being responsible for more bad puns than Richard Whiteley. Also the prime mover behind, and star of, ITV1's The Sketch Show.
Trivia
He co-presented the preview show on Channel 5 with Julia Bradbury, featuring clips of the upcoming shows on the new station.
His older brother is Eggheads host and licensed swingometer operator, Jeremy Vine.
Tim almost broke into TV stateside with an adaptation of "Fluke" called "Beat the Chimp". But it never went any further than an unbroadcast pilot.
He once took part in Ken Bruce's Popmaster quiz, but did so under a false name and claimed to be a plumber because he didn't want anyone to know it was him.
On 7th October 2004 he broke a Guinness World Record by telling 499 jokes in one hour. He held the record until May 2005. He also, at John Humphrys's request, fired out an impressive number of jokes in a short space of time during his appearance on Celebrity Mastermind (which he won).
Web links
Feedback