Tony Robinson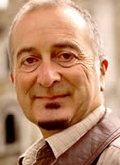 Biography
Comedy actor who played one of the workhouse boys in the original stage production of Oliver!, which took 26 curtain calls on the first night. His big break was playing Baldrick in the various Blackadder series, although he had actually started out on children's programmes some years earlier: he frequently appeared on 'Play Away' and on some schools' programmes.
He has since made some other programmes for children, notably the fondly-remembered Tales from Fat Tulip's Garden, the post-modern take on Robin Hood, Maid Marian and Her Merry Men and hosting the early 90's cartoon series 'Stay Tooned'. Another of his acting roles has been the headmaster in the Channel 4 comedy-drama, 'Teenage Health Freak' (1991/2).
He's now more associated with factual programming, especially Time Team, and hosted a weekly show on Classic FM. He also toured with his Cunning Night Out - a one-man show - and presented two series of the Channel 4 history quiz Codex.
He was knighted in 2013.
Trivia
Robinson has also been involved in politics - he was vice-president of the actors' union, Equity, from 1996 to 2000, and served on the Labour Party's National Executive Committee from 2000 to 2004.
Was a stunt horse rider in Carry On Cowboy (with Richard O'Brien, fact fans).
When playing the role of a motorcycle courier, he was pushed into the (then filthy) waters of Canary Wharf by John Wayne when filming the 1975 movie Brannigan.
Web links
Feedback