Two Tribes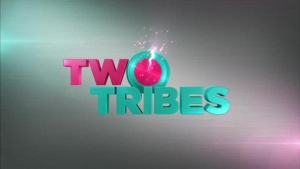 Host
Broadcast
Remarkable Television (an Endemol company) for BBC Two, 18 August 2014 to 31 August 2015 (90 episodes in 2 series)
Synopsis
Seven contestants are split into groups: those who can answer "yes" to a question like "I am a risk taker", and those who can answer "no".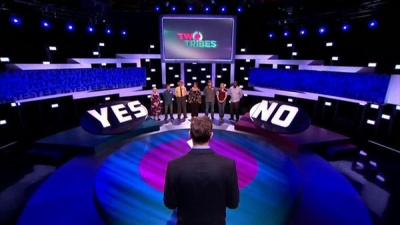 You Bet!'s new set seems much smaller than the old set.
Each tribe has 60 seconds of general knowledge questions, a question is passed down the line if it's wrongly answered, and should none of the tribe know an answer the round ends at once. One of the losing tribe is out of the game, the rest divide again.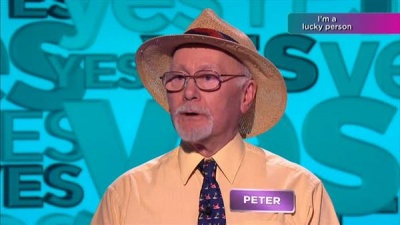 The traditional game show hat.
When down to four players, it's a straight two-against-two split, a race to five right answers determines the winning pair. Then those two play a chess clock final round. In the first series, the winner chose between two types of vouchers, worth £1,000. In the second series, they picked between two categories, and sorted four celebrity names into yes and no tribes (I had a number one in 1990s, for example).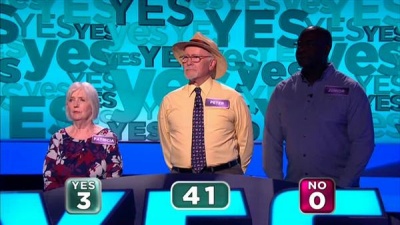 A round in progress.
At heart, Two Tribes is a hardcore quiz show - it'll typically ask 70 questions in a half-hour slot, and the questions tend to be tougher than Eggheads. Two Tribes is more than a straightforward quiz - the yes/no statements give Richard Osman an excuse to chat with the players, and deploy his trademark dry wit.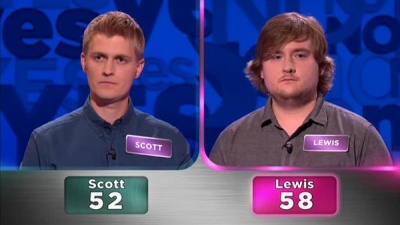 Grand Slam meets Winning Lines.
Theme music
Marc Sylvan
Trivia
Aired on weekday evenings at 6pm, pushing the slot's then-tenant, Eggheads, to 6.30.
Voted the Best New Show in this site's Poll of 2014.
The first series was recorded at Riverside Studios in Hammersmith, shortly before it closed for redevelopment. The second series was recorded at Elstree Studios.
Web links
Bother's Bar taping report, which we shamelessly cribbed to start the synopsis.
See also
Pictures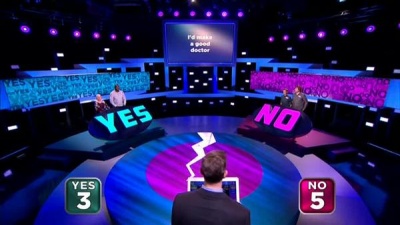 Two tribes enter, one tribe wins.
Richard Osman looks quizzical in this publicity photo.
Feedback