Weaver's Week 2006-05-21
'Iain Weaver reviews the latest happenings in UK Game Show Land.'
"We are the winners. Of University Challenge." - 21 May 2006
"Nothing will affect our relationship with the rest of Europe; they wouldn't vote for Royaume Uni if we had the Angel Gabriel singing with the Heavenly Choir." -- Terry Wogan, 25 March
The Grand Final: Manchester v Trinity College Cambridge
After two fantastic semi-finals - one that was scary in its intensity, one that was gripping right through - we should be up for a cracking final. Trinity Hall gets the opening starter, only for Manchester to draw level - one of the bonuses may have been a guess, but even the guesses count. Trinity Hall pulls ahead again, and seems to be taking a long time to answer the bonuses. Manchester are unlucky with the first female US presidential candidate (they'd said vice-president), but take the lead thanks to their in-depth knowledge of cat litter. The first visual bonuses are on Ashes-winning England captains, after which Trinity Hall is 50-40 ahead.
THC gets the next starter, but bonuses on chemical acids are beyond them. The alcoholic drink named after an island independent in 1898 is not, and the lead's up to 40. And then it starts falling, with Manchester taking two starters and bonuses cutting the advantage to 15. The audio round comes remarkably early, and while Manchester's guess of Tchaikovsky follows the advice "always guess Tchaikovsky," it's wrong. This is the final. Compositions done at a conservatoire is this week's theme, after which the scores are tied at double-deuce, 80-80.
Trinity Hall start the third stanza with a brace of missignals, then Manchester doubles the lead with a starter about chemistry. No-one knows the RAF from its motto "Per ardua ad astra", which must be the nerves of the final. Another missignal from THC, another round to Manchester, and we're already up to the second visual round - book covers without any text. Trinity Hall gets this starter, and all three bonuses, and Manchester's lead is down to 115-90.
Two dropped starters run down the clock, but Manchester gets the next starter and a bonus. Five and a quarter minutes to go. Manchester picks up a missignal on paper - it's not seven folds, but A1 containing eight A4 sheets. Trinity Hall gets the starter, but no bonuses. Manchester picks up the next starter, and two starters, and it feels as if Manchester's 45-point lead will be enough. But Trinity Hall get a full set of bonuses in double-quick time, and they might pull it off.
Or not; Manchester settles their nerves with a starter and bonus. One more starter will surely suffice. The first starter is dropped. So is the next one. THC get the capital of Jersey from its latitude and bay, but no bonuses. Twenty-five points in it, another starter goes a-begging. Trinity Hall drops one bonus, get the second, and time expires. Manchester has eked out their win, 160-150.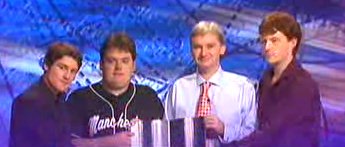 The victorious Manchester team with their trophy

(l-r) Chris Holmes, Gareth Aubrey, Joseph Meagher, Adrian Anslow
Gareth Aubrey is the best buzzer of the night, getting eight of Manchester's ten starters, and we credit him with 99 points. Ben Hardy had 68 for Trinity Hall. On the night, Manchester went 13/30 with one missignal, Trinity Hall 13/29 with three missignals. Some have argued that, had THC not lost points from their missignals, they might have won; the claim may be true, but those have been the rules since before most of us were born, and there's no use changing them now. And, yea, there was great rejoicing in Manchester that night.
Over the series as a whole, Manchester answered correctly 57.5% of the questions they faced; championship form in anyone's book. Scoring was up to 335 points per programme. It's higher than the last two years, and similar to the 02 and 03 series; the difficulty of questions appears constant, though the quality has increased markedly.
University Challenge: The Professionals begins in June; as is traditional, this column will not give a match report each week.
The Qualification Event, BBC3, 7.59pm, 18 May
Paddy O'Connell hosts a one-minute preview programme before the contest begins. The stage is set like an ancient amphitheatre, with steps carved into the back wall. Unlike ancient Greece, these have video displays. The main stage looks roughly circular, and it's another glass-floored affair, albeit with elevated sections that will rise and fall through the night. A certain lack of imagination there. The opening medley is of classic Eurovision hits performed by characters from Greek mythology. Maria, the female announcer, is loud. Sakis, the male co-host, is calmer. Let's roll.
01 - Armenia - Andre - Without your love. He's putting his heart into his performance, shame it's such a dull song. The dancers fill the night's quota of fierce-looking woman wielding leather strips with intent.
02 - Bulgaria - Mariana Popova - Let me cry. The dancers here are in flowing blue satin, writhing around like billy-oh. The song is chanson-by-numbers. BBC3 host Paddy O'Connell is not convinced by either of these. We are - we're convinced they're going home tomorrow.
03 - Slovenia - Anzej Dezan - Mr Nobody. Bloke being molested by dancers whose dresses almost come down to the belt. Bosnia or Greece did it two years ago, but - tug ears - we might yet set sail for Ljublijana. Some sloppy direction tonight, holding on the shot of the stage for longer after the performance than anyone expects. Walking off stage looks bad.
04 - Andorra - Jenny - Sense tu. Thanks to a mix-up in the baggage department of Barcelona airport, the dancers' dresses have not arrived, and they are in their skivvies doing unspeakable things with chairs. We won't remember it in five minutes.
05 - Belarus - Polina Smolova - Mum. No-nonsense high-camp disco, all thigh-high boots and crunching guitar solos. The first song with a chance of going through.
06 - Albania - Luiz Ejlli - Zjarr e ftohte. The annual appearance by the bagpipes, and a bloke who looks exactly like Justin Timberlake. Well, a bit. Starts off as an ethnic tune like the (last) two Serbia and Montenegrin entries, but then goes a bit disco, and loses its way.
At this point, we take a short break to watch Mastermind, and fill in the gap later.
07 - Belgium - Kate Ryan - Je t'adore. It's Cindy Beale from Eastenders and five blokes doing very strange things with microphone stands! Early draws don't do well, not in years without reverse recaps, and this is probably just too early to qualify. A shame.
08 - Ireland - Brian Kennedy - Every song is a cry for love. This is familiar from somewhere, it's not Robbie Williams, it's not "When a child is born", but it's a decent enough slowie. In a tribute to last year's highlight, Paddy O'Connell's door cannot be opened. Andrez from Slovenia is trying to gather votes with some frantic ear-tugging.
09 - Cyprus - Annet Artani - Why angels cry. The woman in the yellow dress, trying desperately to channel Chiara from last year's contest. This column has made a bet that this song won't qualify, and we reckon our 20p is safe.
10 - Monaco - Severine Ferrer - La coco-dance. In which three hula dancers in grass skirts meet the George Formby ukulele club. There must be something awry with baggage handlers, for the male dancers have lost their shirts entirely. Bit of a grower, but you can't win Eurovision by being a grower.
11 - Macedonia - Elena Risteska - Ninanajna. Her dress has arrived, but seems to have shrunk in the wash. Unremarkable disco; the ethnic vote might just see this through, but book a place in the semi for '07.
12 - Poland - Ich Troje - Follow my heart. You might remember these people from 2003, when they hollered across the stage in an advert for washing powder. They're still mostly in white, but this song isn't a patch on the last one, in spite of half the song being sung from the middle of the crowd. Is this a way to get round the six-on-stage rule?
What. Are we back live?
13 - Russia - Dima Bilan - Never let you go. It's an anthemic slowie, performed by a mullet in a white t-shirt, it's good enough to go through, but it's hard to see why it's such a favourite amongst the fans. Anyone got a pair of classical ballet dancers on their bingo card?
14 - Turkey - Sibel Tuzun - Super star. By contrast to Slovenia, this is a lady being molested by four boys in black. It's a decent enough idea, but it goes on too long, which is difficult for a three-minute song.
15 - Ukraine - Tina Karol - Show me your love. Breaking the Eurovision clich? - backing dancers turn up in long Cossack coats that should be ripped off, but aren't. The song is going nowhere until it breaks into a balalaika solo. They've nicked the skipping rope trick from Norway's last JE entry. On the cusp of qualification.
16 - Finland - Lordi - Hard rock hallelujah. Mmm, a sweet and haunting little number about flowers and kittens and trolls wielding battleaxes and playing guitars with flamethrowers on the end. If this doesn't qualify, we'll be amazed. Especially after the BBC spends the commercial break talking about the band.
17 - Netherlands - Treble - Amambanda. Drumming didn't work for Estonia two years ago, but did it for Moldova last time. Three attractive girls, singing in Sanomi with English phrases. A strong outside bet, especially given a draw in the last third.
18 - Lithuania - LT United - We are the winners. Six blokes in suits and ties step up to a row of microphones. Head to the hills, it's Westlife and a half! Oh no, it's six blokes shouting, "We are the winners! Of Eurovision" as if they were at a basketball game, including one who looks like Harry Hill. Favourites for last place, all very silly, and deserving of ridicule from Wogan. Still, head to the hills!
19 - Portugal - Nonstop - Coisas de nada. Any comparisons between the opening chorus here and Abba's "Waterloo" is a complete coincidence. The vocals aren't as good as the brass-heavy backing, and someone should have stopped them from spending their entire clothes budget in the hat shop.
20 - Sweden - Carola - Invincible. This is the woman with huge skirt trailing behind while being blown in the face by a fan. She won in 91, and it sounds like it could have been with this song.
21 - Estonia - Sandra - Through my window. Any resemblance to "Does your mother know" is, again, coincidence. Woman in blue, with huge belt buckle, singing cheery nonsense with key change of joy. Pushes this column's buttons, for we're very much in favour of cheery nonsense with key change of joy, especially with bells in the background.
22 - Bosnia Herzegovina - Hata Mata Hari - Lejla. Shamelessly going for the Balkan ethnic vote; one man in a white suit walks around the stage singing quietly, while the others sit on the daises (what is the plural of dais?) playing their instruments. Worthy, and memorable.
23 - Iceland - Silvia Night - Congratulations. Has Tatu turned up? Tremendous boos after she criticised the organisation of the contest. Her dress sense is pure Liberace, and she doesn't have the breath to sing and dance at the same time. The surname is pronounced "Not", and she's night up to the job. We could see the candy-cane / shower sight gag coming from a mile off. It's as if we'd sent CAUTION Bonnie Langford at the height of her irritatingness.
What is on Sakis's cards? Take forever to turn over the hourglass, check. Forget to introduce the recap video clips, check. Mess up the sound while Monaco's playing, check. Sing for supper while the voting ends, check. Buy button for top of shirt -- blast! The interval act - some modern dance funkiness - is taken off in favour of Paddy talking with other competitors. This would be the modern equivalent of whether there should be studio analysis or coverage of the marching bands at half-time in the FA Cup final.
The votes are in, and - after taking eleven minutes to open ten envelopes - the line-up for the final is:
01 Switzerland; Moldova; Israel; Latvia

05 Norway; Spain; Malta; Germany
09 Denmark; RUSSIA; MACEDONIA; Romania
13 BOSNIA HERZEGOVINA; LITHUANIA; Britain; Greece
17 FINLAND; UKRAINE; France; Croatia
21 IRELAND; SWEDEN; TURKEY; ARMENIA
So no place for the Dutch, which is a shame; for the Estonians, which is a major loss; or for Iceland, which is probably a mercy. Portugal, Poland, Belgium, all gone. Just three songs from the first half progress; there will be more on draw effects in the future.
Heat 6, 12 May
Kevin Knowles is talking about the History and Geography of Enclaves and Exclaves. He starts with a pass, and finishes on 7 (4).
Bernice Murphy will tackle the Films of David Cronenberg, and she also starts with a pass. Four more passes during the round, and what feels like a lot of errors, but she finishes on 11 (5).
David Stedman has the Life and Work of Caravaggio, the Italian artist about which Mr Stedman is a clear expert - he finishes on 14 (2).
Derek French needed to watch UK Gold to swot up on British Television Sitcoms 1970-90. It's not the greatest round; he finishes on 6 (7). According to the INFAX database, Mr French appeared on the first episode of Takeover Bid in 1990, the second edition of The Weakest Link, and achieves something of a rarity on this programme, finishing on 11 (11).
Mr Knowles tries his hardest to repeat the feat, and his valiant efforts not to remember who followed David Blunkett as Work and Pensions secretary would surely win him a place on the next series of Fifteen-to-One. He finishes on 11 (9).
Ms Murphy suggests that the movie Scanners is appropriate to her situation, someone sits in a chair facing intense questioning, and their head explodes. Not on this show, though she does seem to be struggling a little. The finishing score is 18 (10).
Mr Stedman needs five to win. INFAX doesn't remind us if he is the same man who won Brain of Britain in 2003; from our memories, he could be. Judging by this performance, we'll get a chance to find out in the autumn; he finishes on 22 (6).
Heat 7, 18 May
Jane Cartlidge takes the Life and Films of Cary Grant. That's the actor, not the Star Academy singing coach. She falls into Pass Hell towards the middle of the round, but recovers to finish on 8 (4).
Daniel Newman has been studying the English Reformation. He puts together a solid round, 10 (3) should keep him in contention.
Ray Eaton offers British Track and Field Athletics since 1980. This topic is wide enough not to be a gimme, but small enough to be manageable by a determined contender. Mr Eaton is just such a contender, and makes 15 (1).
Bill Docherty will talk on Frederick Nietzche, about whom we have heard much but know little. This set of questions doesn't introduce him to a general audience, and Mr Docherty also finishes on 8 (4).
In a sequence we would not have believed if we had not seen it with our own eyes, Mrs Cartlidge discusses how to spell "cat" in the phonics used by young children. Very soft "c". The round finishes on 14 (9). Mr Docherty never looks comfortable in the chair, ending with 12 (10).
Mr Newman is a fan of Thomas Beckett, especially his Book of Common Prayer. He gets the night's obligatory CBBC cross-promotion question about Dr Who, but is too young to remember Andrew Ridgeley. He finishes on 14 (9).
So Mr Eaton needs none to win, and gets them quickly. The final score is 27 (3) - a very good performance.
This Week And Next
A new production of The Sound of Music will open at the Palladium on 14 November, with previews beginning on the 3rd. Tickets will be on sale from 11 June. The role of Maria will be chosen through a performance competition, to be fronted by Graham Norton. Obviously this contest won't begin before Strictly Dance Fever ends, but there's only a few weeks left there. It's got to finish well before previews, perhaps on 16 September, being a week after the Last Night of the Proms gala. In turn, that would suggest a start sometime in late July or just into August.
Viewing figures for the week to 7 May. 6.1m saw Jet Set still the most popular game show by far. The Apprentice (5.0m) climbs to silver medal position, with Julian Clary's unfunny turn on HIGNFY earning 4.7m and bronze. Millionaire had just 4.5m, barely ahead of Deal with 3.9m. The BBC2 daytime pair of Great British Menu and Eggheads were both helped by the snooker on Monday, finishing just below 2.5m, and beating Link by a sneeze. Mastermind had 1.8m, level with QI repeats on Saturday night. A surprise entry for Raven on the CBBC chart, 189,000 saw Tuesday's show, behind only Tracey Beaker. 126,000 for New Bullseye. Pop Idle US has shot up to 722,000, and remains the leading digital-exclusive show - 344,000 saw More4's Deal.
Next week: Eurovision tonight, Beat the Boss on BBC1 weekdays, Countdown completes its finals, Soccer Aid on ITV, and the return of I'm Sorry I Haven't a Clue.
To have Weaver's Week emailed to you on publication day, receive our exclusive TV roundup of the game shows in the week ahead, and chat to other ukgameshows.com readers sign up to our Yahoo! Group.