Weaver's Week 2011-10-02
Last week | Weaver's Week Index | Next week
As well as the usual Only Connect and University Challenge recaps, we've the latest update from the Countdown studio, and someone has crunched the numbers about women on Mock the Week, saving us the bother. That'll be our hero.
12 Yard for ITV, Sundays from 4 September
Back in the dim and distant past, 7pm on Sunday was ITV's darkest hour. An hour when the television screen was blighted by Harry Secombe on a windy hilltop, miming to a recording of his own singing. In these days of widescreen and high-definition, we know better. Yes, the people miming to their own singing are on The X Factor at 8.
The lead-in to X Factor – the Only Connect of ITV – is a new programme that we're enjoying far more than we expected to. Gethin Jones is the host, and after completing the Royal Marines' assault course earlier in the day, he's changed into a sharp suit before wandering onto a set. All roads lead to a central table – Gethin's entrance, a tunnel through which players will arrive, and three sets of chairs jutting into the audience.
The point of Holding Out for a Hero is to raise awareness of good causes in your local area. There are people in need of assistance, and – in short videos – each of the three contenders explain what good work is done by the charities and voluntary sector agencies. These aren't like Comic Relief clips, the objective isn't to make people reach for the phone and their credit card in that order. No, these are positive clips, showing what's being done, and what an extra few grand could do.
Each good cause has nominated a Hero, who will seek to win as much of ITV's money as possible. All of the contestants will take £3000 for their cause, and these are small-scale causes where that will make a visible difference. One of them can take much more away with them.
How does the game work? It looks simple, and it's got depth. The contender will be asked five questions, with three answers. These are multiple-choice questions, the sort of question that people feel they ought to know, even if they don't. Three possible options are presented, and the contestant must give one of them, even if they have to guess. They're encouraged to talk out their answer before locking it in.
So far, so In It to Win It. After deciding on their answer of record, the Hero is asked to choose one of twenty-five "gift cards". These are small plastic cards, presumably with an identifying magnetic stripe, or electronic chip. They're laden with amounts of money between £1000 and £20,000, and some values are duplicated. Only when the card is inserted into the reader in the central table does anyone find out how much it is worth.
After finding out the value, the players has the option – but not the obligation – of using one of three "tools". They're able to double the amount on the card, they're able to treble the amount on the card, or they can pass the question. Each of the tools can be used once, so at least two questions have to be played for face value. A correct answer will add the amount of money to their prize fund, an incorrect answer will cause that much money to be debited away. And if the question's passed, then it's being played for no money at all, so it doesn't matter if the player got it wrong.
The tactics come into play: when is it right to double? Naively, on any question worth more than £10,000, so long as the player's reasonably sure of the answer. But then when is it right to treble? It feels like £15,000 might be the minimum amount, but the player's got to be absolutely sure. Is it safer for the first player to have three questions worth about £20,000, because 60 grand is a decent target? Later players know their target in advance, and Gethin does tell them when they must double or treble, and will stop the game after four questions if the result can't change.
Rinse, repeat for all three good causes, and for all three players. At the end of the show, we're assured of an emotional lift as the winning contender hands over the money to a representative of their nominated good cause, the same person who accompanied them into the studio a little earlier.
Holding Out for a Hero is a bit old-fashioned. Spool back thirty years, swap the electronic gift cards for sealed envelopes, replace Gethin Jones with Peter Purves, and knock a zero off the prizes, and we have a perfect regional television show, certain to get into the local paper. "Bill from Brighton won £4,700 on Southern Television's charity quiz, and gave the money to Ida Lloyd from the town's Meals on Wheels service. It'll provide a new kitchen." Maybe this would work better as a regional programme, one where viewers could feel a little more connection to the causes, where they could see the benefit in their community. But let's not look a gift horse in the mouth, ITV has abandoned regional programmes, and national is the way it goes.
This programme is honest television, it doesn't try to be anything it's not. It's not tremendously fast-paced, it's going to stretch minds and no more, and it's not going to do anyone down. It's perfect Sunday evening television, entertaining and gently uplifting and (whisper it softly) ITV actually doing some public service broadcasting, reminding people that charity begins at home.
Peter Staniland was the Countdown champion over the summer break, and for not much time after. He won two games before losing to Dave Taylor. One can only beat the players one is up against, and Dave wasn't too stretched in his eight wins, amassing a low total of 691 points.
Russell Tompkins took over the vacant chair with the first of two wins, and he lost a magnificent match to Carl Williams. Again, one can only beat the opposition in front, and Carl's score of 708 was lowered by his six-small numbers choices. Peter Metcalfe (2 wins) and Andy Royce (3 wins) followed in the chair, before Jayne Wisniewski took over on Friday last week. She's won six games so far, and looks to be quite the handy player.
The top eight seeds are:
| | | |
| --- | --- | --- |
| 1) Mark Deeks | 8 wins | 824 pts |
| 2) Graeme Cole | 8 | 813 |
| 3) Carl Williams | 8 | 708 |
| 4) Dave Taylor | 8 | 691 |
| 5) Jayne Wisniewski | 6 | so far |
| 6) Matt Croy | 5 | 538 |
| 7) Liam Herringshaw | 5 | 513 |
| 8) Andrew Halliburton | 4 | 446 |
There will be another Countdown update in early November.
Heat 13: St Anne's Oxford v Pembroke Cambridge
The microbloggers are back, and they're cranky. Harrisimo writes, "'It's an Oxford vs Cambridge University Challenge next.' Just for a change." It's the fourth (and, if we might be excused a spoiler, final) such contest in the opening phase, and that is a bit too many. What do these people know? Van Gogh's inability to sell paintings, and Lord Bishop of Tittypoo. That's Peter Mandelson to his friends.
There is a difference between glycerine and nitroglycerine, and it costs St Anne's a missignal, and gives Pembroke the advantage. The first visual round is Name That Cabinet, a bunch of names missing their prime minister. Pembroke prove a bit good at this, and lead 75-5. CJ Brooking has a thought for admissions officers: "to get into uni, you should be asked some university challenge style questions in your field!" Oddly enough, we recall someone else (was it Richard Dawkins?) suggest just this while presenting the trophy some years back. This column agrees: an eclectic general knowledge is the sign of wide reading and an open mind.
St Anne's roars back with anachronisms in Shakespeare, and the year 1986; perfection on both sets. Android_dreams is getting their game shows mixed up: "Watching University Challenge hoping Richard O'Brian appears and locks them all in a dungeon." This week's audio round features about two notes of a Girls Aloud track, leading into songs named after London Underground stations – and the tube lines they're on. Pembroke lead by 115-55, but victory is not secure because they failed to get the last answer, "Northern line, Mornington Crescent".
Liveindetail asks, "Does anyone else find that the questions on University Challenge tend to be a bit too easy?" This is why the game show deities invented Only Connect, coming to a button near you in twelve minutes. Booker Prize winners for Pembroke, including our favourite "There's a Monkey in the Refrigerator!" We've not done the diversity watch, have we? Three women, one visible minority. The second visual round is on carvings from ancient civilisations, and while St Anne's trail, they could still do enough to remain in the game, trailing 145-85.
Pembroke get another complete set, and time is running out for the Oxford side. But they get a question on Queen Victoria's daughters, and promptly blow all the bonuses. Pembroke get the next starter, and – in terms of the victory – that feels like Game Over. Fruglo is "watching University Challenge and eating a massive bag of sweets." Chuck us one, mate.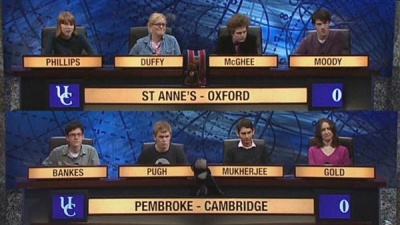 St Anne's Oxford: Eve Phillips, Rachel Duffy, Robin McGhee, Oliver Moody.
Pembroke Cambridge: Edward Bankes, Ben Pugh, Bibek Mukherjee, Imogen Gold.
The Cambridge alumni are crowing: Crimebarrister1: "University challenge: Cambridge always has been better than Oxford" and Chrissarnowski: "Cambridge casually beating Oxford on University Challenge. Oh yeah, and in the world rankings!" On the other hand, E____llie writes, "st annes on university challenge. just sent off my UCAS to apply there......." Good luck, there. Not that you'll need it.
The luck's needed by St Anne's, who have crawled up to 110, and need just 20 more points to push Edinburgh off the repechage board. They get an anagram of "two", and some questions about Hot Spots, though not the sort that Blockbusters contestants put themselves on. They get another starter, but are tripped up by Thumper's inability to name diseases in Latin. Wouldn't catch Victoria Coren making this elementary mistake.
At the gong, Pembroke have won, 205-140. They'll certainly be back, St Anne's score will be the target for both sides in the final first-round match next week. Thumper's right, it's borderline. We've a double Random Punter: "@_Carradonna_ 9 – @tangphastic 4. Got whooped." St Anne's were right in 20/42 questions, and had the night's one missignal; Pembroke got 29/58.
Next match: London School of Hygiene and Tropical Medicine v Nottingham
Heat 7: Rowers v Linguists
"The closest BBC4 gets to The X Factor", says Victoria. True, there's only a factor of about fifteen between these show's viewing figures, and they're both far-and-away the most popular programme on their channels. And there's a Lythgoe on the show! It's Charlie, we believe no relation to Nigel, and she's head of the all-female Linguists team. They begin with the Wick o'Twisted Flax o'Doom, which this week has become the Wick o'Twisted Flax o'Boom, four things that had economic bubbles and crashes.
That's a bonus to the Rowers, all blokes, whose first pick is Water. Obviously. After two clues, they're discussing novels based on alternate histories of World War II; they see a few more, and secure another point. Pictures for the Linguists; a flower, a car, some sort of small vegetable, and someone doing yoga. Lotus would be the connection there, for a point.
"Ippon" has the Rowers discussing judo, and then see "his nob". They buzz in and guess "things that end the round". But no, even a couple more clues don't give it away to the Linguists, it's things worth one point. The question ends with nul point. There are sounds behind the Horned Viper, but we're completely nonplussed. Gregorian chant and "Rasputin"? Oh, monks, there was the theme to "Monk" the telly show, and a monastical bonus to the Rowers. We have no idea what's going on in the last clue, either, but add an apostrophe to form "who're, he'll, we're, can't". Genius. Rowers lead, 3-1.
All to play for in round two, where the Linguists begin with Japanese emperors, but they can't remember the current bloke's name. Oh, woe. Akihito gives a point to the Rowers. "4th Yangtze" is the initial clue, so it's rivers, and they're wondering what's the longest. Except it's not length, but volume. Amazon is the largest, and the Linguists pick up a point. Did Helen Skelton kayak 2010 miles in vain?
"A" "H" "I" are the three clues for the Linguists, who think Scrabble, but quickly move on to vertical symmetry and pick up II points for "M". What do the Rowers have? Proportion, Therefore, Ratio. Oh, they're going dotty, combinations of dots in mathematics, four and three and two, so the decimal point gets two points. Derren Brown's techniques is the next set, which no-one gets, and the final is pictograms of "The Cook, The Thief, His Wife, and Their Lover". Two points for the Rowers, who lead 8-4.
To the walls, and the Rowers begin by spotting Danny Boyle films, and then types of large car. The last two groups give them significant trouble – they spend something over 90 seconds trying to get them right. And fail; they don't play enough Super Mario games, and can't tell their perfume from their glue. Again, you wouldn't catch Victoria Coren making this elementary mistake; when she sprays glue around, it's meant to be sticky and not scenty. Four points!
What do the Linguists have? Girls names, palindromes, playwrights. We can see nicknames for Scottish football teams, they can see Toms and Tommys. What about a silent letter at the end? Things that are short for something else? It's not a classic solution, and some frantic jabbing leaves them with just the one point from the group of playwrights. Characters from "Keeping Up Appearances" score, but "Under the ___" and Scottish football sides don't. Three points!
Five points the difference for the Rowers, who have a short Missing Vowels round to defend their lead. Does no-one watch "The Sarah Jane Adventures"? That telly spin-offs goes to the Linguists by a couple of points, and they do well on regions of the world, winning 3-1. Just a point in it now, and "Things that can be spiked" sees the sides level on a couple of occasions as it ends 2-2. Fishing equipment is the answer the Rowers need to finish their win, 16-14. They'll be back for a quarter-final, they're all off home. Victoria will spend the next week sitting there. Waiting.
Next match: Rock 'n' Rollers v Trade Unionists
This Week And Next
For the record, Dana Domestic's place on Celebrity Bainisteoir has been taken by Daniel O'Donnell's wife. Clearly, Dustin The Turkey was unavailable.
There's been an ongoing discussion about the lack of women on television panel shows in general, and on Mock the Week in particular. Vicky Brewster has been crunching the numbers on The F Word, and has found that Mock the Week puts a woman on the panel about once a fortnight – about 8% of their bookings. According to Vicky Brewster, "They say that they don't want to take part in 'positive discrimination', and have made no indication that they intend to take the complaints of their fans seriously."
This column stopped watching Mock the Week regularly about three years ago, when it became clear that the programme had stopped being funny, and was just the same old suspects recycling the same old material every week. At a subconscious level, our reaction was perhaps related to the lack of women on the show – when we made an effort to catch Zoe Lyons' appearance, we thought she wiped the floor with the other panelists.
Ratings for the week to 18 September are somewhat hobbled by the lack of data for ITV, and the fact that BBC1 had no games in their top 30. The Great British Bake Off led for BBC2, with 3.85m cake-lovers. QI and University Challenge were seen by just under 3m, and Dragons' Den by 2.25m. Million Pound Drop was Channel 4's biggest, just under 2m, and Big Brother's eviction show came in at the same figure. Shooting Stars had 1.75m viewers, its highest for the year. On the digital channels, Celebrity Juice reigns supreme, 1.73m people saw Thursday's episode, making it more popular than that night's Big Brother. Xtra Factor pulled 1.375m viewers, and third place for Only Connect, 635,000 masochists. Er, viewers.
Strictly Come Dancing It Takes Two resumes (BBC2, 6.30 weekdays). There's a new run of Never Mind the Buzzcocks (BBC2, 10pm Monday), and the second series of Beer & Pizza Club (ITV4, 10pm Tuesday). On more obscure channels, new runs of The Apprentice Ireland (TV3, 9pm Monday) and America's Next Top Model (UK Living, 9pm Tuesday), and the return of Impossible? (Channel 5, 11pm Wednesday). The heat is on for the talent shows next Saturday: Strictly runs 6.05 – 8.05, The X Factor 7.30 – 10pm. The Sunday results shows don't overlap, and we think they're fixed at 7.30 and 8pm respectively.
To have Weaver's Week emailed to you on publication day, receive our exclusive TV roundup of the game shows in the week ahead, and chat to other ukgameshows.com readers, sign up to our Yahoo! Group.