Weaver's Week 2011-09-25
Last week | Weaver's Week Index | Next week
And, as the minute waltz fades away, it's a pleasure to welcome you to this week's column, where regular panellists Jeremy Paxman and Victoria Coren are joined by a new player to the game, Darren McMullen; and by the spectre of an opera. Would you please welcome all four of them!

NBC Universal / Shine for ITV2, Tuesdays from 30 August
We'll just take a moment to think about that production credit, being the conjunction of companies ultimately owned by General Electric and Rupert Murdoch.
Now, we have a problem with Minute to Win It. Our reaction after seeing the first episode was the rather short, "meh". Even this column would hesitate to stop a review after three letters, though some viewers would doubtless prefer that we did.
Minute to Win It starts with resident team captains: Caroline Flack off of Escape from Scorpion Island and Joe Swash from just about every ITV show including this one. They're joined by teams of five people, and are set little challenges to perform. Everyone will play precisely once, and that includes the captains. Each challenge scores points, and whichever team has the more points at the end wins, it's that simple.
It's easy to see that the show will stand or fall on the quality of the challenges. Here's the first problem: they're a bit limited. Minute to Win It is a shiny floor show, and all the action takes place on that shiny floor. So it's primarily variations around a theme: moving object A from place B to place C while performing other action D. Now, to be fair, this can be entertaining – the series began by getting two players to move cherries from a piece of string into their mouth by doing nothing more than blowing on them.
It can be entertaining, but it's not the most ground-breaking of ideas. Dressed up slightly, this could be a little challenge on Fort Boyard, for that bit where the prisoners have to do a forfeit to be released. "Blow on the cherry, then spit the seed into the keyhole!" It's a sideshow, not a main attraction. Minute to Win It has a problem – 'tis all sideshow, and very little show.
By definition, Minute to Win It will feature challenges complete in 60 seconds. They have to be understandable in less time than that. They have to be understandable by the ITV2 audience in less time than that. This experience won't stretch our brains, and this column has no objection to easy, undemanding television, so long as it's entertaining.
And here's the problem. Minute to Win It isn't all that entertaining. That the show will stop and start is a conceptual selling point, it won't change. That the programme is relentlessly loud, that's a production decision, and one that means there's neither light nor shade in the broadcast. It's like listening to a klaxon for an hour.
The show is overstaffed: not only do the team captains banter with each other, but there's a host to explain the games. Darren McMullen (for it is he) is as Glaswegian as John Barrowman, but Darren found his fame and fortune hosting Minute to Win It in Australia. Watching a later episode, we're slightly pleased to see that his mild innuendo has been allowed space to breathe, rather than be chopped out by a Superfluous Voice Over.
Let's be fair, there are many promising elements here – the staffing in the studio is about right, Darren is a decent-to-good host. The games are nothing spectacular, though they could nick an idea from Friends Like These and have one of the challenges outside the studio, just for variety. The final element is a cash round, where points are turned into money; and then a win-or-bust round, where one player determines whether the winning team leaves with that dough, or with zero pounds, and this is properly tense.
So why did we come away with such a non-reaction? It's the relentless pace of the show, always moving on at a constant speed. It's like we're on a conveyor belt, seeing the world pass by at the speed the producers want us to see it, without time to pause and reflect. And all the while with some loud cheering and hollering preventing us from concentrating.
We could yet grow to like this show, just not without some tweaks.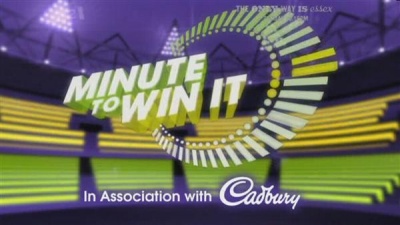 The show is advertiser-funded by a chocolate maker, using the forthcoming Olympics to sell sweets. We're so not going there.
Heat 12: Leeds v Goldsmiths' London
The microbloggers are saying... well, we're sure they're saying something, but we're not in a position to record their thoughts. Something about an "obnoxious gate". We'll try to find a Random Punter after the match, but on with the show.
What we must do is profile Goldsmiths', as it's the first time they've appeared in ages. Founded in 1891 by the Company of Goldsmiths, it's known for work in the arts and creative sciences. Former students include Malcolm McLaren, a quarter of Blur, at least two-fifths of Voodoo Hussy, Katy B, and David Clark of the jolly good Life After Mastermind blog.
There's a woman on each of the panels, and four of the competitors introduce themselves by given name only. Of such small details are social changes made. Leeds – the youngest side in the contest – get the first bonuses, and try to nominate someone else to answer. "He doesn't want to be nominated," exclaims the host, neglecting to note that "she" would be more accurate.
Rightly or wrongly, Goldsmiths' is traditionally seen as a left-wing institution, and fails to score on three questions about property. It's theft, natch. They do get two of three on words imported from Arabic, all beginning "al". Insignia of ranks in the British armed forces are the first visual round, after which the scores are 30-30. Does anyone remember Ivor Novello? Songwriter, hence the songwriting award.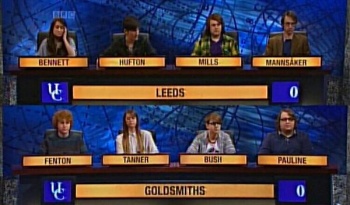 Leeds: Lucy Bennett, Peter Hufton, Lewis Mills, Christian Mannsåker
Goldsmiths': Adam Fenton, Louise Tanner, Tom Bush, Wes Pauline
Goldsmiths' is asked three questions on Romulus and Remus, and fails to get three questions on Romulus and Remus. Plank! Not only a description of that performance, but also the next answer. The king who wanted to go out and eat pizza is the subject of the next starter, and Leeds clean up on a set of questions about Russian novelists. They have a very long conversation about a later starter, but result in a "pass".
"Your bonuses are on rabbits in peril", says our host, before determining that Goldsmiths' don't know the difference between Mr. McGregor and Farmer Brown. The audio round is on songs written by Jack White, allowing Goldsmiths' to score well and take back the lead, 90-70. For their next round, Goldsmiths' are invited to go west: start in a city, and name the next land you'd reach. Had there not been a dropped starter earlier in the show, a question about Estonia would have been followed by ... another question about Estonia. This show isn't just thrown together, you know!
Confusion between "warm-blooded" and "cold-blooded" costs Leeds five points, and no-one can see the connection between the writing styles of Enid Blyton and Agatha Christie. Unified countries allow Leeds to draw level, and various Gangs of Four put Leeds ahead. Queens Dowager form the subject of the second visual round, after which Leeds' lead is 120-115. Like Peter Hufton, we didn't know the measuring unit, but did know that 40 million of them circumscribe the Earth.
We've finally reached the Little Billy Shakespeare question, on Henry IV. Leeds know their SI prefixes, and the difference between a Pm and pm. A very long way indeed. There's a suggestion that Patrick Moore is a well-known student of the Moon (which is true) born in the Netherlands (which isn't). Five points go a'begging for Leeds when they don't say "er" while thinking, because Ur is the answer.
Edinburgh survive on the repechage board, where the top two will return:
200 Homerton Cambridge
180 Worcester Oxford
165 St Andrews
125 Edinburgh
We've reached the "game over" point in terms of tonight's winner, but Goldsmiths' need one more correct starter to reach the repechage board. Leeds dally, saying "Quasar" to everything, and that runs the clock down. Thumper barely starts the next starter, and at the gong, Leeds have won, 220-115. A satisfactory result for Leeds, who got 32/56 questions right, and everyone had at least two starters. Goldsmiths' had the best of the buzzers for much of the game, but didn't perform on the bonus questions: 15/48 is not a winning score. The overall accuracy was 47/87.
Can we have a Random Punter? The interwebs have decided we can have a Random Punter, and sarahcaseupton, that honour is yours: "Wow, this evening I've answered 2 questions on university challenge & got the picture name round on question of sport. What a day!"
Next match: St Anne's Oxford v Pembroke Cambridge
Heat 6: Listeners v Steel City Singers
ITV2 requires a Minute to Win It. On BBC4's top-rated returning series, questions are Gone In Forty Seconds.
We heard this week about plans for The X Factor The Musical, and for Pop Idol The Musical. "We'll never do Only Connect The Musical", promises Victoria in her opening monologue. Don't tempt us. Do not tempt us. If we wore spectacles, we'd have pushed them down our nose and be glaring at Victoria over the top of them. But, yes, she's right. We'll not do Only Connect The Musical. We shall remember that this is BBC4, and start thinking about Only Connect ... The Opera!
The Listeners are fans of "The Listener" crossword, and feature Andrew Lyman, a Mastermind semi-finalist in 2004. The Steel City Singers, they all perform in choirs around Sheffield, hence the name. They're also three-quarters of last year's Sheffield team from University Challenge, Tristram Cole missed his note and failed to make the chorus. Team.
The Listeners are playing first, and pick the Wick o'Twisted Flax o'Doom. When we're casting Only Connect The Opera, we'll have to have a bass for that part, because evil characters are always played by basses. Three people who faked their own death are enough for two points. The Steel City Singers look at four things with a Spanish flavour; it's not that they're all from Seville, but – as the Listeners pick up – are about bullfighting.
We'll drink to the next question, songs all performed by drinks – the Orange Juice, the Hot Chocolate, and because the Listeners get two points, we're spared a blast of Bucks' Fizz. Thanks, dear Listeners, we're not sure how to set "Making your mind up" to opera. Pictures for the Singers, who see two animals, and buzz in early. It's not that they have repeated elements in their name, but that the things (which include crackling) are named after the noise they make. A bit like University Challenge now being hosted by Jeremy Letshaveit.
No need to hold breath to see if the Listeners will get their next two points, they've already got it. A little local knowledge pays off for the Steel City Singers, who are thinking about streets in York for three points, and take a pair. All of which means the Listeners lead, 7-2.
The second round begins with the Horned Viper, perhaps a role suitable for a baritone capable of making unexpected vocal leaps. The Listeners get that it's the lyric to "Hallelujah", but can't remember that after the fourth and the fifth and the minor fall comes the major lift. "Sing it for us, Singers," pleads Victoria, but to no avail. In these new economy drives, BBC4 probably can't afford the rights. Victoria's a fan of Jeff Buckley's version, this column rather likes k d lang's interpretation, but the main point is it deserves better than The X Factor The Musical.
Seven wonders in reverse order of age for the Singers' own question, and they pick up three points. A horse! A horse! My kingdom for a horse! The Listeners have a question on parts of a horse, but even though they muttered "withers" at the start, they didn't say it. "You could have had five points, you get none", sings the host. "You could have had five, you get none" repeats the operatic choir, because that's what operatic choirs do.
"These are phases of miotic cell division" sings the host in her divine alto, about the next question. "These are phases of my oh what a what?" replies the choir, having been fed a line from Monty Python's "Lumberjack Song". The teams are defeated by boxers who defeated Mohammed Ali, and then the Singers get the picture question about various models of Pearpod. They don't recognise the top Albanian politician Fatos Nano, a household name, at least in his own household. A bonus for the Listeners puts them ahead, 8-6.
It's the Water wall for the Singers, and surely that's going to be cast as the hero of the piece, a bold-as-buttons tenor. The team start by looking for places in Somerset, where the cider apples grow, but then find four words that are mammals plus one letter. There's a group of agricultural implements, and the grid is completed with four types of hockey. Victoria drops in a little grammar lesson – "you cannot do a noun" – and the choir toss that motif around for five minutes. By which time the singers have been and gone, ten points the richer.
The Lion is, of course, going to be the screechy soprano who annoys as much as she entertains. They start by seeing some card games, but the first pick is of three words that can be prefixed by "Plymouth", then some television magicians, those trick-taking card games, and four fireplace implements. The Plymouth Rock is, of course, a breed of chicken, and Victoria likes them to be clucking faster. Then she sets a fox into the henhouse, mentioning Basil Brush. That'll cause an explosion. Boom, boom! Ten points!
The Listeners have a slim lead, 18-16. "Is it disappointing to get the full ten points and find the others did as well?" Very possibly. There's a plug for the online interweb wall o'fame, that's http://www.bbc.co.uk/onlyconnect/
Let's play some party games! Or some prtg ms, because this is the Missing Vowels round. There's an assertion that the Wombles weren't quite human, and a clue that is "MMNMMM". Moominmamma, obviously. These rounds, and the Historical Time Periods, allow the Listeners to creep ahead by a point or two. What was a two-point lead is now larger, and when the music runs out, the Singers have 19, and the Listeners 23. They'll be tuning up for a quarter-final later in the autumn, the Singers for their own concerts.
Next match: Rowers v Linguists
This Week And Next
Who was it that said sport and politics shouldn't mix? Whoever it was, give them a job at RTÉ. In Celebrity Bainisteoir, various Irish celebrities are asked to manage Gaelic football sides, with the winners on the pitch progressing to the next phase. One of the Irish celebrities is Dana, the former Eurovision Song Contest winner and now running for Ireland's presidency. Elections to that post take place at the end of October, and having a possible candidate on the telly is a clear breach of the regulations. Dana's been asked to step aside, and will be replaced by "a well-known figure". Brian Dowling, if you want to increase your audience... just sayin'.
The week to 11 September was a good one for Brian, as Celebrity Big Brother ended (3.25m) and Big Brother proper began (2.75m). Bit on the Side broke a million on both nights, quite remarkable for the 11pm slot. It's not enough to beat BBC1's big guns, Strictly Come Dancing launched to 8.3m viewers, and Would I Lie to You returned to 4.2m viewers. Nor did Big Brother beat The Great British Bake Off (3.6m) or the returning QI (3.45m). Official BARB ratings for ITV are not available; overnights suggest that The X Factor recorded 10 million on Saturday and Sunday, and that Red or Black lost viewers as the week progressed, finishing with about 4m.
Big Brother did damage Celebrity Juice, down to 1.27m viewers, and beaten by The Xtra Factor with 1.585m. Come Dine with Me was seen by 865,000, and Only Connect put 705,000 in the auditorium. That's one mighty large audience sing-a-long. Year's bests for Mock the Week and QI on Dave (440,000 and 390,000, respectively); for Four in a Bed on More4 (375,000), QI on BBC-HD (235,000), new Masterchef Australia on Watch (225,000), and Bit on the Side on 5* (215,000).
For UK viewers, it's a case of waiting all week for the first week proper of Strictly Come Dancing (BBC1, 9pm Friday) and some repeats of So Wrong It's Right (Radio 4, 6.30 Thursday). Would I Lie to You moves to Thursday this week. The possibly non-gamey There's No Taste Like Home (ITV, 4pm weekdays) is all about food. In Ireland, Dana's last appearance on Celebrity Bainisteoir (RTE1, 6.30 Sunday), a new run of An Gig Jig (TG4, 7.30 Sunday), and we defy anyone to work out the content of Sing! (RTE2, 5.30 Monday). And in Wales, coverage of a scholarship in the name of Bryn Terfel (S4C, 6.30 and 10pm Sunday). Saturday has Splatalot on BBC2 (8.35am), and Harry Judd has the difficult task of appearing on Strictly (BBC1, 6pm) and Family Fortunes (ITV, 6.30) at the same time. And back, in the new prime-time slot of 2.50pm, it's only Don't Scare the Hare!
To have Weaver's Week emailed to you on publication day, receive our exclusive TV roundup of the game shows in the week ahead, and chat to other ukgameshows.com readers, sign up to our Yahoo! Group.