Weaver's Week 2012-12-02
Last week | Weaver's Week Index | Next week
Summary: 1001 Things You Should Know, Only Connect reaches the semi-final, and what's in the Advent Locker?

Thames Scotland for Channel 4, from 12 November
So this is the new face of Channel 4 daytime. Game shows non-stop from 2.45 to 5.30. There's Countdown, there's Deal or No Deal, there's Come Dine with Me. And, hammocked at 3.30, a number of new programmes that are going to keep us in business for some months. The first of these shows comes from Fremantle's Scottish subsidiary, which (for reasons of internal branding) is now known as Thames Scotland.
Sandi Toksvig is our host. Readers will recall her from The News Quiz, QI, Antiques Master, Call My Bluff, and No. 73. Here, she presides over a quiz with a little bit of attitude: we can tell this from the way the Statue of Liberty is winking in the opening title sequence. The set is dressed in a mish-mash of styles and era – contestant desks are mounted on books, film canisters, and a pet owl, and the category board is on a particularly hideous zebra-print.
Before beginning the quiz proper, Sandi briskly introduces the contestants. "This is Isaac, 29, a journalist from London, and one thing you should know about him is that he's written and staged a play." Then she has a chat with the contender. Yes, this serves to introduce them, and can help to have the show run to time, but after a zippy opening, it really slows down proceedings. Maybe the chat would work better if it were a little later in the show, between rounds one and two.
We mentioned a category board, and it contains twelve categories. These are generally broad, the likes of "science" and "geography", but there's usually at least one narrow subject like "mathematics", and almost every day has the dreaded "mystery" subject. The categories are numbered: on the initial show, from 1 to 12, then from 13 to 24, and so on. Over the course of the series, these will build up to some hundreds of things that the players "should" know.
The first three rounds follow a broadly similar pattern. Players take it in turns to pick a subject form the category board, and they're played a video clip of a celebrity asking a question on that topic. Usually, but not always, it's a Channel 4 person on their specialist subject: Rachel from Countdown will ask about maths, Tony Robinson from Time Team on history. Sometimes, it's a specialist not immediately associated with C4, like Neil Kinnock on politics. And on occasion it's someone completely outside their expected remit, like Hector from Hollyoaks asking about acting.
According to the spiel, this video question is something the contestant "should" know. By this, we think they mean that the question is relatively easy, and the contestant is more likely than not to answer. First dibs on answering goes to the player who picked the category, but if they're wrong or can't answer, it's thrown open to the other players on the buzzer. Assuming someone gets the video question right – and that happens for the vast majority of stumpers – they get a second cash question, linked to the first. For instance, if the video question concerned Helena Bonham Carter, then so will Sandi's supplementary. Once more, if the player in control gets it wrong, it's open to the others on the buzzer – but anyone who gave a wrong answer to the first question is frozen out of this one as well.
The tactics come in picking categories at the right time. In the first round, questions are worth £100. Second time around, they're played for £300. On the third and final pass, each question is worth £601. This makes ties at the end of the game difficult, and means that a player can end up with £1001 on their own questions. Is it better to take your specialist subject early, and guarantee something for it, or leave it up on the board and risk someone else pilfering that advantage?
At the end of the three rounds, each player has an amount of money in front of them. In most of the sample episodes we've seen, at least one player was sitting behind the non-total of £0. Ties are broken by a buzzer question from Sandi, because the order of all three players is important for the final round. Whoever's in the lead gets first choice of the three remaining categories from the board, and the player in the middle picks from the remaining two.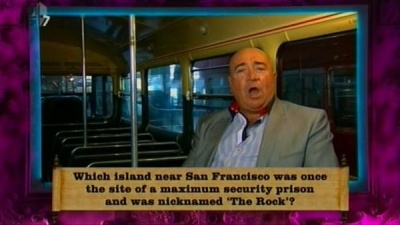 Brendan from Coach Trip asks this video question.
The player in last place gets asked their two questions first: the video clip, and then the follow-up. Only if the player gets both questions right will they be eligible for the Final Question, and only the highest-scoring player to get their pair will face this last stumper. The Final Question is one final question, for the collected winnings of that day's game, and any money unwon from previous days. It's the highlight of the game, and it's over in a matter of seconds. The winner stays on to the next programme.
Now, written down, this is complex. On screen it's a lot easier: the graphics and Sandi's narration help to explain everything in a succinct way. We found the script to be a bit stilted – Sandi says "you access the cash question" as often as she possibly can, without using any synonyms. We know she's got a turn of wit, and could manufacture her own catchphrases, and it's a shame she's not doing so. Nor do we particularly like the way that players who get their pair in the final round can still leave with nothing – if they don't go for the jackpot and come back on the next show, surely they could take their money with them.
That's room for improvement, because 1001 Things You Should Know is already a decent programme. It's well-paced: after the initial chatter, it'll ask about 25 questions in 20 minutes. Sandi keeps the programme ticking along, but she has a little time to glance down interesting by-ways. And the questions are decently pitched: the "things you should know" are answered by the picker about three-quarters of the time, and the cash question perhaps half the time. With all questions up for a bonus, it's rare for more than a few hundred quid to go missing, and the result is a daily prize of about £2500 – slightly more than Pointless or The Weakest Link offered in their 45-minute run.
And, looking again at Sandi's desk, we see an old-fashioned dial telephone. If we pick it up and dial an 0272 number, do we get through to the next Channel 4 show?
SF1: Footballers v Draughtsmen
"Asking more awkward questions than an eight-year-old browsing the internet." Such as, why are these Connecting Walls so easy. Walls 242 and 243 this week. One of the Footballers has recorded with Lisa Stansfield, and the team's aim is to answer as many questions as they can. One of the Draughtsmen has played table tennis with Patrick Moore, and the team's aim is to answer as many questions as they can.
So, can we have some questions? The Footballers kick off with the music, with "Our house" and something and "Never forget" and "We will rock you". The teams stumble to the answer – title songs from jukebox musicals – and "Five guys named Moe" was the second. Good for a point. Pictures for the Draughtsmen: man with beard, Patty Hurst, Richard Nixon. "Patty" is the answer, except it's not. A turkey is the final clue, and the link is they've all been pardoned by the US president. Brigham Young the first, one bonus to the Footballers.
"It's a David Lodge novel, I think" says one of the Footballers about The British Museum is Falling Down. There's A Single Man and Ulysses, and the idea is the action taking place in one day. Good for a point. For the Draughtsmen, it's "Fluke of a whale", "Nose of a dog", and they're thinking it's things divided into two. "Stripes of a zebra" has them thinking it's a unique pattern, like a fingerprint, which would have been the final clue. Two points.
Hercule Poirot 6/8/1975, and the Footballers are considering buzzing. Silence the five-point klaxon: there's Tour de France 26/7/07, Captain Birdseye 7/6/71, and English cricket 2/9/1882. Declared dead the eventual answer, good for a point, and Victoria and the Draughtsmen debate whether the Ashes have ever left the UK. She doesn't care. "Capital of American Samoa" is Pago Pago, and they consider going for it. Silence the five-point klaxon: they take a second clue to confirm the pattern, score three, and lead 5-4.
To the Sequences, and CHERYL MOVES BACK IN WITH ASH and UNITED and COLE LOT OF LOVE. Clearly newspaper headlines, clearly something to do with football, but what gives? Neither side has an idea: the final is THANK YOU & GOODBYE, being the News of the World's front pages in June and July 2011. The News of the World was a newspaper which gave its name to a Jam song, which in turn was used for the titles of Mock the Week (an unfunny topical quiz of the era). Pictures for the Draughtsmen: Stiles and Harold Wilson, so the number one was Banks, three points and some gnashing from the opposition because it's the 1966 England men's football squad. Their subject.
Wren and The Golden Hind and Britannia has some debate about notes and coins, and Portcullis is the right answer: things on the farthing, ha'penny, old penny, and thrupenny bit. Two points. For the Draughtsmen, it's 2nd of May, 7th of September, 4th of March. They think it's something to do with the numbers: not 3rd of March, not 1st of May. It's 1st of December. Put quotes around the months, look at the words. Evil question. Well done.
"Germanica Inferior" and "Belgica" and "Lugdunensis" has the Footballers thinking about the Low Countries. It's neither Luxembourg nor Belgium, but it is provinces in the Roman empire, heading to Aquitania. "0th: Protect humanity" has the Five Point Klaxon actually sounding: the Draughtsmen know it's Asimov's Laws of Robotics, and take a second clue before 3rd: Protect self. Good for three points, and the Draughtsmen lead 11-6.
To the walls! For the Draughtsmen, there are Newsnight presenters (who could also be quiz show hosts), but first they get a set of geese. Then they go for sweet types of drops, and spot some truck companies. Can they sort out these last two sets? After some deliberation: no, they can't. There's a type of engine called a Paxman. Six points!
The Footballers have a "Day of" group in no time at all. Then they're a bit stumped, but get Solar panel and Pools panel, and think there's a group. Wasn't there a book called Amsterdam and Saturday? Black dog is depression, but what of Black Dogs? "Let's try hitting some", forgetting that it really never works. Just that one group, and much huffing from the team, getting perhaps more excited than is right on BBC4. Ian McEwan novels and panels are there, East Indiamen vessels they don't get. Four points!
So the Draughtsmen lead 17-10 going into the final round. Missing Vowels o'clock. Fairies goes to the Footballers by 3-0, and Subtitles of Movie Sequels goes to the Draughtsmen 2-0. Foods and their North American name to the Footballers 4-(-1), coming within one, but lose it on the next question. "Lines from The Lord's Prayer" is a 1-1 draw. Newspaper magnates appears on screen, but no questions are asked.
"Oh my goodness." The Draughtsmen have squeaked through, winning by 19-18. How much are they regretting that buzz? But then, would the Draughtsmen be regretting not taking their five-pointers?
This Week And Next
To University Challenge, and a happy new year to York, who won the first show in the series back in July. Their opposition was New Oxford, who overcame Homerton Cambridge on 22 October. York's emblem is a duck, and it was no surprise that they were able to win the buzzer race to Name That Wading Bird. New were out of the blocks as fast as Mark Cavendish, answering a question with the response "Mark Cavendish". We'll explain the "balti" question:
Q: The name of which type of popular cuisine begins place names denoting a region of the Karakoram Mountains, the largest city of Maryland and a sea of northern Europe that is almost land...
Baltistan, Baltimore and Baltic; the origins of the curry dish are uncertain. York had opened up a 50-point lead, but New were able to bring it down to nothing, thanks in part to musicians from Sheffield. New opened up a 50-point lead of their own, and then we had a word from the Pointless Road Trip:
Q: Which oil-rich African country has a flag with three horizontal bands of green, yellow and blue, the yellow being said to symbolise the Equator?
A: Central African Republic
No, it's Gabon, and this is yet another example of someone saying "Central African Republic" and getting no points. The lead of New had reached 75 points, but then York managed to get their first starter in about ten minutes, but it turns out to be a false dawn, and New's victory is confirmed with the French president George Pompidou-Centre. In the closing moments, York gets three starters, scores no bonuses, and are soundly beaten, 215-145.
To Mastermind, which – like University Challenge – will have a celebrity series over Christmas.
Paul Sharp (West Ham United since 1970) suffers a round like so many of his sides' games: starts strongly, falls apart in the middle, then stutters. 8 (4) at the final buzz. His second phase includes a nod to Tony Wilson, the surface of a sphere, and January, and sets a target that might last all week: 24 (7).
Charlotte Mason (Gemini space programme) suffers from slightly intermittent scoring, but still reaches 9 (2). She's right to make guesses at some of these questions; sadly, few of the guesses quite hit the mark. Ragamuffin does, helping to close on 17 (8).
Alcuin Edwards (Alice Cooper) answers slowly but surely, ending with a slightly gratuitous trip into Wayne's World. A most excellent 11 (1) is built on, slowly and surely, carefully reaching 25 (1).
David Gow (John Logie Baird) is asked about his subject's birth in question two, and how a third of the rights to television were sold for £200. A snip! 11 (2) at the closedown of the round. Needing fifteen to win, the contender isn't knocked off his stride by Humphrys mangling an Ethiopian name, but knows it'll be very close. The score clips up to 23, 24, a pass, and no further. The final is 24 (3).
Correction: In the column last week, we insinuated that one of the contenders in I'm a Celebrity was the MP for Narnia Beaversdam. This is incorrect: not only is the constituency actually called Western Woods Beaversdam, but she was rejected by the electors there in 2001. The visitor down under has represented Dark Island East since 2005. We apologise to our correspondent, Mr. Tumnus, and trust he is having a good winter. Soon be — oh.
DIY Media news, and this week's is Advent Locker, a piece of fun from Dan Williams and Tom Scott of the internet. They've ordered twenty-four items. They'll be delivered during December to twenty-four dead letter boxes around London, run by a large internet company. Anyone can access these locations, and can claim the prize. At some point every day, the locker klaxon will sound, the organisers will publish the location of the prize at @adventlocker, and the code to claim it. They won't say what the prize is ahead of time. From its randomness and the highly variable prize quality, we're reminded of Radio 1's 31 Days in May promotion, except there are prizes that money can and did buy – no-one needs go fishing with Bruno Brooks.
This bit of DIY media is a work in progress: the game only works in London because the dead letter boxes are mostly situated in London. The organisers ask that the winner posts a picture of themselves with their prize, but they haven't been able to tap into London's CCTV cameras and provide a live feed online. Nor will they stake out the locations and grab an interview. The possibilities to expand are endless: what if this was a proper treasure hunt, with clues on the delivery slip (and tat) leading to an actually valuable prize? Anyway, it's fun, it's a bit silly, it's bringing joy to the world, and we're impressed.
Eurovision news. Poland, Portugal, Greece, and Cyprus have all suggested they're not going to participate in the senior Eurovision Song Contest in Malmö next May. Broadly, it's all about money: none of the broadcasters wants to be on the hook for the expense of staging the 2014 contest, some of them are saying it's a waste of money (what, eight hours of telly for the price of one?), and none welcome domestic criticism for being so rubbish. The BBC only wants one of these fates, which probably explains why it's been linked with this week's The X Factor reject, Rylon Nylon.
In other news, the tenth Junior Eurovision Song Contest took place in Amsterdam last night. The UK hasn't bothered entering since 2005, and prefers to brush the event under the Euro-carpet and pretend it doesn't happen. We know that the contest was won by NTU with the song Nebo (Sky), written and performed by Anastasiya Petryk. Good news for Ukraine, there.
The Children's BAFTA awards were dished out last Sunday, without much return for game shows. The video game award went to Skylanders: Spyro's Adventure. In the Entertainment category, Junior Bake Off and The Slammer were beaten by Friday Download.
The BBC has renewed its four weekly commercials for The Lottery Corp, describing it as "a key plank" in its schedules. Too right: we always walk right over them. But it does mean more editions of great quizzes like Winning Lines and One Versus One Hundred and People's Quiz.
BARB ratings in the week to 18 November are compromised by the lack of data from ITV. We do know that Strictly was seen by 11.4m viewers, Children in Need had 8.2m, and Young The Apprentice took 4.05m. Masterchef The Professionals and University Challenge both pulled 3.15m to BBC2, with Strictly on Two making 2.4m. Deal or No Deal was Channel 4's biggest game show, 1.55m. The party poopers at I'm a Celebrity Now on ITV2 had 1.26m on Saturday night. Only Connect had 1.08m on Monday, and it would have been the biggest digital show if it wasn't for these pesky kids. Xtra Factor had 915,000, QI XL on Dave a healthy 520,000, and Fort Boyard pulled 130,000 to Challenge.
Next week: Keep It in the Family is back (Radio 4 Extra, 4pm weekdays). Saturday watch sees Dave Spikey and Kerry Katona on Pointless Celebrities (BBC1, 6pm), Strictly's going 6.50 to 7.55, allowing The X Factor to go on 8-10. But never mind that, there's a new series of Fort Boyard Ultimate Challenge (CITV, 8.25am), with Laura joined by top swimmer, driver, and beatboxer Andy Akinwolere.
To have Weaver's Week emailed to you on publication day, receive our exclusive TV roundup of the game shows in the week ahead, and chat to other ukgameshows.com readers, sign up to our Yahoo! Group.