Weaver's Week 2014-04-20
Last Week | Weaver's Week Index | Next Week
Bring out your dead!

Remedy and Argonon for Channel 4, 5 April — 1 May
Back at the end of September, we reviewed a revival of Fifteen-to-One The Celebrity Edition, and concluded it lacked atmosphere and was prone to sudden stops. Nevertheless, Channel 4 has commissioned a short daytime series, which we'll now review.
There are lots of cosmetic changes: gone are the parasols around a dark studio wall, and in has come some rectangles in various shades of blue, reminiscent of late 1950s architecture. It's actually quite a decent look. The studio is still cavernous, but it has to be – they need to fit in a ginormous semicircle radiating out from the host to the contestants. These lines still light up during the second round, and now explode in a burst of colour during the final.
The three lives are represented by large and obvious green lights, far too large for even the biggest hands to obscure. That's except for viewers who have difficulty telling red from green: rather than going out, the lights change colour when lives are lost. And the host is different: no longer do we have Adam C Hills from Monumental, but we have Dame Sandi Toksvig from 1001 Things You Should Know.
The structure of the game is as familiar as it was in February 1988: two questions each in the first round, then the nominations phase, and the last three participate in the question-or-nominate final. This time around, the show runs for a full hour, not the taut 30 minutes of the original. There has to be some padding, and most of it comes in the opening round. While there's no direct chatter with the contestants, the pace is very ponderous.
After every question, Sandi gives us a salient fact, a little piece of trivia so that the viewer learns something. After seven questions, Sandi gives us the score so far, how many contestants have given a right answer, how many have given a wrong one. After fifteen questions, she gives us the score so far, and then throws to a commercial break.
Second time around, pretty much the same as the first. Except now with the added threat of "Harold, you must answer this question correctly to stay in" every single time Harold could be eliminated. Even if he does lose all his lives, Harold may be entitled to come back: all players are given three attempts to reach the daily final, and only on their third go does Sandi say a final "Lights out, and goodbye".
After twenty minutes, we've had thirty questions and two commercial breaks. The show is really dragging on a bit. Mercifully, it does speed up from here: the middle round is allowed to run for about 20 minutes without interruption, and there are plenty of shots of the Fifteen-to-One circle lit up from nominator to nominated. "For you, it's lights out" every time a player is eliminated. Does that count as a catchphrase? Probably, though it's been heavily scripted.
Also scripted are the questions. Many of them are fairly easy, but there are some real stinkers in there. Quality quiz players can be caught out by these tricky traps, and fall out earlier than we might expect. Sandi's new More Chances To Win policy means that an early exit is not fatal.
As it has to be, it's twelve down, and three people who have survived through judgement and a little bit of luck remain for the final. The objective here is to win, eliminate the other two contestants by getting your own questions right and nominating other players to get theirs wrong. Or getting your own questions right and hoping that your knowledge is broad enough that neither opponent can beat you.
The top fifteen winners' scores will qualify for the final. With just nineteen heats, this is hardly a substantial winnowing. Four winners will have to be content with their Fifteen-to-One Daily Winners' Trophy; the remaining people can play for the series jackpot of £40,000. There was a time when the series champion alone got a trophy, that's prize inflation for you.
We are pleased to see some genuinely good quizzers taking part. Mark Grant, the newly-crowned Brain of Britain, he's through to the final. Gary Grant, a recent Mastermind champion, is also in the 1 May showdown. Iwan Thomas, the defending Going for Gold series champion, can add another classic television quiz to his honours roll.
We're trying to judge Fifteen-to-One as a new show, and might not be succeeding. Some extra time was inevitable: William G Stewart's original was fast, even by the standards of its day. The influence since Millionaire has been for quiz shows to run more slowly, and while there's no need to be as ponderous as Eggheads, we don't regret a slight reduction in pace. But there's no excuse to pad out the opening round to twenty minutes, not without adding something else into the quiz.
Since the original series was decommissioned, there's been a constant cry in some quarters of "they should bring back Fifteen-to-One". We disagreed with the text, though we have sympathy with the subtext: there was no compelling reason to take the show off in 2003. The viewing public has voted with their remote controls, and thought better of it. Overnight figures of 1.5 million for the series opener on a Saturday teatime fell away to 700,000 on Monday afternoon, and less than 500,000 by Thursday. This is below Channel 4's average for the slot.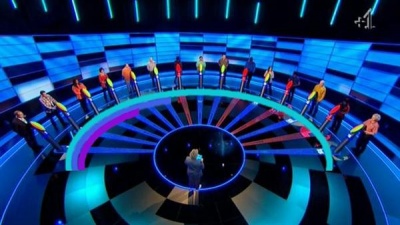 From the outside: viewing figures for show 1, show 2, and show 4, where it seems to have stabilised.
We would say "they should bring back Five Minutes to a Fortune", except Brig has already done that joke. So, let's think of something else they should bring back.
Shown as part of Number 73, TVS for ITV, 1982-5
Why, yes! Bang the counter-top, darling, it's the daring! Dazzling! Death-defyingly dull! Devastatingly dangerous! Delectable, delecatessenable, divinely decadent Sandwich Quiz!
Ethel (the owner of the titular Number 73) invites two guests into her kitchen to make some sandwiches for herself and her guests. The game is tremendously simple: there's an opening question, which both contestants can answer by pressing their buzzers. Except that, as Number 73 didn't have any buzzers, they could bang the counter-top instead.
A correct answer to this initial question earned a slice of bread, and allowed the player to play for a filling. In order to win the filling (mayonnaise, or cold ham, or marmalade: literally many things were available) the player needed to complete a forfeit proposed by Ethel. A further question, an impression or some singing, whatever the guest was famous for and would help them look silly on Saturday morning telly.
This continued for about five minutes, during which time Ethel kept up a lightning-fast repartee, rarely letting the guest get a word in edgeways, and often throwing in some witty asides about the questions, or insulting the contestants when they gave a wrong answer.
The winner – the player who completed the most rounds of sandwiches – was awarded a golden loaf, and progressed to the bonus round, the Squidgy Bun Game. Here, the winner is given a word, and invited to repeat it back, but substituting "Squidgy bun" in place of the short "i" vowel sound. So "Chris" would become "Kr-squidgybun-s".
All of this clearly achieves three things. One, it proves a darned sight more funny than anything Mike Read is strumming on Saturday Superstore. Two, it predates the mania for kitchen-based entertainment on a Saturday morning by a quarter-century. And three, seeing as how the basic format (starter, bonuses, sneering) is exactly the same, it qualifies Ethel to host University Challenge.
Second round, match 6
One week to the final.
Lawrence Cook (Bobby Fischer), a subject described by the host as "eccentric". The round recounts a story of Fischer demanding that the chairs are swept for bugs, including flies. Do they have the same standards of cleanliness at BBC Salford? A few errors in the round, 7 (0)
Neil Wright (Life and Times of Cesare Borgia) Son of Pope Alexander, an example of Machiavelli's Prince, and subject here of a Perfect Round – 11 (0).
Daniel Adler (Philip Marlowe novels of Raymond Chandler) Like the previous contender, this gentleman knows that he knows many of these answers, and just has to wait for the questions to finish before spitting them out. 9 (0)
Julie Aris (Amelia Earheart) A slow and steady round, reaching 7 (0).
Cliff Challenger (British political history 1964-97) makes a surprise error early on, confusing devolution with devaluation, and doesn't quite recover. 6 (1).
We appreciate what they've done with Cliff Challenger – winner of the very first heat on 11 August (when he took Benjamin Britten), and the highest scoring qualifier, he's the last contender up in the second phase. Somewhat hamstrung by his specialist round, the general knowledge advances his score to 18 (5). Not quite a winning performance.
Lawrence Cook is the last of our runners-up, having finished second on 22 December when taking heavyweight boxing. His confidence went up after getting the right Australian city for the right Australian state, but a couple of errors and some prolix questions allows him to progress only to 18 (0).
It's the third time Julie Aris has competed in the Mastermind revival, and the second time she's made the semi-finals, after winning on 1 December with the Simon Serallier novels of Susan Hill. It quickly becomes clear that she won't be making the final step this year, never ahead of the clock and finishing on 14 (6).
Daniel Adler won with Puccini on 20 October, and here he attacks the general knowledge round with gusto, abandon, and a few useful guesses. Slam an answer down, get the point (or the correction) and move on. He confuses "Slovakia" with its predecessor "Czechoslovakia", and that costs him a point, and an extra question. 21 (0).
Neil Wright needs another 11 to win. In the third question, he gives a pass, ensuring he will need all 11 points. And there were a lot more passes as the contender got nine of the points he needed. A final of 20 (5).
All of which means that Daniel Adler makes the final next week.
This Week and Next
Only Connect returned to BBC4 this week. Even in that bare statement is a story: ahead of the transfer to BBC2, the Deuce took a look at the questions, and said, "Ri-i-i-i-ight, I don't understand a word of this, can I see another short series, and perhaps repeat it in my own time, before letting new shows loose?"
And so we have this hybrid series, which begins by pitting Heath Family (Kip, Heather, and Alan Heath) against Exhibitionists (Keith Andrew, Eric Kilby, and Tim Westcott). Fun was had in the picture round, when Tracy Austin led the Exhibitionists to say "Cities in Texas", and David Copperfield led the Heath Family to say "Charles Dickens characters". Cursed with the audio round, and their opponents getting the question they knew, the Exhibitionists trailed 6-1.
Sequences contained a sneaky little question: from Boron and Carbon to Florine and Hydrogen. It's single-letter chemical elements, but not every letter has an element. The Exhibitionists out-thought themselves on a sequence of stars, they knew it was 2, 3, 4, 5 stars, but offered "The flag of Australia", which has 6 stars. Sorely tempted to sound the Five Point Klaxon, the Exhibitionists do pick up three on Gulliver's travels, but it still leaves them 13-4 behind.
Connecting walls are on the website, games 418 and 419. The Exhibitionists get a wall we're calling "Santa's Reindeer", because there are six of them to cycle between; it's almost a minute before they move on to another thread. They get 5 points. "Seven Deadly Sins" for the Heath Family, they're all present, and 7 points extends their lead to 20-9. The Exhibitionists finally get some questions going their way in Missing Vowels, but it's too late, the Heath Family win by 22-14.
Over in the fairyland of dead tree newspapers, the Twinkle Twinkle Daily Star has been moaning about Johnny Foreigner. "Honestly," groused the rags-to-rags publication, "these foreigners, coming over here, competing on our talent shows, pushing out decent British talent. Someone should do something about this!" steamed the steamy journal.
The Star's ire had been roused by Paddy and Nico on Britain's Got Talent, a dancing granny and her younger instructor. Not from the fact that they benefited from a Golden Ticket, a novel device putting them straight through to the semi-finals. No, the paper was ticked off because Paddy and Nico won Spain's Got Talent in 2009. In the world inhabited by the Twinkle Twinkle Daily Star, this is offensive.
Gosh, it's almost as if there wasn't meant to be a free flow of talent between the UK and the rest of the world. It's as if no British person has ever gone off and won The X Factor France, or represented Spain at the Eurovision Song Contest. It's as if no foreign person has ever come over here and been booked for second-rate constructed reality shows. Take, please, Celebrity Big Brother, where a typical line-up in the last six series has been 25% non-British.
It's as if no channel gives over an hour of primetime every single night to Australian soap operas, and makes a big deal of Up And Away (or is it Strewth Street) filming in London this week. Certainly no newspaper would cover that non-event on pages 16 and 17, especially after railing against talented foreigners on page 1.
At the time of writing, Channel 5 and the Daily Star share common ownership.
Eurovision news, and this year's compilation album is out. It took us longer than usual to find it, because it was stocked in the "Rock and Pop" section. For the last 13 years, the record shop has consistently put the Eurovision Song Contest CD in the "Easy Listening" section, because nothing will appeal to fans of Michael Bublé more than prog rock from Georgia, techno-dubstep from Armenia, or infernally catchy earworms from Latvia. (All of these are on the menu for 2014.)
We reckon this says something about the music of the Eurovision Song Contest: the record shop reckons it'll sell more copies next to RoaR! Today's Hits vol 528 and It's Still Going Pete Tong than gathering dust on the little shelf alongside Hit Parade 1960 and Best of Brass Bands. No longer a niche interest, Eurovision has gone mainstream, and contains mainstream music. Will the BBC agree with HMV?
There was a change to the scheduled episode of 3-2-1 on the Challenge channel last weekend. Viewers who didn't see the "British Empire" episode may be mildly interested to know that, yes, it was taken out of circulation for being severely racist. It's not possible to cut out a whole sketch without ruining the programme. While we don't approve of censorship in principle, we reckon that this show needs to be put in context, and perhaps screened as part of Attitudes Week, chronicling the way society has evolved by reviewing and critiquing light entertainment. Saturday evening on the Challenge channel isn't really the best venue for this philosophical enquiry.
We're not entirely sure who "Realscreen" are, only that they have a conference in early June. In sunny California. We'd like to go but, you know... Anyway, the conference contains some awards, and leafing through the categories, we find some interesting shows. And not just Vanilla Ice Goes Amish, which apparently was a thing.
"Competition – Game" pits The Amazing Race against The Amazing Race Canada. "Competition – Lifestyle" has Chopped against Cutthroat Kitchen and Iron Chef America. "Competition – Talent / Studio-Based" includes Battle of the Blades and Ballroom With the B-List. "Competition – Shiny Floor Game Show" has a token local entrant, Million Second Quiz. It's also got the fabulous Big Star's Little Star and the internationally-recognised Five Minutes to a Fortune. Can we have a two-way tie? Please please please with a cherry on top?
BARB ratings for the week to 6 April.
The Eastenders pulls clear as Britain's most-seen show on 8.1m. The last in the present run of The Voice UK topped the game show listings – an average of 7.15m saw Ricky Wilson win the series.
Saturday Night Takeaway pulled 5.85m to the other side, with 5.5m for the return of HIGNFY, and 5.4m for Masterchef.
Semi-finals week on BBC2: The Great British Sewing Bee had 3.35m, University Challenge The Quiz 3.3m. The final of University Challenge The Boat Race attracted 4.5m on BBC1.
The opening edition of Fifteen-to-One (1.65m) was beaten by Nigel Disagrees With Nick (1.9m), but bettered Revenge of the Egghead (1.05m).
Falling between CJ and Sandi were Celebrity Juice (1.6m) and the Hair final (1.09m).
It's All About Two this week (BBC2, 9pm Sunday), a quiz about the BBC's second television channel, and the grand final of Mastermind (BBC2, 7.30 Friday). Pointless Celebrities (BBC1, 7pm Saturday) has Tim Brooke-Taylor, Robert Llewellyn, Rhona Cameron, and Richard Herring; Britain's Got Talent is also a 7pm start.
Photo credits: Remedy / Argonon, TVS, BBC Salford, YTV.
To have Weaver's Week emailed to you on publication day, receive our exclusive TV roundup of the game shows in the week ahead, and chat to other ukgameshows.com readers, sign up to our Yahoo! Group.