Weaver's Week 2015-08-16
Last week | Weaver's Week Index | Next week
There are a lot of new shows on ITV at the moment. So many that we can spend three weeks reviewing them. Next week we plan to look at two shows in primetime. In a fortnight, two shows that aren't The Chase. But this week, two shows from earlier in daytime, and both from the 12 Yard team.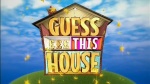 12 Yard for ITV, from 27 July
How society has changed. Thirty years ago, the question on Through the Keyhole was "who lives in a house like this?" In 2015, the question is "how much is the contents worth, and how much does the house sell for?"
The format is simple. Two pairs of players spend a little time in a house. And by "little", we mean "ten minutes". In that time, they're expected to value the contents, and the house itself.
Saira Khan hosts this lunchtime entertainment. She hasn't changed much from her work on Beat the Boss. She's brisk, energetic, upbeat, and she delivers a convincing voiceover.
Saira tells us viewers about the house, and what's in it. As good as her voice work is, and as entertaining as the video packages are, her descriptions leave us cold. They're written in the clichéd and unhelpful language of estate agents. Yes, they pack lots of information in a brief space, but we feel that the producers have adapted someone else's script. Guess This House is better than estate agents. (And, with some of the shows on ITV at the moment, that's praise.)
The house includes a couple of mystery objects. The players might look at a mirror: large, ornate, with silverwork around its edges. But is that solid silver, or silver leaf, or base metal painted silver? Is the mirror worth £150, or £650? The players make their decision – by opening a door on a physical prop – and find out at once if they're right or wrong.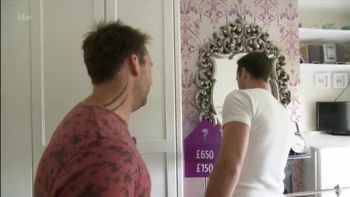 Mirror mirror on the wall, how valuable's your platter?
Tell us now or we'll get mad, and your shiny face will shatter.
These little games keep us watching while the players scoot through the house. It's all action – we don't see the full 20 minutes inside the house, but we do see a good portion of it. The segments are pacey, cut quickly from scene to scene, and tell the stories in near real time. We viewers are treated to some additional information, little price tags appear on screen to say how much some items are worth. Soon enough, a klaxon sounds, and it's time to come out.
The teams then write down their guess for the total value of the things in the house, and the value of the house itself. Both figures have been determined by local experts, and Saira gives us a primer on the local market – a one-bedroom bungalow might be £LOTS, a three-bed semi-detached closer to £OODLES.
The answers are given in the garden of the house, and revealed by turning over pieces of card. We thought this device had moved on with The Weakest Link. But no, the card lives on. There are three points for the house price, three points for the contents, the closer team wins. Each of the object questions was worth one point, and both teams could get that right. After one house, we do it all again in a second location.
So after two rounds, the teams have some points. Each point is worth an extra minute in the final house – the base is still 10 minutes, and a team could turn that into 26 minutes if they've played well. There's just one question in this last house: what's the total value of house and contents. Extra time might help a team to research the answer, and find the thing they need, but so much of this rests on guessing what number the estate agent thought of.
Whichever team came closer wins the day, and wins £1000. They have the chance to double their prize, in a final bonus round. Saira shows the actual price, as determined by estate agent and auctioneer, and a fake price that the production team have made up. If the players can choose the right price, they win £2000; get it wrong, and the £1000 is still safe.
While we have concerns that estate agents tend to keep their distance from objective truth, this doesn't spoil the show. Guess This House is a romp around other people's houses, a nose in the neighbourhood. The show rewards skill and good judgement, but could still be won by a fluke lucky guess.
Fast-moving, easy to watch, and fits in with the ITV lunchtime audience – people drifting in and out as the show goes on. It's not obvious that there's a small budget, but we get that impression. It's not as banal as Through the Keyhole with Lemon, it's not as destructive as CITV's Finders Keepers.
We really liked this show, a lot more than we expected to.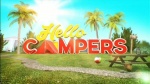 12 Yard for ITV, from 27 July
Remember Come Dine with Me? A show that went round the country, setting people up with dinner parties and asking them to score each other. It was Nick Clegg's favourite programme, back when people knew who Nick Clegg was.
There have been many shows suspiciously like Come Dine with Me, but containing enough points of difference to keep the lawyers at bay. Many of these similar shows have been on ITV daytime. The latest in the list is Hello Campers, in which five couples cook meals for each other, and entertain each other, and clean up after themselves. The point of difference: they don't do this at home. No, they go to a campsite in foreign parts – Spain, or Italy, or France.
By whim of the producers, one pair is allocated "camp cooks" for the day, requiring them to do cook breakfast and an evening meal for the group. Another is given "camp entertainers", which requires them to organise the evening's entertainment. The other teams give marks for the cookery and the entertainment, by holding up bits of camp equipment marked with scores. They've got that idea from BBC3's Killer Magic.
The teams have gone abroad to a holiday camp, not a prison camp, and they're let out into the area at least once a day. Proof they didn't film the entire series on a windswept moor near Skegness. At least we get to see some sun. And hear some pop music – tunes play throughout the episode.
Teams are corralled into one outside activity each morning, just to make good television and pad out the programme to an hour. While the entertainers and cooks prepare for their jobs, the other players undertake a scored activity later in the day – the winners get lots of points, the losers are appointed "camp cleaners" for the day.
At the end of the week, the team with the highest score wins £1000.
Let's just take a moment to consider. The winning pair get £1000 and a free holiday (board and lodging and entertainment), and a week on telly. The losing pairs get a free holiday, and a week on telly. Over on Guess This House, the winning pair get a shot at £2000, and both pairs get a grand day out somewhere in the UK. Guess This House is cheap and disguises it well. Hello Campers is cheap, and makes no effort to hide it.
How cheap? ITV is giving over airtime to people trying to get an after-dinner mint from their forehead into their mouth, without using their hands. And if you thought that was bad, just wait until next week's reviews...
Part of the problem is Rosalind Ayres' narration. (You'll know her as Gran from Outnumbered, Lady Duff Gordon from Titanic, and Mistress Gordon from Black Beauty.) Her words are perfectly delivered, albeit with more enunciation than we expect in a daytime slot. The script tries to deliver jokes, but they fall flat. Whether by delivery or script, the show tries to be as witty as Come Dine with Me, but pales by comparison.
But most of the problem is that there's nothing new here. Groups of Brits go to foreign parts, do silly things, try to get foreigners to understand them by talking loudly and slowly, vote a winner. The participants appear to be on a tight timetable, like on Coach Trip, but there's no urgency in the edit. The show might have worked better in a 30-minute edit.
Stuff happens. More stuff happens. It's a bunch of people doing stuff – it might be entertaining for them, but it hasn't come across on screen. We found no narrative, no compelling reason to keep watching.
Neither did the rest of the viewing public. The first show had just under a million curious viewers. The second show lost a fifth of them. By the second week, there were barely 300,000 people tuning in to see the "action". We can't even be bothered to write a joke with the punchline "Nick Clegg's fan club".
There's little wrong with Hello Campers, but there's nothing to recommend it.
Countdown Update
A third of the way through the series, and here are the winners so far.
James Judge was the carry-over champion in June, he won three before falling to Rhys Benjamin. A good player, Rhys always looked vulnerable to someone on a great day, and he lost match six to Pat Lonergan. Pat went on to win four games before being out-excelled by Judy Bursford. She had seven wins, her performance slipped a little with each match, and eventually lost to Liam Moloney.
Liam recorded the first century of the series with his opening win, and scored a century in each of his six wins. One game included a maximum in 13 of the 15 rounds. It took a stupendous effort to beat him, and Stephen Briggs delivered the knockout blow to start his own octochamp run. Stephen has the highest score of the series so far (127) and finished with a 12-max performance.
This week, Nathan Pace and Barbara Lucioni won a game apiece, Kevin Breeze has three wins so far.
This Week and Next
There have been some noteworthy archive television shows this summer. BBC1 has The TV That Made Me; think of this as Desert Island Discs with old programmes, the emphasis is all about the person and not the telly. A few clips of The Generation Game set the mood, but the conversation turns to "what did Isla St Clair mean to a girl growing up in Scotland?"
"Roadwalk" by Syd Dale is the theme, a canny nod to other review shows. The episode with Dame Sandi Toksvig was a revelation: holding the hand of Neil Armstrong's secretary as the boss steps out of a door. We learned surprising things about Linford Christie, and Helen Skelton's appreciation for Bullseye.
Less impressive: The Best of Bad TV The 90s, which went out on Channel 5 on Friday last week. The script was as lazy and derivative as any cheap archive show on a B-list channel. We're used to the story of people getting confused by Screen One: Ghostwatch because some incompetent reviewers hadn't spotted the "Screen One" drama billing. It's made up, it's fiction, it's not real. We expect Live TV to be wheeled out and sneered at, we expect Heil Honey I'm Home! to get venom, we expect The Word to get berated.
But there was some tremendous archive work by the show's researchers. They found a clip of Roger Black and Kriss Akabussi singing badly that we had put down as a nightmare. We had forgotten just how tacky Something for the Weekend was, and can never see too much of Chris Morris skewering John Stapleton.
And they showed a clip of a feud on Gamesmaster, but failed the basic journalistic test. What's the story here? Let's recap. Dave Perry and Dominik Diamond had egos, and being young men they couldn't control them. There had been some mistrust simmering in the background for years, which may or may not have amounted to bullying.
The final show before Christmas '96 was a challenge amongst Gamesmaster regulars, finishing with a game on the (as yet unreleased) Nintendo 64. Mr. Perry had said some months earlier that he wasn't going to play the N-64 until its official launch, as he was unhappy with the hype. The producers insisted he use a console he was unfamiliar with, Mr. Perry believed that the producers had set him up, and reacted in a way he later regretted. Mr. Diamond fuelled the fire, with some very unhelpful comments in the gaming press.
All of this is water under the bridge, none of it was explained in the clip show. Mr. Diamond is working on radio in Canada; Mr. Perry has changed career and runs a tattoo shop in Torquay. Seriously.
More: articles from Eurogamer and [The Games Shed http://www.thegamesshed.com/dave-perry-interview/].
New shows
What is the reigning Pop Idol champion doing these days? The Edinburgh fringe, naturally. Michelle McManus has had rave reviews: "Cracking fun night out", said one satisfied customer.
A rare defeat for Mel and Sue; their ITV chat show won't be renewed, as it was less popular than repeats of Tipping Point.
The Great British Bake Off began its new series last week. The most trivial detail is pulled apart by a public eager to be fed crumbs from the tent's table. A contestant (66) had a week's baking training about 30 years ago? Professional! They've changed the electric mixers? Scandal! Bookmakers have stopped taking bets because they fear the winner has leaked? Serves them right for breaking Big Brother last year.
The New Statesman had a quick look at Bake Offs around the world. Two conclusions? "No one is as fabulous as Mary Berry. And most importantly, everyone speaks cake."
The Beeb has been drip-feeding names for this year's run of Strictly Come Dancing. Going through are Jeremy Vine (sometime Eggheads host), Ainsley Harriott (Ready Steady Cook), Kellie Bright (friend of Kate Aldridge), and Georgia May Foote (Katy Armstrong from Coronation Street).
We've heard about these people on various BBC shows – Jeremy got told by his Radio 2 colleague Chris Evans, Ainsley was named on The One Show, Georgia on CBBC, and so on. We're sniffing a little of Radio 1's old contest 31 Days in May, we never quite know where the next announcement will be, so we have to keep across every BBC programme. Will Suzi Perry tell us something on the F1 race next weekend? Or Virginia Ironside slip some news on Radio 3's Private Passions? We just don't know.
We do know about changes to the panel on BBC The Voice of UK. Rita Ora has gone over to the other side, and Tom Jones Tom Jones has been retired from the programme, which came as news to him. Tom's place will now be taken by Paloma Faith, and Rita's place as camp icon will be filled by "Boy" George O'Dowd. The latter's conviction for imprisoning a male escort is now formally spent.
The Satellite Channel have ordered One Hundred and Eighty, a new darts game show with Davina McCall and Freddie Flintoff.
"BBC Orders Greatest Game Show Ever!" was the headline in Buzzerblog this week. Excellent, a take on The Krypton Factor where they abseil down the BBC buildings in Salford, the intelligence test is replaced by a Make-Off, and the questions come from Sam and Mark.
Sadly for this column, it's not Blue Peter The Game Show, but The Getaway Car. Dermot O'Leary and "Stig" from Top Gear host a show for couples, about driving. "It's really about relationships," said Dermot in a press release. "We want to leverage Top Gear for a game show, because we know it sells around the world," insisted a BBC commissioner. Want to appear on this show? Know how to drive? Details are on the Contestant Calls page.
Quiz update
Onwards! University Challenge happened, with Nottingham (Michael Alexander, Ben Scrafield, Alice Lilly, Mark Dennis) and Swansea (Georgia Pigott, Dewi Goulden, Adam Haines, Alan Owens) appearing in the New Trafford Arena (as no-one in the world calls it). Swansea's first appearance of the millennium, according to the host. One of their team introduced himself in Welsh, the captain says he can cross something off his bucket list.
That turns out to be the highlight of the night: Nottingham won by 135-110, though that does represent a bit of a comeback from Swansea. They have done enough to make the repechage list, at least for this week, which means Manchester The Team Everyone Wants To Beat are the first team eliminated.
Lowlight of the night was Paxman's response to Alice Lilly answering a question on football. The host is so far behind the style, he thinks (guffaw) that football (chortle)... He thinks that football (snigger)... He thinks that football is still a men's sport! Give Paxman a comedy show, he's so funny!
Straight to Only Connect, where the Wayfarers (Barbara Thompson, Matt Beatson, Gerard Mackay) beat the Bookworms (Katie Bateman, Tristram Cole, Dave Knapp) by 24-22. One team includes two Fifteen-to-One and one UC champions; the other keeps a spreadsheet of all the books ever read (and also have good pedigree on UC).
An entertaining opening round contained "The nonchalant lion", toads on the roads in Hampshire, and the plots of Asterix books. The game was lost on the sequence clue "T! T! b. b." – the Bookworms knew it was from the Shelley poem "Tyger! Tyger!", but couldn't quite place the fourth line. The Wayfarers could, and that four-point swing proved crucial. Victoria spun out an easy wall round with a tale from her pregnancy – everything on the menu at the Very Expensive Restaurant was on the banned list for pregnant women.
Hive Minds continued with its first second-chance match: the Mendelians beat the Goats by 33-20. Now we know which team to ask for advice about wine.
We were expecting to recap Mastermind episode 2 this week. It contains specialist rounds about Phil Lynott and Thin Lizzy, Wars of the Roses, and the Radio 4 sitcom Cabin Pressure. It also has a round about former British prime minister Edward Heath. Since recording, a number of police forces have said they're looking into claims about Mr. Heath. The BBC has chosen not to broadcast the episode of Mastermind at this time.
And so to episode 3. Barbara Flaherty opened the show with the first Perfect Round we've seen this year, scoring 15 on the Harry Potter books. But her general knowledge round saw victory fade away like a very minor functionary in the Department of Magical Sports and Games. In another high-scoring week, all the contenders hit double figures on their specialist subjects. Jeremy Renals got 16 right in his general knowledge round, and a score of 29 points shows he'll be a threat in the semi-finals. Chris Yates heads the repêchage board, and Colin Williams also took part.
BARB ratings in the week to 2 August.
The Eastenders regains top spot, with 7.5m, as last week's winner Partners in Crime loses its turtle power. A great week for Dragons' Den, 3.45m makes it the most-seen game show on any channel, an honour BBC2 hasn't held in ages.
Would I Lie to You? returned with 3.4m viewers. BBC2 has strength in depth: University Challenge grabbed 2.75m, and Only Connect 2.45m.
ITV's primetime shows started to very average audiences – just over 2.3m for BBQ Champ, just under 2.3m for Flockstars, and both were a little adrift of The Chase.
2 million for 8 Out of 10 Cats on Channel 4, but Hair on BBC2 was well below a million, and behind Two Tribes. This series of Hair didn't work, it was too rushed, we couldn't get into the story of the creations.
Hell's Kitchen Us on ITV2 remains the top digital show, 530,000 viewers. Safeword on the same channel pulled 395,000, and Taskmaster on Dave had 430,000. We don't have figures for Sky1.
ITV daytime has Rebound trying to be the new Chase. Take care when watching Countdown (C4) because Gyles Brandreth is back.
Photo credits: 12 Yard, Hewland International, Talpa / Wall to Wall.
To have Weaver's Week emailed to you on publication day, receive our exclusive TV roundup of the game shows in the week ahead, and chat to other ukgameshows.com readers, sign up to our Yahoo! Group.