Weaver's Week 2017-01-15
Last week | Weaver's Week Index | Next week
Which Swedish star was a Pointless answer this week? Virginia Larsson, Henrik Larsson, Zara Larsson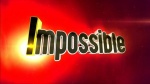 Mighty for BBC1, from 2 January
The latest daytime quiz is from Hugh Rycroft of Tipping Point and Decimate fame. Others have compared it to Whittle; we think it's close in structure to Winning Lines.
At the heart of !mpossible is the "impossible answer". This isn't explained as well as it might be, it took us most of the first episode to work out what's "wrong" and what's "impossible". There are two parts to each clue. The "right" answer fits both parts. The "wrong" answer fits one part, but not the other. The "impossible" answer fits neither part.
Working through our example above. Virginia Larsson is the impossible answer: she's from Canada, and wasn't a Pointless answer. Zara Larsson is Swedish but wasn't mentioned on Pointless, so that's the wrong answer. Henrik Larsson is the right answer, for reasons we'll discuss later.
Each question has a right answer, a wrong answer, and an impossible answer. Always one of each. Keeps the administration simple, but there's a lot of gameplay sacrificed. Would it be ethical to ask a question with no right answer? One with two "impossible" and no wrong answers? But we digress.
At the start of the show, 30 players are in a large seating block. By and large, they'll remain in place throughout the series; over the run, we might get to know something about the players.
The Thirty are asked a question with three possible answers. They've a short time to lock in an answer. All must play each question, there's no "choose not to play" option. The right answer is worth a point, the wrong answer is worth nothing.
Select the "impossible" answer and it's game over. Any points the player has scored are lost, and they'll take no further part in the day's show. They'll have to come back tomorrow and try again.
After five questions, the person with the most right answers goes through and tries to qualify for the final. Ties are a regular event, they're broken by fastest correct responses.
To qualify for the final, our section winner has nine possible answers, and a statement. It's the first half of a question. For instance, "Which participant in the gunpowder plot..?".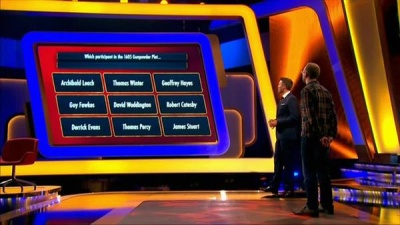 Five of the nine answers don't fit this part of the question. The player is to select these ill-fitting options, and remove them from play. The daily prize pot is sweetened by £100 for each "impossible" answer they spot. With five chances to play, and only four opportunities to be wrong, they're certain to put something into the prize fund.
After selecting and removing the "impossible" answers, the contender sees the rest of the question, and tries to answer it correctly. Get it right, they're through to the final. Get it wrong, and the next-best player from the Forty Niners has a chance to answer. And if, at any stage, someone gives an "impossible" answer, they're off the show until tomorrow.
We have our first player through. Rinse and repeat for two more rounds, very much like the first only with fewer players. See also: Decimate, three rounds with decreasing piles of cash. It is possible for the Forty Niners to be eliminated entirely; when this happens, the last player standing goes through to the cashbuilder round, and they'll cycle back through players to find one to make the final.
Eventually, after about 35 minutes, we have three players for the next round. No Thunderball draw, no "Looking after number one", not quite. This round gifts ten lives to each player, but they'll be burned off at a rate.
Questions are asked, players buzz in. Right answer? A life off your opponents. Wrong answer? A life off you. Some questions are "impossible", they have no logical answer. A good call of "impossible" takes two lives off the opposition; a wrong call, or try to answer an "impossible" question, that's two lives off you. Last player standing wins.
No need for a lottery corp draw, we're straight into the final round. It's not as good as the Wonderwall. Nothing is as good as the Wonderwall. Another grid is filled with nine answers. Three of them are right. Three are wrong. Three are "impossible", wrong in two senses.
On hearing the question, the finalist has just ten seconds (ten seconds!) to give their three answers. A mixture of right and wrong answers (or just wrong), and the player wins the daily prize, up to £1500, often a little short.
Should the player give a single "impossible" answer, they will leave that day with nothing. This hurts, as players are only allowed to play this final round twice before leaving the show.
Get all three right, and the player wins the show's jackpot of £10,000. The money is stored in pound coins inside a giant exclamation mark, and comes cascading out. Enough to flood the studio with pound coins? Er, no, they just drop into a container. It's less spectacular than we expected.
Rick Edwards hosts the show. He's learned a lot from youth television, how to handle a live crowd, how to keep conversation flowing when someone's distracted, and how to keep on top of a tricky format. On the surface, this one is simple, but there are enough intricacies to make a lesser host flounder. Maybe this is a way to introduce Rick to an older audience.
For all its merits, !mpossible is a limited show. It feels very daytime television. Many good daytime shows – Tipping Point, Pointless, Bargain Hunt – have moved into primetime. Many more daytime shows – Masterpiece, Ejector Seat, Breakaway – could have done celebrity primetime shows but didn't. We don't think !mpossible has a primetime show in it.
We say that more as a statement than as a criticism. Programmes don't need to set out to change the world, a good programme that meets its limited ambitions is a worthy achievement in itself.
The prize structure is interesting. We reckon a jackpot each week is possible, plus three daily wins and one loss. That should come out at about £14,000 for five shows, not too far from the £3000 average we think is very decent. There's little chance of a miserly prize – players picking at random will get £800 or more.
Is it cheaper to house 30 people for a recording block than have lots of folk travel up for one show? We reckon the fares-and-hotels for four weeks of !mpossible is slightly more than four weeks of Decimate, where 60 players each enter a single show. But the logistics are so much easier, and regular viewers get to know some players.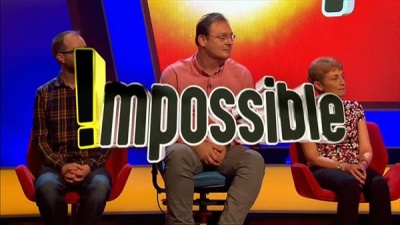 Our conclusions? !mpossible is a watchable daytime show. It won't set the world on fire, and the last ten minutes is the best part of the show.
Semi-final 1
Full coverage of Mastermind begins here. The semi-finals mix up the 24 heat winners and 6 high-scoring losers, in groups of five. Ninety seconds on the specialist subject, two minutes of general knowledge. It's a fast-moving half-hour.
Steve Lacey begins, with specialist subject Whatever Happened to the Likely Lads?. He scores a Perfect Round, all 13 questions correct. We may as well sit back, this is game over.
Taking the others in order of their general knowledge round:
Alan Morgan started with an error on Steve Ovett, scoring 9. Alan needed to rack up the points in GK, and a few stumbles early looked costly. 20 points would set many contenders into the corridor of uncertainty.
No passes for this contender. Indeed, no-one passed all night. This isn't unprecedented - the final heat last year was equally bereft of "pass" - but we reckon it's only the second pass-less show in the Humphrys era.
Isabelle Heward scored 9 on the Daughters of George III, and cost a question at the end by correcting herself. A regular on Mastermind, Isabelle knew to take it steadily, and make swift statement answers. The errors came late, and kept her on 21 points.
Daniel Adler made 10 on the Novels of Robert Harris. There's very little to get past this contender, but often he zigged when the right answer was to zag – offering Mars instead of Venus was typical of his ill luck. The final of 18 points saw him exit.
Rob Hemming came within an ace of perfection on the Life of Al Capone, scoring 11 points. He confused hors d'oeuvre with canapés, doubtless infuriating Mary Berry, and the round went through a small crisis midway through. It was enough to take him to 21.
Steve Lacey needed nine to win. He was top of the high-scoring losers, and was the only of tonight's contenders to score 16 in his general knowledge heat. After a strong start, the round slowed down, confusing Bryan Adams with Avril Lavigne. (Ouch!) In the final ten seconds, he draws level. With the final question, the contender can win.
He gets it wrong.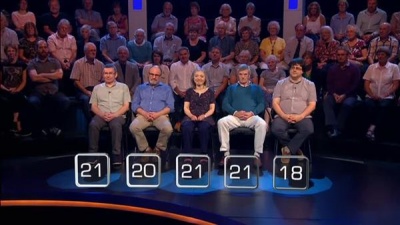 Which means we have a three-way tie-break. This hasn't happened in Humphrys's time.
A cartoon cat. Indira Ghandi's father. A 1969 novel by Vonnegut. Djandoubi's execution. And Tasmania's old name. We'll hear these questions three times in the next two minutes. The host doesn't tell whether answers are right or wrong, but we have captions at home.
In the end, two errors in the fifteen answers. Steve Lacey is wrong about Ghandi's father – Nehru, not Mahatma. And Rob Hemming called the novel "Slaughterhouse-Nine", not "Slaughterhouse-Five".
The little things count. By one tie-break point, Isabelle Heward progresses to the final, 5-4-4.
This Week and Next
Sharp intakes of breath, as The Crystal Maze is back for a series. Richard Ayoade is the new host. There will be 20 (count 'em!) editions – but this includes some "celebrity" specials for charity.
The new set will be at Bottle Yard in Bristol. At 30,000 square feet, it's about the same size as the 1990 series at Shepperton, certainly smaller than subsequent years at Aces High. (Did the first year feel more cramped? We don't recall seeing it on screen.)
There's no attempt to restructure the challenge. The four types of game remain, and the original zones. Ocean World has gone, and Industrial is back again. The best news: James Dillon returns as the set designer – he created the sets and ambience back in the 90s.
Democracy season continues with the National Television Awards. Here are the game shows up for the gongs.
Challenge show: Bake Off, I'm a Celebrity, Masterchef, Love Island
Talent show: Strictly Come Dancing, Britain's Got Talent, The X Factor
Entertainment show: Saturday Night Takeaway, Celebrity Juice
TV Judge: Len Goodman, Mary Berry, Simon Cowell, Nicole Scherzinger, David Walliams
Daytime: Come Dine with Me, The Chase, Pointless
TV Presenter: Mel and Sue, Ant and Dec, Rylan Clark-Neal
25 January for the ceremony.
Democracy season continues with the UKGameshows Poll of the Year 2016, supported by Bother's Bar. Here's your exit poll: this column's votes were as follows.
Best new shows: Debatable, Go For It, Got What It Takes?, Taking The Next Step, The Code
Worst new shows: Alphabetical, Bake Off Crème de la Crème, Drive, Eurovision You Decide, UK's Best Part Time Band
Golden Fiver: Eurovision Song Contest, Fferm Ffactor, Taking The Next Step, The Crystal Maze, The Great British Bake Off
When selecting the Golden Fiver, we ask ourselves, "What would we rather watch than Only Connect?" This year, five shows were more fun, so we didn't have to ask the same question of Tipping Point.
Find out what you voted for in the Poll of the Year Results Show, on Tuesday at 9. Bothersbar.co.uk will have the link.
"What are we missing?" "A coherent sense of the question as a whole." Agony and ecstasy on Round Britain Quiz this week. The ecstasy came from Myfanwy Alexander and David Edwards, who scored their second perfect game of the series. Two matches where they score all 24 points!
The agony was from Polly Devlin and Brian Feeney, who had us shouting "Toad! Baron von Greenback is a toad!" and "Knock! Knock!" Who's there? "No points." No points who? "That's Round Britain Quiz."
Henrik Larsson won the Pointless jackpot on Wednesday. Tasha and Jo said Henrik was a scorer at Euro 2000, because Tasha's boyfriend Alex reckons Henrik was a good answer on turn-of-the-century football. Earlier, Alex had implanted the answer "Martin van Gerwen" as a successful dartist. Good calls, and he wasn't there to take the applause. Pointless is half-way to its own Euro 2000, as it marks episode 1000 on Monday. Richard Osman steps out from behind the desk.
My Kitchen Rules is coming back to Channel 4 daytime. Michael Caines and Prue Leith return as judges. The new series is a bit longer, 40 episodes long, We hope for more travelling dinner parties, and no more fiddly bits in the studio than we must have.
Rotate the easel, Portrait Artist of the Year returns to Artsworld on 24 January. Imelda Staunton, Tom Courtenay, and Graham Norton will be sitting around doing nothing as people paint them. Frank Skinner and Joan Bakewell host; the judges are artist Tai Shan Schierenberg, independent curator Kathleen Soriano, and art historian Kate Bryan.
The BBC has a long history of broadcast news, and sets news in its correct context. For the quadrennial Inauguration events in the Potomac Basin, the BBC has made a live show on BBC2 for those interested, and put summaries into the main bulletins. Only two exceptions have broken the rule. In 2005, the Inauguration was not on analogue television, and only went out on News 24. In 2009, they put the event on BBC1.
The normal coverage is 90 minutes on BBC2. This Friday, the BBC will shove Pointless to BBC2, and give a tax-dodging bankrupt two hours on BBC1 and the News Channel, and six hours on BBC Parliament. This is not normal.
ITV also has a long history of broadcast news, and sets news in its correct contest. ITV has covered the Inauguration events on tape, with highlights into the usual bulletins. There's only been one exception, live coverage in 1981 to show off ITN's abilities.
This Friday, ITV will give a reality tv reject two hours on ITV, displacing Tipping Point and The Chase. This is not normal.
University Challenge ended its elimination round, Corpus Christi Oxford played Peterhouse Cambridge. It's a match of two championship sides – Peterhouse the series winners last year, Corpus Christi won in 2009 and haven't appeared here since.
A strong start for Corpus Christi saw them pull 75 ahead in no time. Peterhouse bounced back, and levelled the scores for a moment, but could never take the lead. A run of dropped starters from both sides proved Peterhouse's undoing, as Corpus Christi won by 175-150.
Only Connect moved into the group phases, with the Fire-Eaters (from section B) meeting the Korfballers (from section A). Korfballers got off to the brighter start, scoring four on their own questions and picking up a couple of bonuses. The Fire-eaters were asked to adjudicate on DJ Dougie Fresh's claim that beatboxing is a fifth element of hip-hop; KRS One believes it's part of deejaying. The team declined to express a position on this contentious matter.
Some lovely sequences this week, including spelling out numbers by their letters' position in the alphabet, and overlapping names. Christmas Carol Channing Tatum O'Neill. Top-rated television shows went back to 1994-7 for an interesting sequence: the most recent one is World Cup, Bake Off, Bake Off, Sherlock. The round concluded with the teams singing the chorus of Bryan Adams' "(Everything I do) I do it for you". Victoria wants this as her ringtone. Why is this not a thing? Why is there not an Only Connect Ringtone store?
Korfballers solved their wall perfectly, Fire-eaters scored half marks, and that wasn't going to be turned in the final round. The winning score: 27-15 to the Korfballers. They'll be back in the winners' matches, Fire-eaters return in the losers' matches.
BARB ratings in the week to 1 January.
Sherlock topped the week with 11.35m viewers. Top game was The Great Christmas Bake Off on Boxing Day, seen by 6.35m.
Celebrity Mastermind (5.1m) and All-New Pointless (4.75m) also did well, both peaked on Thursday.
BBC2's top game was the Christmas University Challenge final on Thursday, seen by 2.95m. Channel 4's best was Big Fat Quiz of the Year 2016 (2.6m on Boxing Day).
ITV spent its holidays with the Harry Potter films, leaving little time for games. STV delayed Ninja Warrior (2.25m elsewhere) and didn't show Take Me Out Celebrities (2.2m elsewhere) on Saturday. World's Strongest Man brought 2m to Channel 5 on Sunday.
Pop Quiz The Comeback topped the digital game listings, with 525,000 viewers. Come Dine with Me (390,000 on More4 Sat) and Would I Lie to You? (360,000 on Dave Fri) complete the medals.
Special mention for The Chase, which filled all places in the Challenge channel's top ten, peaking at 255,000 on New Year's Day night. Should they change the channel's name to The Chase Channel and be done with it?
Coach Trip Road to Marbs begins on E4 this week, weeknights after Hollyoaks. Who Dares Wins resumes its series on Saturday.
Photo credits: Mighty, BBC, 7 Wonder
To have Weaver's Week emailed to you on publication day, receive our exclusive TV roundup of the game shows in the week ahead, and chat to other ukgameshows.com readers, sign up to our Yahoo! Group.