Weaver's Week 2017-08-27
Last week | Weaver's Week Index | Next week
He's done both ends of Saturday television, he's had the biggest daytime game show entirely in the 21st century. What, we might ask, is Noel Edmonds doing now?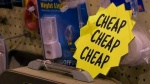 Hat Trick for Channel 4, from 14 August
An inauspicious beginning. Aerial shots from an outdoor market in Wells. Jazzy, brassy, minor key theme tune, as though this is any other antiques-n-tat programme.
And then we start to see a bunch of characters. Barry, an aging man in a brown coat. Marijana, who brings out all the new age hokum. Kelly, a young woman with attitude. Keith, an odd-job delivery man who walks in from time to time. There's also Noel, the bloke who used to run a swap shop once upon a time.
Back in the days when Noel ran the Multi-Coloured Swap Shop, there was no need for money. All goods in a swap shop are going to be swapped. No cash will change hands, no price tags need be used. The value of an item is what you can swap it for: Jimmy trades his skateboard for Johnny's racing car set, both have gained value, both reckon they've won from the swap.
In this new, modern, capitalist era, there is a price for everything. The value of an item doesn't depend on what Jimmy thinks, or what Johnny thinks. Instead, it's set by external factors, written by Adam's invisible hand. The price attempts to turn these specific swaps into a general formula – the "pound sterling", how much silver you'd need to swap for one of these items.
Back to the studio, and Noel skips past the deep philosophy of modern economics. His challenge is simple. Three similar items are brought out and out on the table.
That's it. Select the cheapest option from three, and potentially win £25,000. There are some difficulties: as the game goes on, there are more branded items, and fewer own-brand items. The prices range wildly, from a quid or so all the way to some tens of pounds. And, particularly in later rounds, the gaps between the prices can be small – a pound or so to cover all three.
After the first item, the players can avail of three "tools". These lifelines allow them to reveal the price of a single item; remove the most expensive item; or see the next three items and decide whether to play on.
Ah, that's the difficult bit of Cheap Cheap Cheap. You can play on, but you're playing totally blind. Get the answer wrong, and you leave with nothing. The gamble is a gamble, and it can be for very high stakes.
To tilt the balance further in the store's favour, players can only use one "tool" on any single question. Take away the most expensive item? Fine, but you can't then see the price of a remaining item.
Cash prizes start low – £250 for the first answer, then up to £500 and £1000. There's a leap to £2500, then the pace slows to £5000 and £7500. The final steps are worth £15,000 and £25,000, but we've never seen them played. Most people seem to leave with about £1000 – or a consolation prize, a useless geegaw from Barry's revolve of rubbish.
What's the strategy to win? Know the price of everything. If you've got an encyclopaedic knowledge of every price charged by every store for every item, you're on to a winner.
Otherwise, it's all about mental shortcuts and assumptions. "This is Tresco's own brand, must be cheap." "Country Farms, they're a bit more expensive than Associated Dairies – aren't they?" "The space hopper is big, so surely it's more than this wooden toy." Viewers who play along might compare their heuristics to the contestants'.
Viewers who don't play along can still love the set dressing. The show looks like a corner shop from the 1970s, with junk and tat everywhere. Prices are written on luggage labels and packing tape, and tied to the item with string. Players mark the item – and use their tools – by moving eye-catching flash stickers.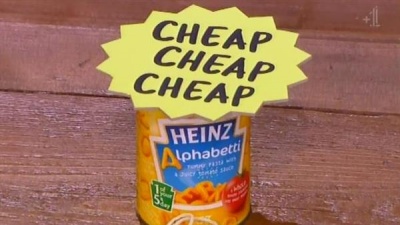 Noel has a reputation for his links into ad breaks. This tradition continues, but now there are characters, they can invent all the most ludicrous reasons to stop play for a moment. Tea break. Move your car. Touch up Little Noely's makeup. The cameraman needing to use the facilities. Eating the burgers that Keith's collected. The phone ringing.
As a show, Cheap Cheap Cheap is repetitive. it asks the same question over and over again. But the show is more than just the prices, more than the method of working out the answers. Noel isn't on his own. Joining the Not A Swap Shop are some comedy characters. They're improvising around the game, to make it more interesting.
We learn about odd-job man Keith's ability to read anything off a camera. We see about Kelly's unorthodox approach to timekeeping. Barry's wife, Margaret, is an invisible character – we hear about her, but never see her. On screen, we see Marijana being ditzy, and Barry himself is a deep character.
On reflection, this show is not quite Swap Shop nor its successor Saturday Superstore. Yes, Keith is still the delivery man, but he's not Keith Chegwin. Barry is not a real person, it's a comedy character, taking a real person and playing them up for entertainment. In the world of Saturday morning kids' telly, Cheap Cheap Cheap is a show where everyone was always in character, Number 73.
The humour is subtle. It's controlled silliness, it threatens to burst out into madness at any time but never quite gets there. At times, there's some allusions to smut, but nothing that can't go out at 3pm. We think the show could benefit from a studio audience. The only other people in the room are a dozen future contestants, and that gives some muted reaction to the improvised comedy. Perhaps no response at all would be better.
Not everything in the Cheap Cheap Cheap universe is perfect. There are lots of little things they've done, and we wish they hadn't.
By having a difficult game, we see a fast turnover of contestants – two or three new couples each show, and we're always on edge for them to leave. We wonder if a slightly longer game would feel that little bit better.
One correspondent noted how two of the "tools" are used during a round, and the third is available before a round. This feels strange – it's not wrong, but it's an unfamiliar structure these days. They could change the third lifeline – er, er, tool – to "Swap these items". Give no opinion on the current three, but change them for a new set of three items.
Gentle muzak plays in the background through the show. It's gentle and barely there, but it does drone on. We suspect it makes for more tiring viewing than is necessary.
A caption claims there are full details on the Channel 4 website, except they're not. Little details in the set dressing, but not the support.
Our final problem is that Cheap Cheap Cheap is a long programme. It's a full hour, and apart from the contestant introductions, we're just working through a conveyor belt of random items, always making the same decision. There's little variety, we only have the one verb: to price. We don't get the variety of actions, the light and shade familiar from Deal or No Deal. Were this a 30-minute programme, our attention would flag less.
Channel 4 hasn't shown much confidence in Cheap Cheap Cheap. Recorded around the turn of the year, the shows have sat on Channel 4 shelves until late summer. There's been little promotion, and viewing figures are well below normal for 3pm. Is viewing depressed because children are not in school and normal routines are disrupted? Difficult question.
Some other commentators have slated Cheap Cheap Cheap. We reckon they're wrong, and some articles seem to be built around prejudice and clickbait. The comedy troupe have their characters to a fine art, and the basic idea is about right.
Cheap Cheap Cheap is not a bad programme. We know a bad programme when we see it. The first episode of Fame Academy. The vehicle for David Dickinson, Name Your Price (2). We watched Prize Island so you don't have to; we saw some merit in Prize Island and you didn't.
For this column, there's not enough game to fill the hour, but that makes it very good background telly to dip in and out. The structure is tilted a bit too far away from the players, which keeps costs down. People who like comedy will like the odd characters. Barry and Marijana were established before this programme. There is depth and thought in Kelly and Keith, these aren't just throwaway improvisations.
All things considered, we'd class Cheap Cheap Cheap as experimental television. The point of experiments is to test an idea, and here we find that the results are not as predicted. They had a go, and – in part thanks to prejudice – it's not been as successful as anyone hoped. Perhaps the best idea is to move on to the next work and learn some lessons from this one.
This Week and Next
Last group for Strictly Come Dancing this year:
Chizzy Akudolu, played Cookie the fairy godmother from Jinx.
The Lovely Debbie McGee, magician's assistant.
Jonnie Peacock, athlete.
Alexandra Burke, The X Factor 2008.
The introduction show is on 9 September, we expect competition to start on 30 September.
Nominations for the Rose d'Or have emerged. What's the greatest game show in the world today?
Is it Babushka (STV for ITV), the game of Russian dolls?
Is it Bigheads (Primal Media and Sony Pictures Television for ITV), the game of celebrity tedium?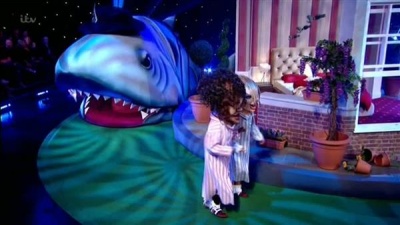 Shark-bait, and too similar to Wild Things.
Is it The Wall Face au Mur (Endemol Shine for TF1), the ball-dropping split-decision quiz?
Or is it Só Pra Parodiar (Multishow and Winnin for Globo), where singer-comedians create parody videos of popular songs?
Could be! We'll find out next month.
There's a new Golden Rose for Virtual Reality. This year's contestants are:
At Anton's Home (DR), we've not found this online
The Enemy (Camera Lucida Productions), a museum production letting people insert themselves into war zones,
Halcyon (Secret Location), a scripted murder-mystery for the Sci-Fi Channel
Lost in time (FremantleMedia Norway / The Future Group / TV Norge), The Crystal Maze for the viewer, Knightmare for participants.
Two other game-ish shows up for Eurovision Golden Roses:
This Time Next Year (Twofour for ITV), which might just possibly be a game show if you squint hard enough.
Britain's Got Talent (ITV), where — oh, you know.
The Edinburgh International Television Festival took place. Jay Hunt claimed that The Grate Breadxit Burn-Off will break even at 3 million viewers, and she will be "delighted" with 5 million or more. That's a high figure for Channel 4 – only Gogglebox and one episode of The Crystal Maze have reached so many people this year.
Kevin Lygo tells us there's "no chance" that Love Island would move to ITV – the beachfront romance would "lose its cool" on the stuffy main channel. And for Channel 5, Ben Frow was non-committal about his summer banker, "I'd prefer to have a channel that doesn't have Big Brother... but I like the ratings."
Another one-sided match on University Challenge. York (Connor Bindler, Ben Longworth, Benjamin Maier, Matthew de Sousa) lost to Warwick (Flora Jackson, Daniel Arribas, Ben Salter, Charlotte Symons) by 80-240. Both sides got about two-thirds of their bonuses, and had York been able to convert some of their speculative buzzes, this could have been a much tighter match.
One matter arising: how did Robert Baden-Powell of the Scouts pronounce his surname? "Baden" to rhyme with "maiden", "Powell" to rhyme with "Noel".
High scores on Mastermind, won by Michael Taylor. He scored 14 on U2, and doubled that to 28 after the general knowledge phase. David Sutherland reached 26 in second place, very possible that we'll see him as a high-scoring loser. Emma Busk and David Noble both scored 22, a score to win some weeks.
Belgophiles and Lapsed Physicists met on Only Connect. It was all going so well for the Belgophiles – a couple of good spots in the Connections round gave them a 6-1 lead. Then the Lapsed Physicists fired the Five Point Klaxon, recognising the name and shape of a platonic solid from a single clue.
We're surprised to learn that Kate Thornton once hosted The X Factor. The Lapsed Physicists are unlucky to have "defunct electrical retailers" disallowed for a set of "defunct retailers". Belgophiles win the show by 25-21, the Lapsed Psychologists may have done enough to come back in the repechage.
BARB ratings in the week to 13 August, when runnin' an' chuckin' came home.
Coronation Street (ITV, Wed, 7.6m) won the week. The top "game" show was Game of Thrones (KYTV Soggy, Sun, 3.4m), but that's not a game as we know it.
So the top actual game? A year-old Pointless Celebrities repeat (BBC1, Sat, 3m). Catchphrase (ITV, Sat, 2.75m) and The Chase Celebrity Specials (ITV, Sun, 2.3m) were new, and Cash Trapped (ITV) is settling around 2m.
Only Connect (BBC2, Fri, 1.8m) finished ahead of "Celebrity" Big Brother (C5, Mon, 1.7m).
Specials of Celebrity Big Brother (5 Star, Sat, 635,000) and A League of Their Own Premier League Special (The Satellite Channel, Thu, 610,000) brought in the viewers.
This week's big game show event is Y Cwis Mawreddog (R Cymru, Mon), marking 40 years of Welsh-language broadcasting. Mel and Sue get the Channel 5 profile treatment (Sun). Oh, and there's some burning cakes show on Channel 4 (Tue).
ITV keeps its Saturday schedules under a strict embargo until Tuesday. We publish on Sunday, so we can't tell you that there's a new series of mmm-hmm, a twist on errr-herr, the regrettable return of ack-ack-ack, and some chatter with him and him. Most unfortunate.
We'll just have to big up the BBC Saturday night schedule, as they believe all publicity is good publicity. Russell Grant and Russell Kane on Partners in Rhyme (BBC1), and another chance to hear Bruce Forsyth visit the Palladium (Radio 4).
Photo credits: Hat Trick, STV, Primal Media / Sony Pictures Television, Endemol Shine, Multishow and Winnin.
To have Weaver's Week emailed to you on publication day, receive our exclusive TV roundup of the game shows in the week ahead, and chat to other ukgameshows.com readers, sign up to our Yahoo! Group.