Weaver's Week 2017-11-12
Last week | Weaver's Week Index | Next week
Bogies.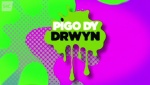 Boom Plant for S4C, from 7 September
This column has a theory: gunge is the last resort of a children's television show. It's something to throw at the contestants when the creative bag has otherwise run dry. We have no problem with a little gunge as part of a balanced television diet, but if a show begins by sneering "Someone's going to get gunged!", it is in deep trouble.
(What would be a similar trope for adults? Making the last round so valuable that it eclipses everything that's gone before. We see a quarter-hour show, stretched to fill a half-hour slot.)
Seven seconds into Pigo dy Drwyn (Pick Your Nose), we see contestants being covered in gunge. The good news: gunge has got nothing to do with the game.
From the game show history, Pigo dy Drwyn is a successor to 50:50, the school game show from the turn of the century. Two teams of about 30 children enter the studio: one team is in luminous yellow, the other in pepto pink. Bringing up the rear are the hosts, Mirian and Gareth. And at the very rear, the team's mascots – teachers in silly hats.
What are we playing for? Points, and trinkets. The winner of each round gets to hang a small nose medal around their mascot's neck, worth 5 seconds in the Bogey Dome at the end of the show. Someone on the losing team will get slimed by their host, who has something that almost looks like snot on a tissue.
The games vary from one episode to the next: here's the five we saw on one sample edition.
Game 1 asks team members to run along the studio floor, bounce on bouncy cushions, and leave a velcro nose against a velcro wall. Before the teams can play, they need to know who will play – the hosts give this news with the maximum of fuss, flashing up pictures of all the teams before calling names.
With each player making just one attempt, they manage to spin ten seconds of action into two minutes of television.
Game 2 is a very simple challenge: make as many basketball baskets as you can. Dunks are perfectly legal, and you can run with the ball as close as you like. Oh, one problem: you'll be attached by strong bungee ropes to your opponent, who wants to put balls through their basket, opposite yours.
This becomes a game of give and take: the pink player scores, and moves back to take her next ball, allowing the yellow player to shoot her ball. Unlike the earlier game, this makes for interesting television throughout.
With no budget for naming these activities, we come to Game 3. Kick velcro cylinders at the velcro wall; it'll be defended by one of the other side, in a zorb ball. Only the cylinders that stick to the wall will count, and there's no velcro at the end of the cylinder, or in the middle of the wall.
The cylinders score their value on the wall, rising up to 60 points at the top. There are a lot of points in this game. With only a dozen cylinders to kick, the game doesn't outstay its welcome.
So, we've done the sergeant jump, netball, and football. What's in Game 4? Stand on circular platforms and try to knock your opponent off with giant cotton wool buds.
The women's duel is often a work of art, melding attack and defence until time expires. The men's duel is an explosive battle of power and strength. But that was Gladiators and has little bearing on Pigo dy Drwyn. Except that many games are derived from the National Indoor Arena. Others games in the series include picking noses off a large Atlasphere, and bumping into each other while wearing zorb balls.
Game 5 is the Bogey Line, their equivalent of The Crystal Dome: a big challenge to collect small items. Crawl along a conveyor belt to collect coloured noses hanging from the washing line above, and fix them to a velcro belt. The further away the nose is, the more points it's worth. Thirty seconds for each team, plus five seconds for each round won earlier.
The belt gets faster as time goes on, though never gets so fast the children are thrown off the end. This challenge looks good, it'll appeal to your average nine-year-old. And, like all the others, it doesn't last too long.
Before the finale, we see the highlights of the show so far. And then, to reveal the results, the final two players are locked in the S4C gunk tank. Both will be covered in gunge. Only the winners will be covered in green gunge.
And that ends the show. Everyone's had fun, including game umpire Steffan. (He's Steff y Reff, for reasons not lost in translation.)
We said earlier that gunge is a shortcut for a lack of ideas. Pigo dy Drwyn doesn't lack ideas, and restrains its gunge to the end – and it has a narrative reason to drench the teams in gunge. Our fears are assuaged: well done producers.
Sadly, the show lacks something even more important: money. While the show never looks cheap, it's clearly being made on a shoestring budget. We reckon that two of this week's games could be re-created at home, using equipment easily available (do put plenty of padding on the end of your broomstick). And if children are allowed to put handprints on a wall, and kick balls at it, that's two more they can make in the back garden.
We don't mind shows being done in an economic fashion, so long as they try not to look it. Pointless, for instance, keeps BBC1 going for 50 minutes on a Saturday night; the same budget would keep The X Factor going for about one performance. But Pigo dy Drwyn is cheap, and it's just the wrong side of too cheap.
Not that this alters our conclusion: it's an entertaining show, moves quickly, has a coherent and fair structure. The participants will love it, the target audience love it, and we found it a fine diversion.
Where were we? Ah yes. Ben Leyburn was in the champions' seat in mid-September. He cooled after some very strong performances, and finished with five wins. Phil Peel defeated him – theirs was a quality match – and finished with six wins. Phil was unlucky to come across a stronger opponent, Eoin Jackson, whose eight wins included three century scores. He's in at fourth seed, and the group from 2-5 are almost equal in their heats.
Owen Taaffe won one game, and Lawrie Western took two wins. Lawrie's defeat was in a low-scoring match to Alex Smith, who improved as time went on and made four wins. James Kennedy defeated Alex, as he defeated seven other opponents. The raw score is poor – 736 points sees him in at sixth seed – but James was consistently good in his heats.
Bringing the story up to date: Rob McCrudden won two matches, Dan Cartwright one, and James Riddell bowed out after six wins – a poor numbers performance will keep him from the semi-finals. Graeme Staples won big on Friday.
Finals week begins on 14 December, with the grand final on 22 December.
This Week and Next
Comparatively rare that University Challenge is all blokes, all the time. This week, the blokes of UCL trounced the blokes of St Hugh's Oxford by 315-45.
Remember ITV's Splash!? One of the competitors has made it all the way to the offices of government. We note the new Secretary of State for International Development, Dan Osborne from The Only Way is Essex.
What, they've not appointed Osborne into the cabinet? They've given a job to Penny Mordaunt? Not only does she tell lies about Turkey, she can't even fall off a platform into the water very well! There is literally no beginning to this array of talent.
There is a beginning to the talent of Alfred Williams, who scored a perfect round on Mastermind this week. His specialist subject? Alfred the Great, and he was. The winning score of 31 is three more than any other heat winner this series. Tim Kenny and Charley Hasted both made 23 points, and Chris Sloley made more than most of us ever have.
Extreme discourtesy from host John Humphries, who refused to address Charley Hasted by their preferred pronoun. "It would be confusing," fumed the question-asker off screen. No, it's not confusing. It's terribly simple, it's basic manners. Are we to conclude that civility is beyond this virtue-signalling special snowflake? We would hope not to have cause to say "Discourteous prig John Humphries".
If you want confusing, look at the question on Only Connect featuring two halves of phrases. These halves have a common link, but that were missing that common link. For instance, "Adam and Eve" and "Adam and the Ants" was presented as "Eve the Ants". The teams blanked on it, Victoria looked confused while explaining it, and she's got the answers written down. The number of people who understand that question may be one, the question-setter.
Belgophiles and Meeples also faced a very BBC4 question on Enid Blyton's "Adventure series" of books, and a recherché picture question about Oliver Twist characters. We just about understood the question on the names of the Queen's children. Victoria's right, that all good quizzers know the Eurovision Song Contest winners, most recently "Tu primo grande amore", "Not my soul", and "Mzeo", another winner found before the end of the month.
Unlike their heat, the Meeples scored well on the wall, but failed to score on most of the Sequences round. Belgophiles scored in both rounds, and go to the quarter-finals on 22 points, Meeples have the long trek through the repêchage on 21.
BARB ratings in the week to 29 October.
Television has a new number one: wildlife series Blue Planet II (BBC1, Sun) tops the ratings with 14m viewers. Strictly Come Dancing remains the top game show (BBC1, Sat, 12.3m; Sun, 10.25m) – and that's the biggest game show rating of the year.
Breadxit Burn-Out continued (C4, Tue, 8.4m). The X Factor moved to its live shows (ITV, Sat, 6.3m; Sun, 5.2m). Pointless Celebrities put in a stellar performance (BBC1, Sat, 5.4m).
The Chase in daytime (ITV, Mon, 3.2m) beat Tipping Point Lucky Stars on Sunday (ITV, Sun, 3m). Celebrity Hunted (C4, Tue) kept 2.8m after Burn-Out.
A one-off shift for University Challenge (BBC2, Mon, 1.75m) saw it 30 minutes earlier. That left Paxo behind Strictly Come Dancing on Two (Mon, 2m) and behind Only Connect (Fri, 1.95m).
On the new channels, Celebrity Juice took 1.42m (ITV2, Thu), followed by A League of Their Own (The Satellite Channel, Thu, 800,000) and Taskmaster (Dave, Wed, 515,000).
Next three new digital game shows: Masterchef Down Under (W, Tue, 290,000), Landscape Artist of the Year (Artsworld, Wed, 230,000), and Taking The Next Step (CBBC, Mon, 180,000). The combination of Sam and Mark and Lindsey Russell is unstoppable.
We thought she'd gone, but Anne Robinson brings The Weakest Link back (BBC2, Fri), for Children in Need. New on Dave is Don't Say It, Bring It, some sort of physical item challenge (weekdays).
Returning: Round Britain Quiz and I'm Sorry I Haven't a Clue (both R4, Mon) and Strongest Man (C5, Thu). It's the final of My Kitchen Rules (C4, weekdays), and there are minor celebs on My Kitchen Rules Us (UK Living, weekdays).
Photo credits: Boom Plant, Twofour.
To have Weaver's Week emailed to you on publication day, receive our exclusive TV roundup of the game shows in the week ahead, and chat to other ukgameshows.com readers, sign up to our Yahoo! Group.