Weaver's Week 2018-12-09
Last week | Weaver's Week Index | Next week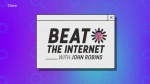 "Do you want to beat the internet?"
Vice Studios for UKTV, shown on Dave, from 15 November
Well, this is all very fun. John Robins, a comedian and quick wit, hosts a show with his name in the title. The objective is to predict what various internet search engines said. So, when we type in "Why are Five Star so f...", we get many possible completions. "So fast". "So far". "So fun". Which were you thinking of?
That's the premise of the first round, This is the end: from the start of a prompt, guess how it ends. Here's the first half of a ZapLook search, what are the ten suggested completions from here? We meet five contestants in this round, each gives the first answer to one of the prompts. One point for each answer found in the ten completions.
John introduces each contestant in a brisk and embarrassing manner. Brisk, because it's a half-hour show on commercial television, and there isn't the time to natter. Embarrassing, because we're going to see some of the contender's recent search history, an excuse for John to take the rise out of them. It's all pre-watershed comedy, gentle enough to not give children ideas.
Round one comes to a conclusion, and the person who is most inept at completing search terms is logged out of the game. If there's going to be a tie-break, it'll come here, and it'll be further search starts on the buzzer, first right answer wins.
What comes after round one? In a nod to tradition, it's round two. Image Problems will show a maximum of five picture clues, all suggesting a common theme. Think of this as the The Link picture round, only with irritating Uncle Arthur replaced by a dashing young civil servant. Questions are on the buzzers, and the points go down with each clue – five points if you can guess the link from one picture, down to one point if you need all five.
There are plenty of questions in this round, enough to make it clear who's best and who's worst. But there aren't so many questions that the round drags. And it's moving at great speed – even if you don't know one question, there will be another along in a moment. Each loser is dispatched with an internet witticism: "you've broken down on the information superhighway", or somesuch.
As sure as eggs is eggs, round two is followed by the commercial break. Yeah, UKTV Dave is a commercial channel, and we're going to have to pay for ten minutes of commercial-free fun. We'll pay now, with five minutes of fun-free commercials. And we'll note that the show was researched and recorded in June 2018, with lots of relatively topical references that haven't dated well (the men's football world cup, the Northern Rail troubles..)
After the break, Beat the Internet resumes. Round three, Search Party, gives a series of answers, and the players are challenged to work out the search question that could have led to them. With ten points on offer, and questions on the buzzers, it's a fast and furious match.
Two survive to The Final Countdown, the show's final. Ten answers are on the board, linked by some common theme. Famous Bills, or Purple Things. In turn, the players have 45 seconds to see the clues and attempt to solve them. The winner of this round takes the show, and the star prize of a Beat the Internet 8GB USB stick. (And another prize such as a smart speaker, but who cares about that!) The show ends with footage of John playing the game earlier and the credits roll.
There are a few things we might change about the scoring. Questions in round 1 are always worth 1 point. Then they reset the scores for round 2. Most questions in round 2 are worth about 3 points, and then they reset the scores for round 3. The later buzzer round is fast and furious, and usually goes for about 8 points. We might like to accumulate points from one round to the next, none of this reset business.
We enjoyed how the show's sounds – bells and bleeps and chords – closely resemble Windows and Apple operating systems from about twenty years ago. For viewers around at the time, a great way to build an aesthetic. For younger viewers, the sounds are consistent and make sense on their own merit.
Ever since they invented Pointless, game shows have needed a sidekick, a second voice. A Lesley to the Matt, a Richard to the Xander. On this show, the role of resident genius is played by Sunil Patel. He's got all of the facts on the internet at his fingertips, using his high-tech filing system. At least once in each round, he'll interrupt the quickfire quizzing to provide some entertaining and amusing tangential facts.
The preceding paragraph is not strictly true. The role of resident genius is played by Sunil Patel. But he doesn't have any facts at his fingertips, his interjections are trite and error-prone. His filing system is an old-fashioned Rolodex card file, not linked to the internet at all. By rights, this should make him look a complete ninny on screen. In context, the character works, and adds just enough to the show's humour.
There are recurring jokes. Just in the introduction, we have "The internet is policed by a roster of celebrities. Today, it's radio firebrand Colin Murray". Sunil's desk is literally wheeled on by a stage hand. We hear Sunil "read" the show's long and boring disclaimer – his lips don't move, and the "rigorous complaints procedure" is illustrated by him feeding paper into a shredder.
Later, Sunil will give us scintillating facts, the likes of which we could not possibly live without. "The most searches for 'rock salt' were recorded in January 2010, while we were battered by extreme cold and snow." Mmm, gripping.
Another example of its daft-as-a-brush nature: how they keep the second player from learning the answers in the final round. It's a simple version of the traditional isolation chamber, being a pair of noise-cancelling headphones and the face-covering helmet from Knightmare. It's cheap and it provides a visual laugh every time – though not a literal laugh, there is neither audience nor canned crowd on this show.
In its current form, Beat the Internet goes out at 8pm, repeats at 3pm, and is safe for children to watch alone. It doesn't take any imagination to see how this show might work in a child-unfriendly slot around 11pm. Maybe there's a double bill with Cheap Cheap Cheap down the late-night petrol station.
Beat the Internet boasts a coherent structure. It takes a simple and familiar premise, and turns it into entertainment. We've found it much more watchable than we anticipated; it helps that we like the style of self-deprecatory humour.
Happy hour again
Our learned friend at Bother's Bar suggested that Beat the Internet was the sort of light-hearted fun quiz Channel 4 tried at 3.30 in the afternoon a few years ago. After being burned by The Common Denominator and that clock nonsense with Rory Bremner, Channel 4 gave up and re-commissioned Fifteen-to-One instead.
We agree that it's a Channel 4 show, but we remember another place where it might fit. The "Happy Hour", a variety of youth-skewing entertainment between 6 and 7pm. And by "youth", we mean "children as young as 10, up to people in their mid-20s". The strand was first promoted somewhere around 1990, and technically still exists – albeit with no variety, just The Simpsons and Hollyoaks every single day.
For an example of where Beat the Internet could fit, we've looked again at the Happy Hour from this week in 1992.
Monday saw My Two Dads and The Wonder Years. Both of these were imported American sitcoms, both a couple of years old, and both were in repeats this week. My Two Dads was about a girl being brought up by two fathers and a judge, it hadn't quite found an audience in primetime but worked well at teatime. The Wonder Years was a retro sitcom, about a lad being raised in the last generation. Neither of these are game shows, both demonstrate how Channel 4 would buy quality imports and schedule them wisely.
Tuesday was Remote Control and Roseanne. The latter was a famous sitcom, new episodes aired in primetime, these episodes were about two years old. Remote Control was commissioned for this Happy Hour strand, a hip-and-happening pop culture show hosted by Tony Wilson. This is one place where they could run Beat the Internet, it's got the same feel and "we know it's silly and it's fun if you're in on the joke" humour as Remote Control.
The hour on Wednesday was filled by a Treasure Hunt repeat. We may remember the close finish of Hampshire from its first airing in 1989, but the episode had only been repeated once since. Again, Channel 4 repurposed its catalogue to good effect.
There were two new shows on Thursday. The Word Access All Areas was based on the 11pm yoof show. The Friday night original was loud and lairy and most certainly not suitable for children. This version had some highlights from last week sanitised for the children, previews of tomorrow's show to tempt the older viewers, and a musical performance to end. And at 6.30, Gamesmaster, Dominik Diamond's oilrig of video game challenges. We can see Beat the Internet working alongside or replacing Gamesmaster.
Friday was back to the sitcoms. Blossom was acquired for this Happy Hour, and paired with repeats of nostalgia-fest Happy Days, a 1970s sitcom harking back to the 1950s.
Since 1992, the television environment has changed. There are more than 4 channels these days – most people have 64 channels, some have 364. Viewers have grown to expect daytime shows to be stripped across the week, though viewers expect variety in their primetime schedules; does the 6pm hour count as primetime or not? Channels have to use their acquisitions budget carefully, and even Channel 5 baulks at putting twenty-year-old episodes of Friends at primetime.
There are sound business reasons for Channel 4 to put the same thing on at the same time every night. Most of them boil down to "it's the safe thing to do, and being safe never gets anyone sacked."
We pick up the thread with the final repêchage match, between Hertford Oxford and Exeter. The Oxford college won by 215-165, overturning Exeter's halftime advantage through slightly better buzzers and more bonuses converted. Hertford progress, Exeter leave the contest.
The second round proper is straightforward elimination, winners go to the group phase, losers go home. The two repêchage winners were seeded into the first games. Emmanuel Cambridge beat St Peter's Oxford by 195-120, proving particularly adept on the Grand Duchies of Germany. Drehen links, bitte.
Hertford Oxford met Manchester The Team Everyone Wants To Beat. Didn't happen this time, Manchester won by 185-115. The damage may have been done in the second quarter, when someone offered "Ford" instead of "Harrison"; five points and a lot of confidence lost.
This week, Edinburgh met UCL, and won by 180-160. The bowl committee has an unfortunate habit of repeating pairings, but the second nip-and-tuck match between these institutions in as many years proved entertaining telly. UCL had the stronger start, and more starters, but couldn't put away their chances and gave away points on interruptions.
University Challenge continues around Christmas, and the annual Christmas specials begin on Christmas Eve. Curiously, there's no invitation for Reading, so we'll just have to remember their pointless endeavour when it's repeated on BBC4 next week.
This Week and Next
Puzzle fans! Our mate Daniel Peake has written a puzzle a day for Advent. The Puzzlevent teasers are up at http://bit.ly/puzzlevent, and run from the intractable to the doable, from the sublime to the pun-laden. This blog's having literally some fun, you'll surely do far better.
(Yes, we know liturgical Advent didn't start until 2 December, and ends on 24 December. Bonus puzzles, out of generosity! The spirit of the season!)
Comedy Central has announced its latest revival. Blockbusters will join gamey formats Your Face or Mine and Takeshi's Castle on the pay-tv channel. Some reports suggest that this version will set out to be amusing, hahahaha, silly. This would be an error – Blockbusters works when there is subtle humour, and when we can believe the subtle humour arises spontaneously. To help set the level, the show will be hosted by joke suppressant Dara Ó Briain.
BARB ratings in the week to 25 November.
I'm a Celebrity is still television's top show (ITV, Mon, 13.15m).
Strictly Come Dancing dips to second place (BBC1, Sat, 11.7m), and The X Factor hit semi-finals week with an upswing (ITV, Sat, 5.15m). Good scores also for Pointless Celebrities (BBC1, Sat, 4.65m), The Chase civilian (ITV, Mon, 4.4m) and celebrity (ITV, Sun, 4.2m).
Masterchef The Professionals hits a new peak on BBC2 (Tue, 3.4m). Only Connect (Mon, 2.55m) is clear of University Challenge (Mon, 2.45m). Lego Masters continues to score on Channel 4 (Tue, 1.5m). I'll Get This (BBC2, Tue) consolidates to 790,000, and apparently it's skewing younger than usual for that 10pm slot.
Leading digital shows: I'm a Celebrity Extra Camp (ITV2, Wed, 1.1m), Christmas University Challenge (BBC4, Tue, 335,000), and Stephen Mulhern's Catchphrase with Stephen Mulhern (ITV2, Sun, 330,000) lead the digital channels.
Other leading commissions: Your Face or Mine (Comedy Central, Wed, 315,000), and Landscape Artist of the Year (Artsworld, Tue, 285,000). Junior Eurovision Final (S4C, Sun) pulled 20,000 viewers, miles above the slot average.
We're nearing the end of I'm a Celebrity... Get Me Out of Here! The final is on ITV on Sunday, Coming Out is on Wednesday. Tonight's Celebrity Catchphrase with Stephen Mulhern will go ahead. There was some suggestion that it would be replaced by "Robert Peston's Say What you Don't See" with Tezza and Jezza and Screeny, but no-one gets in the way of the Mulhern.
Match of the Day Can You Kick It? (CBBC) concludes its look at young footballers with a week of excellence. Next Saturday has the Strictly Come Dancing final (BBC1) and Stephen Mulhern's Big Star's Bigger Star (ITV) gets the parents to talk about their celebrity children.
With the calendar moving in the broad direction of December, there are a few Mid-Advent Specials: Lego Masters (C4, Tue), Celebrity Juice (ITV2, Thu), Through the Keyhole (ITV, Fri). More will follow next week.
Photo credits: Vice Studios, Action Time / Granada, Hewland Productions, Thames
To have Weaver's Week emailed to you on publication day, receive our exclusive TV roundup of the game shows in the week ahead, and chat to other ukgameshows.com readers, sign up to our Yahoo! Group.