Weaver's Week 2019-11-17
Last week | Weaver's Week Index | Next week
It wouldn't be a campfire without a scary story. Presented for the approval of The Midnight Society, I call this tale...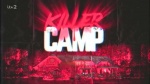 Tuesday's Child for ITV2, 27-31 October
Once upon a time, eleven contestants boarded a bus in Lithuania. They were being driven to a "summer camp" on the far side of the lake, and they'll have to paddle their own canoes across the lake by boat to get there. But one of them was really slow, and suddenly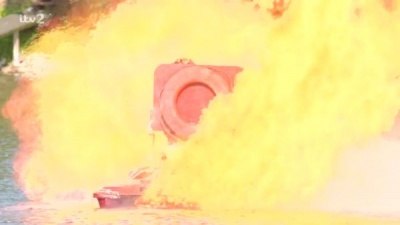 ...there was this massive kaboom, and he had been blown to smithereens. Welcome to Killer Camp, a show that we found absolutely fascinating.
The basic plot is simple. There's a killer on the loose in camp. Every night, the killer will choose one of the innocents, and execute them. And we mean that quite literally, folks, there will be blood and gore everywhere. Thank goodness the show went out at 9pm, safely after the watershed of adult content.
But the innocents can strike back. From time to time, they'll be invited to vote someone off the show. If they choose the killer, brilliant, they've just won a large amount of money. But if they choose an innocent, then they will pay for their errors.
Between the start of the show and the end, there's a lot of show to fill. Each show split into three competitive parts:
The Cash Game, a game played for cash, a full "three thousand dollars" (about £2000) a night. For example: In the lake are some buoys. Grab one each, and bring it back to the raft. There's a map to help you work out which is which. Oh, but there's an extra twist: you'll only get the money if you throw the buoy into this medium-sized ring.
Plenty of opportunity for sabotage, for people not to pull their weight, or gently stop others from winning. Some of the challenges – like the one we've just described – felt like baby steps towards a Wie is de Mol revival, and baby steps are better than no steps.
The Clue Game, a game played for clues. Our players are split into two teams, and take part in a physical activity, such as building a giant pile of wood. The better team will get a clue about the killer's lifestyle. "The killer is a member of the mile-high club." "The killer's first car was a Mini." Nothing that said "The killer is Billy" or "there are two killers in the camp", just oblique hints.
The Immunity Game, a game played for immunity. Everyone plays for themselves, often running around a lake trying to eliminate others. The ultimate winner is immune from being killed that night. The immune player is required to nominate one other person to share their immunity with.
And then we reach The Killer's Chance. Amongst the remaining players, The killer nominates two for a walk in the woods. One of them – and it's one chosen in advance – will not be coming back, they'll be sent to an early grave courtesy of some horrific stunts.
On the final night, and on one intermediate night, the killer makes no nominations: instead, it's a straightforward vote between the players to work out who they think is the killer. Whoever gets the most votes is off the show, and will be dispatched on their way out.
What's the killer's motive? The money not won in the Cash Games. Every pound not won in the daily challenges goes to the killer's pot, and if they're undetected, they'll keep that stash – it ended up at about £5000. Should the killer be found by the end of the show, the innocent survivors will split the entire pot at £2000 each.
The killer bits
Like the proverbial curate's egg, Killer Camp had some excellent parts, and some woeful parts. By far the best was Bobby The Camp Counsellor, played to perfection by Bobby Mair. The role has to be larger than life, and just that little bit too enthusiastic – but not so overbearing as to become a bully. The role requires fine judgement and precision acting, and Bobby pulled it off with absolute perfection. Not only did he have to convince the players on camp, but he was to explain the games to us viewers, and he was to narrate the scary campfire stories.
The filmed death sequences were little gems, the eliminated contestants knew roughly what was going to happen, but not so much that their reactions felt unnatural. Bobby's narration was in the form of a scary story, starting off quiet, then slowly building up to a crescendo of volume and panic. And the tale rode on past the death, because there was a second emotional payoff: the campmates' reactions when they saw who was coming back.
We love a piece of sharp editing, and Killer Camp was sharply edited. Every scene told a story, every shot advanced the plot. With the exception of the final show, there was almost no filler, nothing that wasn't germane to the plot – though some things only become significant in retrospect, once we've found out who was playing the killer.
There was just enough information for viewers at home to play along, we were privy to all of the clues about the killer – or what the contestants said those clues were, which may not have been what they saw. This column was completely off-kilter by the finale, we'd developed tunnel vision on someone who was never under serious suspicion.
The camp bits
We're in two minds about the show's soundtrack. It was clearly inspired by Gary Monaghan's Record Library from My Little Princess and Wild Things, but rarely provided us with the note juste. All too often, a scene's emotional payload would be compromised by a too-familiar tune that left us thinking "naah, they've not bothered", only for an oh-wow obscurity to emerge later on.
The show claimed to be inspired by North American summer camps of the 1980s? It's a setting, and it was internally consistent, and of course it wasn't accurate. Struck us as being the real camps, as seen in the movies of the time, then filtered by British television adaptations of those movies, then buried in the ground for fifteen years, dug up, and with only some of the mud cleaned off. All of the clichés were there, and it felt like an obvious pastiche. Which, in fairness, may well have been the setting the producers wanted.
Ultimately, Killer Camp failed because it only addressed two parts of the murder triangle. We saw the means, carefully-laid traps. We saw the opportunity, forced on the camp by the rules. But what was the killer's motive? Why were they doing what they were doing? Did it ever make sense? Was the killer a psychopath who hated everyone, or were they a sweet innocent who was corrupted?
A lot of screentime was given to a showmance, a couple who got together for the sake of appearances. On Love Island, these relationships are for the viewers at home; on Killer Camp, they could be to throw suspicion and doubt into other contenders' minds. Had no-one seriously considered that the showmance was a fake, that one of the players might be using the other as cover?
Back in 2004, BBC2 had the experimental series Traitor, the party game Mafia but adapted for television. It didn't work, too much witter and not enough game, and demands too much concentration from the viewer. Somewhere in that party game is the lynchpin of a great reality format, and Killer Camp was another effort to put it on television.
Why didn't it work? In part, because the show was confused. The game segments were strong. The reality segments had their merits. The framing of a summer camp was well done. But each element rattled around in its own little box, there wasn't a coherent whole.
Most importantly, we never got a clear view of what had happened. Dutch-language sabotage show Wie is de Mol draws out people's experiences, it encourages contestants – and viewers – to think about what they've just seen. Killer Camp didn't do that, as soon as one challenge was over, vam, we were on to the next segment.
Something we alluded to last week, the structure was dictated by advert breaks, roughly every 11 minutes. That's just long enough to set up and resolve a challenge, but not to reflect on what we'd just seen. Killer Camp was, in part, compromised by ITV2's requirement to have adverts. From this point of view, the episodes without an immunity challenge were slower, more reflective, what we needed.
Part of the show's problems are even greater than that, a blind spot for all English-language television. Sabotage shows – like The Mole, like Killer Camp – are exceptionally rare. That affects the audience's response – people will be confused and tune out, especially when there are familiar programmes on other channels. And the unfamiliarity is evident in the producers' decisions, giving us this show that was never quite coherent.
Quite simply, we're not used to calling out people who don't play by the apparent rules, we're not used to seeing it on our television shows. Viewers don't know how to handle it, producers don't know how to handle it, even the lawmakers don't know how to react when people aren't playing by the rules.
In retrospect, perhaps it might have helped if Killer Camp had been honest with its applicants. The original call was for Summer Camp, a reality show set in a summer camp. Had they asked for people to take part in a real-life game of Mafia, they'd have had a different cast, folk who would have expected to play the game they played.
Viewer reaction to Killer Camp has been muted, because hardly anyone watched it. Did they miss much? Frankly, no: there were many great elements, but the final result was messy. There's a great idea in there, and a second series would have improved so much. In ten years, we might just look back at this show as a staging post, an early effort on the path towards a successful type of show.
This Week and Next
SPOILER warning: this section gives the result of the Jeopardy! championship of champions.
Senior Eurovision Song Contest news, and 41 broadcasters have accepted invitations for next year's contest in Rotterdam or Anywhere. Three broadcasters have withdrawn from this year's event: RTBF representing Belgium, RTCG representing Montenegro, and MTV representing Hungary. Two broadcasters return after a one-year absence: VRT representing Belgium, and BNT representing Bulgaria. NTU, which represents Ukraine, is more confident about being able to perform its entry, having tightened internal eligibility criteria after this year's massive failure. The Senior Eurovision Song Contest will take place in May next year.
Before that we have the Junior Eurovision Song Contest, just one week away. S4C will remind us about their singer, Erin, next Saturday. The final will be live next Sunday afternoon. TG4 will have a deferred transmission in the evening.
Jeopardy! completed its Tournament of Champions, with a two-day rematch between Emma Boettcher and James Holzhauer, alongside Francois Barcomb. James ran away with the first days' play, would have been a lock had it been a regular game. Much closer in the second game, James and Emma were roughly level until James missed the last Daily Double. He pulled back most of the deficit, and though he'd lost the game, had done enough to win the tournament by almost 10,000 points - the damage had been done on the first day. James Holzhauer thus becomes the Trivia King of North America, Emma Boettcher the only person to beat him - twice.
BARB ratings in the week to 3 November.
As you were at the top, Strictly Come Dancing (BBC1, Sat, 10.9m) is ahead of Bake Off (C4, Tue, 9.75m). Just behind comes BBC1's drama His Dark Materials (Sun, 9.7m) and Mark Pougatch's The World Cup: England Rugby vs Sa Rugby (ITV, Sat, 9.45m).
Third-biggest game was Have I Got News for You (BBC1, Fri, 4.9m), with Pointless Celebrities gaining from the unorthodox costumes (BBC1, Sat, 4.5m). The Chase (ITV, Tue, 4.35m) beat The Wall (BBC1, Sat, 4.25m), which easily beat The X Factor Colon Celebrity (ITV, Sat, 3.9m).
His Dark Materials caused a setback for Celebrity Hunted (C4, Sun, 2.8m), but viewing of the episode on timeshift channel 4Seven was treble the usual amount (110,000). Only Connect (BBC2, Mon, 2.5m) still ahead of University Challenge (2.4m). A year's best score for Mock the Week in its new Friday slot (1.65m).
Leading on the new channels are Taskmaster (Dave, 1.23m), Celebrity Juice (ITV2, 815,000), and Gigglequiz (Cbeebies, Fri, 490,000). We're going to have to review this massive phenomenon, aren't we. New Swashbuckle (Cbeebies, Sun, 335,000) is more popular than Landscape Artist of the Year (Artsworld, Tue, 280,000), and all are ahead of Killer Camp, which had less than 200,000 viewers all week.
Time to start crossing the festive things off your November calendar. VH1 playing all-Christmas music, check. The new John Lewis advert, check. Children in Need night, check. I'm a Celebrity... Get Me Out of Here! (ITV and VM1, from Sunday), check. This year, the part of Holly Willoughby will be played by Ant McPartlin. Fun for all the family on Pointless Celebrities (BBC1, Sat): Cannon and Ball, Angela Rippon the voice of The Wall, and Blue Peter star Lindsey Russell.
Photo credits: Tuesday's Child, Jeopardy! Productions Inc.