Weaver's Week 2020-07-26
Last week | Weaver's Week Index | Next week
As you might have noticed, there's not much new in the world of game shows. The effects of the shutdown and quarantine are making themselves felt. From having more new shows than we know what to do with, we suddenly find ourselves in a lull.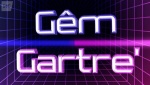 Tinopolis for S4C, from 5 June
Some brave broadcasters are still making shows, and S4C continues to fight the good fight.
Sports stars and superfans take part in Gêm Gartre', a sports quiz where the host has come to the studio. None of the contestants have turned up, they're all at home, and take part over video link.
Owain Gwynnedd has the lonely task of host, stuck in a studio with only a camera operator for company. He interviews the contestants. Two sports stars and one superfan, and the main question: what's your connection to sport.
After a few minutes of this, round one hoves into view. It's a general knowledge sports quiz, one minute to hear questions and give the right answer. Unusually, players can give as many answers as they want, Owain will only move on to the next question when he hears the correct answer or "pass".
In the traditional scheme of things, it's round two next. Observation, the players will see a sports clip, then they'll be asked some questions about what happened in the clip. Everyone plays in this round, and everyone writes down their answer. It's the one chance we get to see professional sport, or rugby from the 1980s.
With the show about half-done, we'll take some commercials, and then come back for round three. Owain gives out a category, and the players bid on how many consecutive correct answers they can give on the subject. There are up to six questions available, and there are restricted options – true-or-false, or multiple choice.
Only the highest bid plays this round. It's like the Wipeout auction, except the players only see the board title. One point per correct answer in this round; fail to make the bid, and the opponents split the points equally. We only play this round twice, a mercy given the difficulties some people have understanding the basics of an auction.
The highest score this round goes through to the final. Like the first round, it's a timed event, and the player can give as many answers as they like until they are right. There's a reward – £50 for each right answer, and a cool £1000 for sweeping all ten. The money goes to a charity of the winner's choice.
We can criticise Gem Gartre' for being yet another internet quiz. They've chosen to leave in the digital delay so every sentence is followed by a moment of silence, and the contest always lacks pace. We can praise Gem Gartre' for making a proper effort, and S4C who could have shown yet another rugby match from the amateur era.
Overall, we fear Gem Gartre' will have to go in the file labelled "perfectly OK minor channel show". While they make a tremendous effort to get round the problem, Gem Gartre' is compromised by the lack of speed, and the lack of buzzers. As soon as someone invents a buzzer that works over the internets, quizzing will become so much more fun.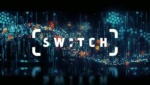 Switch
Panenka for één, from June 2016
Here's host Adriaan Van den Hoof. Here are five candidates, and they pick a number at random. Welcome to Switch. The quiz without points, but does it have a point? And is it worth half-an-hour of your time on bvn.tv one weekday afternoon?
For most of the show, our favourite five will stand behind some hugemungous illuminated numbers. Are they going to star in a shoulder-prime edition of Sesamstraat? No; none of them is Tommie. Nor Troel.
Instead, the five will each talk to the host about their life and interests. They get about a minute each, and all of this chatter is bunched together in the opening minutes of the show. Can they do a Pointless and talk to people as the show goes on? Well, they could try, but there are reasons.
Switch is recorded before an audience, and Adriaan is a lively host – he cracks jokes and keeps the conversation flowing. A big video screen is behind the players, for most of the episode it has gentle orange patterns and blobs on a green background. Reminds us of the interior of a lava lamp, of all things.
The best thing about Switch is how we identify the person who buzzes in. Their head is surrounded by corners, like in a photograph, or a target.
Each round of questions has a theme, and each theme is introduced by an anagram of the key word. Can any of our players complete the anagram? They'll move up a place in line if they can.
Yes, for all the bells and whistles, Switch plays like Channel 4's one-series wonder Number One. Get a question right and you switch places with the person just ahead of you. Get a question wrong and you switch places with the person just behind you. Anyone can understand it, and almost everyone does.
Rounds on a sample edition include: Who's in the doctored photo – we see a photo, with something added, or a crease obscuring part of the person's face: who is it? There's a round of questions on bananas, from the slightly hoary chestnut about the Velvet Underground album, to questions about people who "went bananas".
Five questions in each round, plus the anagram of the subject. Whoever's in position 5 after the final question is switched out of the show. Compare with Number One, which had timed rounds of dry trivia, and a one-question shootout between the last two players.
Round two has a similar idea, with all the answers now moving you two places up or down the list. There's a round of "Colours", where the task is to identify the performers with a colour in their name. And there's a word search, where the answer to the question will be split across other words in the sentence.
Only four questions in each round, they ramp up the speed as they lose contestants. They make these questions noticeably harder. All the colours are in English, not Flemish-Dutch, because do you know anyone whose name is groen? And the word searches are spoken, not written down: it's difficult enough when played as a round on House of Games (3), nigh-on impossible here.
Again, the last player after the second round is switched out.
Round three is questions on a single theme. Whoever gets the puzzle correct moves up to space number 1, and sits out a one-question duel between numbers 2 and 3. The winner of that duel takes position 2, and will contest the top spot with the current number 1. After the third set of duels, we have our daily winner.
The final: one minute of questions. Start at position 5, and move up on a correct answer, down to position 5 on an error. The show only pays for perfection, the jackpot starts at €1000 and increases by €1000 every day it's not won. The topic is always general knowledge, and only a smart contestant can get four in a row.
Win or lose, everyone comes back for all five days of the week. On later episodes, our players reflect on what happened yesterday, perhaps a subtle encouragement to catch up on the website and Watch Aga-één.
After the opening conversations, it's a fast-moving show. The main mechanic is familiar from Number One, but there are many multimedia questions, they wouldn't be out of place on Brightest Family. Would we put it at 8.45, at the heart of the evening schedule? Probably not: for this column, Switch feels like a teatime show, and a thoroughly enjoyable teatime show.
The hundred-euro question: is there a space for Switch on this side of La Manche? It's difficult to see who would take it: Switch runs for 28 minutes at a pleasant pace. No national commercial channel commissions half-hour quizzes any more, and there probably isn't room on BBC2's teatime schedules now that House of Games is running almost all year. Some of the smaller channels could be interested, it's a pleasant half-hour for BBC Scotland or S4C, but might be too much for their cramped budgets.
In other news...
The New Mickey Mouse Quiz Great news for fans of The Chase, as ABC has picked up the rights for the North American market. ABC, a wholly-owned subsidiary of the Disney Corporation, appears to be casting contestants for a primetime version. The Chase had a few series on the Game Show Network in 2013-15, featuring Mark "The Beast" Labbett as the resident Chaser.
Stop the river dancing While the BBC still plans to bring us a series of Strictly Come Dancing this autumn, RTÉ have decided against a run of Dancing with the Stars next year, as the health risks are too great to be justified. The show has become a winter fixture on RTÉ1, running each Sunday from January to March. The broadcaster hopes to mount a series in 2022.
The sports player earlier was Rafael Nadal.
Cookery shows come to an end this week, with Bake Off The Professionals (C4, Tue) and Celebrity Masterchef (BBC1, Wed and Thu). 8 Out of 10 Cats Does Countdown returns (C4, Fri).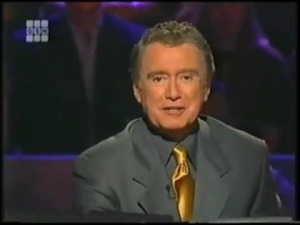 The death was announced last night of Regis Philbin, host of Who Wants to be a Millionaire on ABC (Disney). We'll have a full obituary next week.
Photo credits: Tinopolis, Panenka, Celador / Valleycrest Productions.