My Kind of Music
Host
Broadcast
LWT for ITV, 8 February 1998 to 29 March 2002 (49 episodes in 5 series + 7 unaired)
Synopsis
It's Name That Tune but hosted by Britain's Favourite Host (as voted for by his close family) Michael Barrymore!
This attempted game show-, people show- and a music show-in-one didn't do a bad job, to be fair. Three couples put their musical and performing knowledge to the test for a big cash prize.
Each show would begin with a song and then the contestants would be introduced, one contestant from each couple would perform a song in front of the audience, the two remaining couples would then be asked a question on that song, £50 for each correct answer.
The second round was a music general knowledge round, £50 for each correct answer.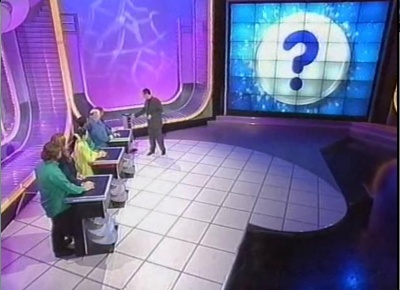 A question mark? In a game show? That's new.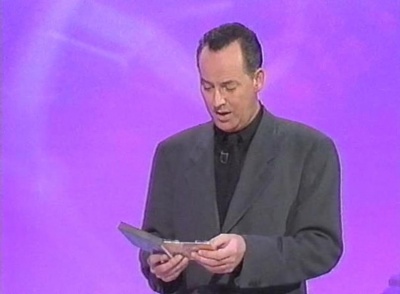 Hmm, let's see how many songs I hated since the axing of this show. "Just a Little" by Liberty X, "Pure and Simple" by Hear'Say...
The third round was 'My Kind of People' the contestants would watch a video of various people (some performing good, some performing incredibly badly, most of them the latter) singing on a stage in the middle of a shopping centre, while Michael sung a long with them and generally messed about. After the clips were shown the contestants would have to answer questions on what they just saw, £100 for each correct answer.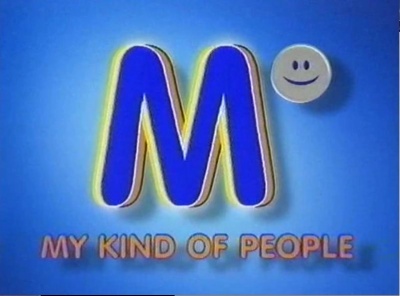 I'm...trying...to smile.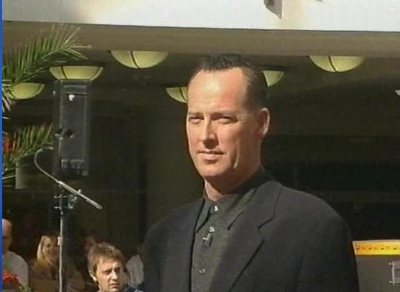 Urgh, why did I sign the contract for this.
The fourth round was 'Pick the Picture' 9 pictures of various celebrities would appear on the screen, a song would then be played and the contestants would have to try and connect the song to one of the pictures in some way, £150 for each correct answer.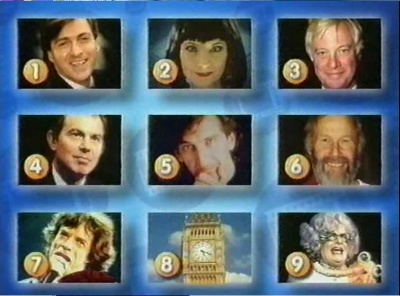 The rejected video wall, which was going to be used for the pilot episode of Today's the Day.
The fifth round was 'Sing the Song' which was a charades type game, Each couple had 60 seconds, a singer or band would be shown on the large screen and the one contestant had to sing to the other a song by them, so they can try and guess it, and then swapping over after each song, £150 for each correct answer.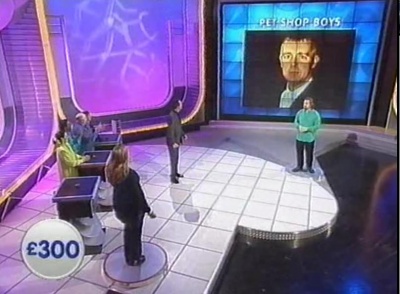 Let's role-play while singing...yeah!
After the fifth round, the couple with the least amount of money was sent off. The sixth round was called 'Mega Mix', each couple picked a year and were shown clips of songs from that chosen year, they then had to name both the singer/band and the song, £150 for each correct answer. After this round the 2nd couple with the least amount of money were sent off.
The team with the most money who would play Musical Families for a chance of the big prize.
Musical Families tried to be a new concept for a round, but not a very good one. Contestants tried to guess the names of four musical stars who had been formed into a fictional family. The idea was that the mother and father were old enough to have had their two (fictional) children - not a particularly strong clue. Anyway, Bazza would read out long description clues of each person in turn, à la Going for Gold. The first three people were worth a thousand each and the fourth won the jackpot of £10,000. But isn't £13,000 a decidedly odd amount of money to give away?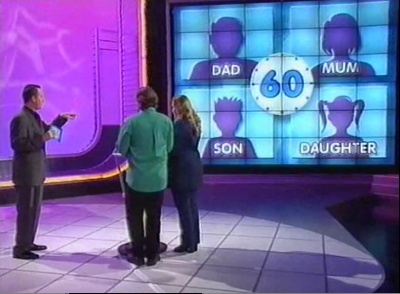 Aww, a nice touch to end the show.
A lot of Michael Barrymore's appeal was working with the audience, and hecklers were usually welcome for a quick joke. Other than that, the format didn't quite work but at least the graphics were nice.
Key moments
Michael singing (reasonably well) every week in the studio with someone "he met whilst filming".
If the contestants didn't know an answer, he'd sometimes offer it to a member of the audience for the same money. A nice touch.
On one show, a contestant brought his mother and girlfriend along to sit in the audience, and Barrymore mistook the former for the latter, to much hilarity. And even more so when it turned out that the contestant's mother was Italian, and didn't speak English - so he had to explain to her in Italian what Barrymore had just said.
Trivia
Mike Reid, former presenter of Runaround, wrote some of the questions.
One episode featured Paul Potts, who would later go on to win Britain's Got Talent - and on this show, he didn't even get to sing. Other future stars to appear on the show included Rachel Tucker and Jodie Prenger of I'd Do Anything. 20% of the original Popstars final ten appeared, too: Jessica Taylor (latterly of Liberty X) was a contestant, and Danny Foster (of Hear'Say) appeared in the "My Kind of People" segment.
Barrymore's former wife, the late Cheryl Barrymore, was credited as programme consultant.
My Kind of Music was a spin-off from the "My Kind of People" segment of Barrymore's entertainment show. In this part, the host toured the country asking people to sing and dance in shopping centres. There weren't prizes, so we don't deem this a game show, but we should note that it found a few stars of the future - Jon Lee of S Club 7, David Wickenden was later part of Four Poofs and a Piano, Gareth Gates of Pop Idol, and Vanessa White from The Saturdays and Popstar to Operastar. A series of My Kind of People had aired in autumn 1995, but had no competition as we recognise it.
The death of Stuart Lubbock at Barrymore's house in 2001 caused the star to be arrested on drugs charges. After charges were discontinued, a fifth series consisting of 12 episodes was commissioned in 2002, but only 5 were shown. Barrymore's contract with ITV lapsed at the end of 2002; his silence at the Lubbock inquest in September took him off television for some years.
Web links
Pictures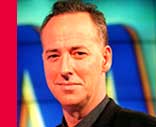 Barrymore's video wall.
Videos

An episode from 1999 (with Paul Potts as contestant)
Feedback