Weaver's Week 2016-09-25
Last week | Weaver's Week Index | Next week
Patrick Kielty's back. Is that a good thing? It's...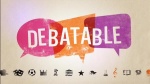 Hungry Bear for BBC2, 22 August – 23 September
See, we could be watching his wife, Cat Deeley, who turns every show into compelling viewing. But we could be suffering the "wit" and "wisdom" of Richard Park, Patrick's hand-waving nemesis from Fame Academy.
After a low-key return to the BBC on Northern Ireland's Bad Language at the start of the year, Patrick Kielty returns to network television with a star-studded cast.
Teams of three celebs are selected to balance each other. One panel comprises the macho Gethin Jones (Blue Peter), the hip Alice Levine (Radio 1), and the guerilla Angela Rippon (Masterteam).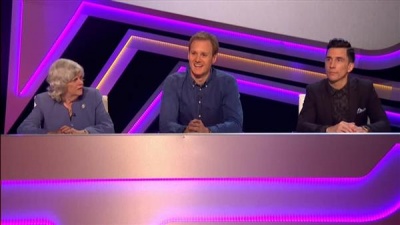 For our sample episode, we've the sage wisdom of Ann Widdecombe (Strictly Come Dancing), the street cred of Russell Kane (every panel show going), and the studious Dan Walker (Copacabana Book Club).
A contest would be bare without a contestant. Today's contestant joins Patrick Kielty at centre stage. There will be seven questions in the half-hour show, but the fun is not the quiz.
Debatable is a process show. The answer is less interesting than what the panel have to say. How they reach their conclusions is often more interesting than the conclusions.
Round one is a multiple-choice question. One question, four possible answers. It's Phone-a-friend from Millionaire, with three friends on a conference call, bickering amongst themselves, and without Chris Tarrant pulling funny faces. £200 for a correct answer, and there's a pair of questions.
Round two is a sequence question. Put these three answers in order. £300 if the sequence is right, and again two questions. The panel are given little cards to pass around and put in order. Helps them to think, helps us to visualise what they're saying, and very few quizzes involve touch at all.
Round three is to spot the fact amongst two lies. A neat inversion of TV3's format, this Ffaith Noeth is worth £500 to the player, and again two questions.
Like on The Question Jury, the questions and options are designed to stimulate debate. Is Barack Obama younger than David Cameron? What is the most common element in the human body?
Some of the questions are picked for the panel. Dan Walker, can you remember when your touring book club first visited these cities? Much embarrassment if he can't, much kudos when he can, and watching him squirm a little is entertaining.
This week, Debatable has expanded to 45 minutes, so that Make Me an Egghead can also run a bit longer. To make up the time, they've expanded the number of debates in each round from two to three. In our view, it makes for a weaker show: the later rounds merge together in an endless loop of discussion. Could they have kept the existing six debates, and added in a different sort of round?
Up to £2000 is up for play in the "final debate" round. The player picks one of the panel to help them. There are six possible answers, and the player and panellist will compare ideas for a minute. They'll select three answers from a possible six, and all three need to be correct for the money. Doesn't always happen, but the show seems to have more winners than losers.
Debatable is light, easy to follow, and never stodgy. We can pick up the show halfway through, which helps for people turning over after the main news. Each panel is cast to compliment the other members, it's not just three minor celebrities who were available that day.
We rather hope for more of this show, our appreciation of Debatable is not up for debate.
12 Yard for BBC2
It's been finals week on BBC2's supreme talent search contest. The questions have been even harder than Jeremy Vine's puns. The semi-final format was 45-minute shows, five specialist subject rounds earn an Egghead for the final round, and that was best of five.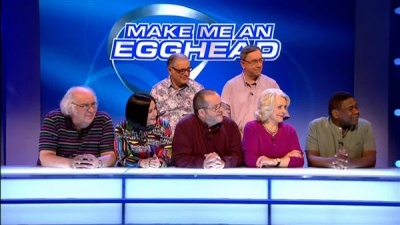 Who will join these seven?
(back) Barry Simmons, Kevin Ashman
(front) Christopher Hughes, Lisa Thiel, Pat Gibson, Judith Keppel, Dave Rainford.
On Monday, Gerard MacKay beat Gary Grant. Even by the rarefied standards of this programme, Gary had a run of particularly difficult questions, and never felt in touch.
On Tuesday, Julia Hobbs defeated Frankie Fanko. A much more even match, Julia took an extra egghead into the final and the good fortune of a couple of questions she knew off pat.
Wednesday's match was between Steve Cooke and Ian Bayley. Again, little to choose between the players in the solo rounds, Steve had the one-head advantage in the final, and managed to work out Francis Bacon's magnum opus when it mattered.
Thursday saw Nicki Cockburn take on Beth Webster. Whitewashes were common in the heats: for Beth to have all five Eggheads was unexpected. Nicki relied on her own knowledge to take the final round to the 10th question, but it proved a step too far, and Beth had the win.
Friday's finals had another new format. Each finalist picked a subject for a best-of-three round. They're not playing for Egghead support, but points. The winner of each subject round took three points into the final round. There, questions were asked alternately until one player had 10 points and a clear lead. (So 9-8 is not a winning score, 10-9 is.)
Steve and Gerard split their subjects, but Steve pulled ahead early in the final and – in spite of a stumble at the finish line – won by 10-7.
The women's final – uniquely – featured eight eggheads on the bench opposite. They wasted no time integrating new egghead Steve Cooke! We could tell from the clock that this would be the shorter final.
Beth won both specialist subject rounds, but the final round was more error-prone than we've come to expect from Eggheads. That might be because there were no options, all questions needed a straight answer. Beth won, of course, 10-6.
So the champions are Steve Cooke and Beth Webster. They'll be on the panel when Eggheads begins a new run on Monday.
This Week and Next
Ten days later, we got some closure on breadxit. Mary Berry will remain on the BBC, but Paul Hollywood will follow Bake Off to Channel 4.
How will Channel 4 make their money? Gogglebox can sell for about £250,000 per internal break, so we'll treat that as the starting point. Channel 4 have said they want to keep an hour of action, so four internal ad breaks per show. Plus some extra dosh for breaks before and after. We'll add in another £250k for An Extra Slice, so that makes £1.5m per episode. Multiply that by 10 for the series, £15 million. More than half the fee's covered already.
The rest can come from celebrity shows (say £0.75m per show, four per year), product placement (£1m per year), show sponsorship (£2m). And we're up to £21m already, without considering Creme de la Creme (product placement there can be targetted to high-performance go-getters and expensive) and Junior Bake Off (contract obligation, but still performs above a generic replacement).
All Together Now The Great Orchestra Challenge came to an end, with a Not Live final at the Royal Albert Hall. The winners were the North Devon Sinfonia. Such is the BBC's commitment to live classical music that the two final orchestras played about six minutes of music in the hour-long programme. Their performances weren't even played on Radio 3.
University Challenge pitted two postgrad institutions against each other. Wolfson Cambridge (Justin Yang, Ben Chaudhri, Eric Monkman, Paul Cosgrove) took on SOAS (David Bostock, Magda Biran-Taylor, Henry Edwards, Odette Chalaby). The verb count: study 5, do 2, read 1.
Lots of penalties for missignals led to a scrappy first half of the match. SOAS turned on the afterburners, scoring 60 points in two-and-a-bit minutes, and Wolfson responded with the quickfire answer-or-pass on their bonuses. A Hail Mary on the poet Ferdowsi (guessing the question would lead to his language) allowed SOAS to close a 20-point gap in half a minute.
The result of the match was a draw, 175-175. The producers choose not to respect a draw, and ask starter questions until a winner emerged, in this case Wolfson. They progress in the main draw, relegating the unbeaten SOAS to the repechage.
On Only Connect, Part-Time Poets (Nina Grant, Katie McGettigan, Jenny Harris) took on Oscar Men (Howard Freedman, Adrian Knott, Michael Slowey). Jenny was part of the University Challengers, who played a special match against the Crossworders some years ago; Nina and Katie have also appeared on the other half of Quizzy Mondays.
Part-Time Poets won by 21-20, and that looked unlikely after the Oscar Men took three on their opening question, places ending in "____stone". The Poets pulled back with Cockney rhyming slang pictures, and famous University Challenge contestants. No mention of Alex Guttenplan, the host's sweetheart? Not with one of his team-mates in the studio!
The key move was when the Men thought a sequence of Greek islands was getting smaller, not larger, allowing the Poets to sneak a bonus. A slack clue of Romanian money – intended to clue "Leu", but the notes and coins make the plural "Lei", so the sequence went "Lei, leo, lei."
And a very harsh call on half-time entertainments at the NFC-AFC Championship Match: the Poets' offer – Beyonce Knowles – was in February's performance, as was Bruno Mars. Left Shark was on the pitch, pretending to be an umpire. Ten each on the walls, the Poets pulled yoga positions from nowhere, and the missing vowels round was toe-to-toe contact. The Oscar Men will return, they're the highest-scoring losers from Section B so far.
Hive Minds had the Methodologists (Matt, Bobbie, Mike) and Doosras (Ewan, Andy, Dave). The first round – indeed, the first two questions – proved crucial. Doosras opened up a commanding lead, which they extended through knowledge of metallic alloys.
They didn't know about taoisigh, and neither did the BBC4 viewers, asked about "Irish prime ministers". C'mon, Hive Minds isn't on BBC2 yet, no need to dumb down. Sculptors and reptiles in the Superhives, with some useful tactical play from the Methodologists – but they needed a better chameleon circuit. Doosras had an unbeatable lead, and won by an English cricket score, 32-9.
Pamela Culley won this week's Mastermind. She scored 16 points on the general knowledge round, the second-best performance by a heat winner this year; her total of 27 (5 passes) included the specialist subject of The Charles Paris mysteries by Simon Brett. David Pickering came second, 22 (0) from Filippo Brunelleschi. The other players were Philip Debois (Oliver Cromwell) and Janet Jackson (F1 circuits).
And for anyone who has come to UKGameshows wondering why a pop star was on a BBC game show: she wasn't. This is our Janet Jackson, a designer from Lancashire.
BARB ratings in the week to 11 September.
Bake Off hits 13.1m viewers, and this in the week before the big botch-up.
The X Factor continued to trundle along, 8.35m saw the auditions. Next biggest game was Pointless Celebrities with 3.65m, ahead of 3.55m for Would I Lie to You?.
Mr and Mrs continues to do well, 3m opposite Bake Off. The Chase (2.85m with Celebs on Sunday, 2.7m on Monday) and Go For It (2.8m) are also impressing on ITV.
On BBC2, University Challenge (2.6m) beats out An Extra Slice (2.5m part-networked) and Only Connect (2.5m). Mock the Week came to Friday with 1.85m, and Make Me an Egghead is pulling a million.
Digital tier: 1.355m for Celebrity Juice (ITV2, Thursday). 575,000 for Go 8 Bit (Dave, Monday) and 550,000 for Xtra Factor (ITV2, Saturday). And cheers to Celwydd Noeth, 35,000 on S4C on Thursday.
The Chase marks its 1000th episode with five Chasers in one show (ITV, Thursday). We've not seen so many brains in one place since Make Me an Egghead. It's Not What You Know (2) has a new host (Radio 4, Thursday). The final of Top Class (CBBC, Friday). Pointless Celebrities (BBC1, Saturday) includes Piers Morgan.
And it's fifty years since Terry Wogan first broadcast on the BBC. The landmark is the welcome excuse for special programmes to remember him (Radio 2, Monday and Tuesday; BBC1, Friday).
Photo credits: Hungry Bear, 12 Yard.
To have Weaver's Week emailed to you on publication day, receive our exclusive TV roundup of the game shows in the week ahead, and chat to other ukgameshows.com readers, sign up to our Yahoo! Group.