Weaver's Week 2016-09-18
Last week | Weaver's Week Index | Next week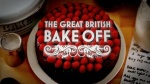 "Pick Me! is bullet-proof television," we wrote on 22 November last year. This week, the Rose d'Or panel agreed, and named it the best game show on television in the civilised world. An excellent choice, and Possessed fully deserve all the prizes.
For various reasons, Pick Me! isn't the most popular show on television at the moment. There's been a little bit of news about The Great British Bake Off, which we present in a special feature called
Breadxit Means Breadxit, And They're Going to Make a Success of It
We heard just after 6pm on Monday that Bake Off was going to leave BBC1. The format's producers, Love Productions, said their decision "wasn't about who writes the biggest cheque" but about "the best home for Bake Off".
Within hours, Love Productions' bluff was called. The current fee is about £6.25m per year; for that, the Beeb get Bake Off, plus An Extra Slice, and celebrity and Christmas specials. They also get the professional series Crème de la Crème, and the Junior series we'll see on CBBC later in the autumn. All told, it's about 30 hours of show.
The BBC offered to double the fee, and offered £12.5m. Love Productions wanted double that, a full £25m each year over three years. That's a lot of money: almost half of CBBC's entire budget for the coming year. The BBC reckoned this was silly money. It's been reported that Lord "Hall" Hall, the director-general, personally intervened to say it was too much.
Love Productions jumped in a taxi, and shouted "Channel 4, my good fellow! And step on it!" Channel 4 completed their months of work, and signed on the dotted line on page two of the contract around 7pm last Monday evening.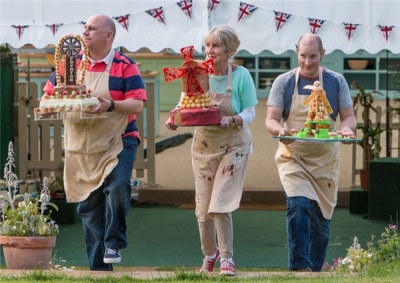 Breadxit means breadxit, and they're going to make a success of it.
Petits Fours
ITV didn't take part in the negotiations. The leading commercial channel had been interested some months ago, but bowed out when Love confirmed that they were just selling the format rights. The talent would be negotiated separately. ITV wanted Bake Off as a package, hosts and judges.
Love Productions had done their homework. They knew that they were selling Bake Off as a going concern: marquee, ovens, mixers, bowls, bags full of flour. Because all of the negotiations had been done in secret, neither the staff nor the talent knew about the move until it was announced. Surely the talent would follow.
Channel 4 has been hurt by the digital expansion, and it doesn't normally have any show rating over 3 million in any given week. Bake Off has begun the current series with 13 (THIRTEEN) million. It could lose half its viewers and still be the biggest thing on Channel 4.
One of Channel 4's few recent big hits was Benefits Street, a documentary about people living on social security. Benefits Street said something about the white working class living in urban Britain, though many found it exploitative. The important thing for our narrative: Benefits Street was made by Love Productions.
Channel 4 and Love Productions work together. There's chemistry between the two companies, possibly a Cameron-and-Clegg understanding between commissioner and producer. (We don't see that as a bad thing: when the channel and producer share a vision, both can get on with making great television.)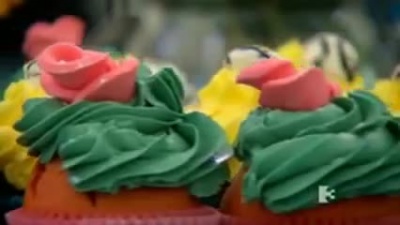 Breadxit means breadxit, and they're going to make a success of it.
Stargazey Pie
An email was sent to staff at Love Productions.
"We are writing to let you all know that, with deep regret, after more than a year of exhaustive negotiations we have been unable to reach an agreement with the BBC for the renewal of The Great British Bake Off.
"We feel it is very important to let you all know as soon as possible because there has been a lot of inaccurate reporting in the media about the negotiations and we want you to be aware of the main facts.
"We are really saddened by this outcome because we always wanted to stay on the BBC. As recently as June we were convinced that was what would happen.
"This has never been about who might write the biggest cheque, but about where we can find the best home for Bake Off. Unfortunately we were unable to agree either a fair valuation, and nor were the BBC able to provide the necessary comfort for the future protection of such a distinctive and much-loved television series."
To the best of our knowledge, Love Productions has no other major series in production. They do have a few one-off documentaries, but nothing we can see lasting years. Benefits Street was a cul-de-sac, and almost all their output is Bake Off and its spin-off shows. Get this wrong, and Love Productions could cease to exist.
These were the first negotiations for Bake Off since Love Productions had a 70% stake bought by Rupert Murdoch's Sky company. Are we to believe that the majority shareholder didn't want a return on investment? Did Sky really buy its stake in Love Productions from altruism? Would you like to take these coals to Newcastle?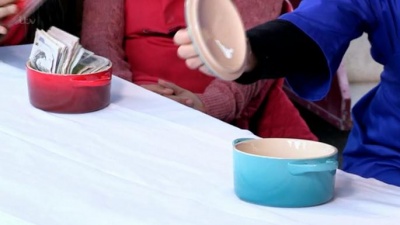 Breadxit means breadxit, and they're going to make a success of it, because there's an extra £350 grand a week for the bonus packet.
Viewer turnover
There were screechings from the viewers. Hashtags and memes and gifs were all around. So were adverse comments. "It'll be a disaster." "Channel 4's got a soggy bottom." "This never happened when David Cameron was around."
Some more substantial comments. Mutable Joe noted, "Watching Bake Off isn't the same now, it's a requiem, every bite Mary takes is a Eucharist in remembrance of a god we know won't save us."
Countdown regular Pam Ayres wrote something.
On the cake top sits a cherry
Smiling gamely: Mary Berry
Defected! Curdled! Beaten! Battered
Bake Off's gone; the world is shattered.
Miss-lyrical-leftie said,
"Obviously I'm peeved. I'm specifically peeved, though, because the Great British Bake Off is all I have left in the field of cozy evening shows [..] Bake Off was never going to rip out my heart and show it to me. It's a show about shortbread. It's handy that they did churros this week, because Bake Off is a telly churro; sweet, warm and full of charm. But now all that tasty goodness is selling out and I'm a bit peeved."
Breadxit means breadxit, and they're going to make a success of it, because Mel and Sue and the viewers need Bake Off more than Bake Off needs Mel and Sue and the viewers.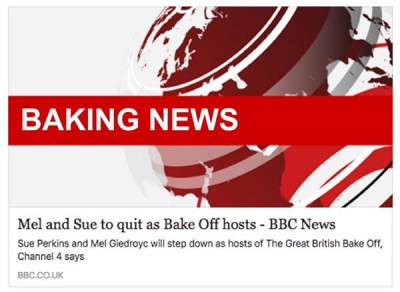 Not going with the dough
Mel and Sue will remain at the BBC. The dynamic duo said on Tuesday:
"The BBC nurtured the show from its infancy and helped give it its distinctive warmth and charm, growing it from an audience of two million to nearly 15 at its peak.
"We've had the most amazing time on Bake Off, and have loved seeing it rise and rise like a pair of yeasted Latvian baps.
"We're not going with the dough. We wish all the future bakers every success."
Boom. Half the talent has gone. At one stroke, the narrative turned from "BBC shock loss" to "Channel 4 have messed this up" and "Love Productions are only interested in money". All that's been sold is a tent, some cooking equipment, and enough stools to organise a Westlife fan convention. No hosts.
Mel and Sue come out smelling of roses. They're putting principles ahead of profit, in a way that Love Productions didn't. Insert knife, turn 90 degrees clockwise.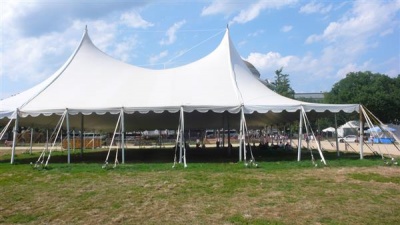 Breadxit means breadxit, and they're going to make a success of it, because the biggest empire in the world can never shrink at all.
Seven Year Biscotti
Remember how Love Productions wittered on about "the necessary comfort for the future protection" of Bake Off?
The hosts are correct that the BBC has nurtured Bake Off. Love Productions had hawked the show around for a couple of years before the BBC bought it in 2010. The first series was weird; even watching it on repeat, it lacked a certain something. But the laboratory of BBC2 allowed the show to improve, iron out the rough bits and become something different.
Bake Off appears to be as traditional as a village fête, complete with the mayoress and her companion giving out First Place rosettes and stars. It's as action-packed as Piccadilly in the rush hour, and as tense as any penalty shoot-out. There are cakes to drool over, bread to emulate, exotic ideas we may never have seen before.
And there's more. Mel and Sue made Bake Off a safe place for its contestants. No-one would be humiliated: if there was a massive failure, one of the hosts would stand over the bake and shout brand names so the footage was unusable. Even in the main show, brand names would be kept off screen, such is the BBC's house style.
Mel and Sue built the ethos: perfection, not competition. Contestants are, "I'm here to make the perfect millefeulle", not "I'm here to make everyone hate me." Bakers look out for each other, and relish the little rituals. Paul's handshake, Mary and her gin, innuendo from Mel and Sue.
Bake Off might be made by Love Productions, but it's been moulded by the BBC. It has the corporation's customs, pacing, and general ambience. Channel 4 has different customs, fits to a timetable of commercial breaks, and will need a different ambience.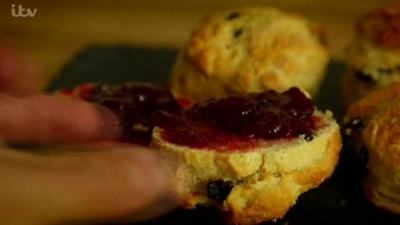 Breadxit means breadxit, and they're going to make a success of it, because they've got so much experience with cookery shows for commercial television.
Cheese Shavings
The Business Insider newspaper reported on a behind-the-scenes dust up involving BBC3's Hair. You remember, Steve Jones, young hairdressers, remarkable creations. See the Week of 2014-03-23. Love Productions complained that Hair was a direct copy of the Bake Off format, prepared to sue the BBC, and agreed an out-of-court settlement.
In retrospect, we can see some very limited merit in Love's complaint. The shows are superficially similar: a challenge for a technical element, a purely technical challenge, and a showing-off challenge. They have a similar feel: good-natured, entertaining, celebrating the good works of non-professionals.
But a direct copy? This column wouldn't say so. There's no intellectual property in the basic talent show format. We reckon the spectrum of challenges (technical, show off, compulsory element) is generic. Being nice to people is just polite. Explaining what you're looking for is the least we expect from television. We may well be forgetting a key point, or have missed it first time round.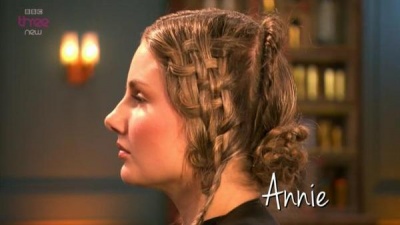 Breadxit means breadxit, and they're going to make a success of it, because they've taken back control of the remote.
Indie slices
There's a certain inevitability to this week's crisis. Since the early 1990s, the BBC has had a formal quota for independent productions, shows made by companies other than the Beeb. Bake Off is one of these indie productions, and one of the few to be a huge success. Eventually, one of these indie shows would be too huge for the BBC to keep.
The BBC's new charter requires more indie productions. Will the BBC toughen up its negotiations, now that it's seen there are snakes in the industry? Will indie formats have further restrictions? Or is the current cooling-off period enough (Bake Off can't appear on Channel 4 for one year after its last BBC episode)?
While we've all been distracted with other things, a dog hasn't barked. Channel 4 had been marked for privatisation, but that trail has gone cold. While Channel 4 made distinctive shows that other channels wouldn't, it could argue that it filled a public service. But if Channel 4 has £75 million to spend on a BBC show, does it need to be a not-for-profit company?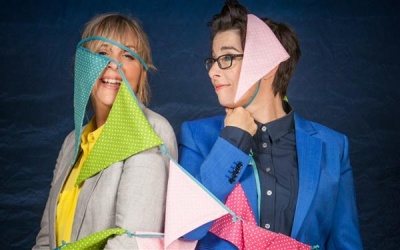 Breadxit means breadxit, and they're going to make a success of it, because anyone who says differently is scaremongering and doesn't realise that the world revolves around Bake Off.
Bake in haste, then roux
On Wednesday, Channel 4's leader Jay Hunt put out a statement. We've summarised it.
"We grew it from a dangerous idea to a brand that resonated globally. Of course it's disappointing that it's then sold to the highest bidder, ignoring the risk a publicly owned channel took backing it."
Sorry, that was Jay Hunt in March, after Charlie Brooker took Black Mirror to the Netflix channel. This is what Hunt said this week.
"This week, after talks broke down at the BBC, we announced that Bake Off would be coming to Channel 4. I'm a former controller of BBC1 and have spent most of my career at the BBC. I know only too well the unique contribution it makes to the cultural landscape in this country.
"The BBC and Love Productions grew Bake Off from a quaint idea into a global hit. But when they were unable to reach agreement on future series, Bake Off risked coming off free to air television altogether. [..]
"Bake Off wasn't created by 4 but it epitomises many of the values we were set up to promote. It's high quality. Diverse. Inspiring. All attributes Channel 4 is tasked with delivering. But it's also a huge hit, not just here but globally.
"It will drive revenue for Channel 4 and help us make even more of the innovative and experimental programming that has seen us crowned Channel of the Year twice in three years.
"We will pay for it out of the savings we've made, as horse-racing moves to ITV, and by topping up the programme budget from the reserves we've accrued over several years of good financial planning."
To summarise, "Channel 4 pinched Bake Off so it didn't go to the graveyard in the KYTV." Lovely. Nothing about whether it's good for broadcasting as a whole, nothing about whether it's good for viewers.
There have been rumours and gossip about Jay Hunt and her character. This is personal gossip, and we're not going to dignify the rumours by repeating them.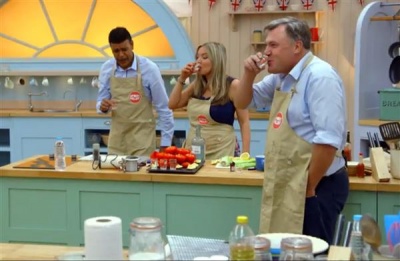 Breadxit means breadxit, and they're going to make a success of it, because they say so, and they'll continue to scream and throw tantrums until someone gives them a rattle and a rusk.
Final Section
So, who has won and lost from this week?
Mel and Sue have won. They have put the audience and their values ahead of their personal profit.
At the time of writing, we don't know if Mary Berry and Paul Hollywood will follow to Channel 4, or remain with the BBC, or do something else.
Channel 4 has lost goodwill.
Indie producers in general risk tighter contracts and worse terms; they'll find life a little more difficult.
Love Productions have emerged as a money-grubbing company, interested only in the chequebook and the dough. Greed threatens to ruin their one remaining success.
It is possible that Bake Off will do enough for Channel 4 to recoup their investment. It's almost certain that it won't be the biggest thing on television in 2019, but would it have remained massive on the BBC?
Our prognostication: the show's popularity will dive off a cliff, and it'll settle into OK popularity, somewhat less successful than Masterchef. Love Productions will still not diversify, and may be absorbed into the greater BSB empire.
Does this count as a success? Well, not in our view. They had a far better position, to bring good programmes to many more people. They threw it away through pig-headed arrogance, and against sage counsel.
Breadxit means breadxit, and they're going to make a success of it. "Success" is in the eye of the beholder, and what is a "failure" to any outside observer will be re-defined as "success".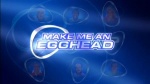 12 Yard for BBC2
Because of havoc in the tent, we've held over a planned review of Debatable until next week. We do need to have a quick word about the casting series for BBC2's Eggheads. It's similar to Are You an Egghead (2008-9), as players compete for the assistance of television's famous Eggheads. But there are a few differences.
As it's a 30-minute show, just three rounds are played, and two of the Eggheads don't take part in the final round.
The daily winner gets two minutes of quick-fire questions. Their score is one point for each right answer in this two-minute drill, plus three points for each round won in the main game.
There are 20 heats, split between a women's tournament and a men's tournament. The top four in each tournament come back for the semi-finals and finals. After all the heats were completed, we know the final four in each tournament.
We're not clear how the final week will work: there are five shows of 45 minutes, and six matches to complete.
This column understands why Eggheads has reserved a place for a woman. The alternative would be two more blokes, making Judith and Lisa the only ladies on a panel of nine, and that would not represent the audience. The quid pro quo is one place is reserved for a man, joining Kevin and Chris and Dave and Barry and Pat.
We're slightly disappointed not to see some head-to-head battles that happen to cut across gender lines: Ian Bayley versus Marianne Fairthorne will be worth watching on any show, and we could have had it here. And we're slightly disappointed that the producers aren't open to two women winners.
Whoever does emerge, they will be quiz deities when the new series begins on 26 September.
This Week and Next
Other Rose d'Or awards of note. Paul Sinha's History Revision won the Radio Comedy award, and the Eurovision Song Contest took the Entertainment flower for SVT.
Colin Murray returned to Fighting Talk this weekend. He left the show under a cloud in 2013, after being beastly to Clare Balding. As a show of contrition, he left professional broadcasting for the amateurs of INR3. Murray declined to renew his contract after his old station was bought by Rupert Murdoch (him again!), and returned to Fighting Talk just two weeks later.
Channel 4 is to make another series of The Jump next year. If they've any sense, they'll strip it over a week-and-a-bit: Friday one weekend to Sunday the next makes for event television and keeps up the pace.
After signing a new contract, ITV will keep showing Britain's Got Talent and The X Factor until 2019.
We've heard more about the BBC's new casting show Let It Shine, seeking new members of Take That.
Gary Barlobe will be on the panel. The boring one from The X Factor was himself a member of Take That. He'll be joined by Dannii Minogue (celebrity sister), Martin Kemp (Eastenders actor), and Amber Riley (star of singing show Glee).
The show will begin on BBC1 at the start of next year. It'll be hosted by Graham Norton and the at-a-loose-end Mel Giedroyc.
190-155 turned out to be closer than it looks: with barely a minute to go, the score was 165-160. Edinburgh beat Durham by this tight score on University Challenge, one of the closer matches of the round. Four changes of lead in the match.
Edinburgh (Luke, Ewan, Joe, Emily) played Durham (Thomas Brophy, Owen Stenner-Matthews, Cressida O'Connor, Nat Guillou), with the verb count: study 6, read 1, do 1. Slapped wrists to the viewers who can't hear the difference between Aland (in the Baltic near Finland) and Ireland (in the Atlantic near France).
Only Connect pitted Wrestlers (Steve Hoar, Tom Mead, Colin Daffern) against Clareites (Elysia Warner, Olivier Grouille, Sarah Binney) Clareites won by 24-15.
For our money, the game-changer was the picture connection question, involving Ant and Dec, the Beatles, five coloured rings, and an ambulance. All were back-to-front, but this fact eluded the Wrestlers. It seemed to knock them off their stride, and when the Clareites followed up the bonus with three on their own question, they took a lead they'd never relinquish. The teams combined for 14 net points on Missing Vowels, and just 9 on the walls.
Good to see a nod to Betsan Powys, the best television Mastermind host of the current century. John Humphrys hosts the English-language version, won this week by Emma McAllister. She scored 25 (2 passes) after taking Cortes and the Conquest of Mexico. In a low-scoring week, Dave Ryan came second (22 from Emil Zatopek). Rob Mansfield (Nick Drake) and Adam Wilson (Band of Brothers) were the other contestants.
And on Hive Minds, Prime (Will, John, Jill) played Belgae (Helen, Richard, Linda). Just one point in the two-word part of round 1 left Prime ahead by 8-1. It's a marathon not a sprint, and Belgae got a perfect first chain grid, then perfection on their Superhive; Prime were blinded by pasta and came out behind, 18-14. Belgae stretched their lead, and won by 25-18.
BARB ratings in the week to 4 September.
13.45m for Bake Off.
10.45m for Strictly, and 9.5m for The X Factor. Good night for popular shows.
Pointless Celebrities (4.45m) and The Chronicles of Nadiya (4.4m) did well. Would I Lie to You? returned with 3.6m, and Five Star Family Reunion picked up 3.55m.
Good score for Mr and Mrs, 3.2m opposite Bake Off. Extra Slice recorded 2.85m. University Challenge just beat Only Connect, 2.75m to 2.6m. Catsdown had 1.65m on Channel 4.
BBC4's Country Bus ride had an average (average!) of 925,000 across its two hours. Expect a series. Elsewhere, 530,000 for Xtra Factor, 430,000 for HIGNFY on Dave, 415,000 for Hell's Kitchen on ITV2. Spike brought in 205,000 for Battlebots.
Sky Arts' Master of Photography had 65,000 for its semi-final, half of its audience earlier in the series. Dinner Date went up against Bake Off and Mr or Mrs, and had 85,000 – it was three times as popular earlier in the series.
This week, Strictly Come Dancing moves into its competition phase (BBC1, Fri), and a special edition of Pointless Celebrities next Saturday. But we also have Quote... Unquote (Radio 4, Mon) and Hunted (C4, Thu). And the finals of Make Me an Egghead (BBC2, Fri).
Photo credits: Love Productions / BBC, Love Productions / TV3, Shiver, Jennifer Jameson cc-by-nc-nd, Shine, 12 Yard.
To have Weaver's Week emailed to you on publication day, receive our exclusive TV roundup of the game shows in the week ahead, and chat to other ukgameshows.com readers, sign up to our Yahoo! Group.