Weaver's Week 2015-11-22
Last week | Weaver's Week Index | Next week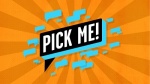 One hundred and fifty people in fancy dress, standing and cheering and stamping their feet. We're not watching Countdown, are we?
Possessed (an ITV Studios company) for ITV, 19 October – 20 November
No, this is Pick Me!, ITV's latest challenge of strategy, tactics, bluff, and deception. Stephen Mulhern is the host, and he's come as a vicar. Every day, he comes as a vicar, smart suit, open collar, and nice haircut.
As he enters, the vicar picks three people from the audience, apparently based on a whim. Of course, it isn't a whim, each of these people have been screened by researchers as they come into the studio. We can assume that Stephen is following suggestions from the producer.
These first three people form the "prize panel", and a fourth player is picked to play the main game, and potentially win a prize. Here's how it works.
Each person on the prize panel has a screen in front of them. One of the players will be given the answer to some difficult questions. And by "difficult", we mean "questions that would send the Only Connect researchers into library stacks, and the QI Elves looking at the stumpers they've asked".
Questions like, "The average 747 is stocked with 2000 — what?" Questions like, "What do the Monster Raving Loony Party propose for the national anthem?" One of the players will be fed correct answers. The others will need to invent compelling and credible fibs – and they'll need to contrive those answers on the spot. Stephen has a catchphrase, "Who has got your prize, and who's telling lies?"
From time to time, a player may give a patently false answer. So if the question was "Which is nicer, the Philippines or Croydon?", anyone who praises the Alpha Tower City is making it up and can be ignored. But some of the bluffs are much more convincing. "Which romantic film had the original title '3000'?" The offer of "Sleepless in Seattle" passes the smell test, it's a film that people have heard of.
But is it right? The player out front will assign different questions to each player on the prize panel, and picks the one answer they find most convincing. Whoever they pick will win £1000, instantly and just like that.
But the round doesn't end there. Who was telling the truth? Was it the person picked? If it was, the player out front has won the prize. And these are decent prizes – a theatre trip, some patio furniture, cutlery and dinner services. It was? Excellent! Player gets the prize, person picked gets £1000, everyone leaves happy.
But if the player out front has gone wrong, they've given someone the £1000 and won nothing themselves. The picked person then has the option – the choice – to gamble. Take the £1000, or risk it to identify which other panellist was telling the truth. Tough decisions, and made in moments.
After each round, everyone who's won something leaves the panel, and they're replaced by people from the audience, and a new player out front is picked. And so it goes on, four rounds, four chances to win, four sets of swift wits.
Stephen Mulhern keeps the game motoring along. We described him earlier in the year as "cool, unflappable, and a natural entertainer." Stephen is still cool, unflappable, and very much the innocent abroad in this mad world. He's trying gamely to control the game, all the while knowing that the game could control him. It's a superb performance: he knows when to ramp up genuine tension, he knows when to ramp up fake tension (did Kanye West invent Scrabble?), and he knows when to deflate a joke because it's getting too silly (no, Alfred Butts invented Scrabble).
Stephen's talents are most visible in the final round, Pick of the Day. The audience cheers for their favourite contestant from the show, often someone who hasn't won anything more than the consolation prize – a Pick Me! t-shirt. The player the audience picks can win a very substantial main prize, generally a trip to somewhere foreign and exotic.
They'll have to work for it. The prize is in one of three envelopes, given to other players who stand in the prize panel positions. This time, the prize panel will ask the questions, and the player out front is to answer them. The player is allowed to get help from the entire studio audience, the combined brains of 150 people conspiring to win someone the trip of a lifetime.
Three questions are asked. Three answers are given. One by one, slowly, with just the right amount of tension, the right answers are given. And if it's right, was the prize in that envelope? Pick Me! takes as long as it can over this endgame, but it never seems to drag on a moment too long.
Stephen wraps up loose ends – gives the right answers to questions, as he's been doing all day, and proves that the prize was (or was not) where it was (or was not). And then the brassy, jazzy music plays while viewer's tweets are shown on screen. (Or, for those of us watching on catch-up, a space appears.)
At its heart, Pick Me! is a simple game of misdirection. Can you convince the other players that your wrong answer is right, more right than the wrong answer. But it's different from Call My Bluff in so many ways. The show begins with a riot of colour and noise, and while the noise ebbs and flows through the hour, the colour never stops. Even Tipping Point, the next show on, looks demure and dowdy by comparison.
Pick Me! is also about the costumes. A cheerleader, a werewolf, the cat in the hat, two Minions, a lady with a pet dog, a daffodil, a snowman. Players have spent time and effort creating (or hiring) these costumes, many of them will just be on screen for just a few moments.
Most of all, Pick Me! is a compelling format. Half the players remain from one round to the next, so there's continuity as we go. We like the jester, will he win money in the next round? And so we get drawn in to the show's narrative of the day. Each episode is self-contained, we have a winner (or a near-winner) at the end of every day's show.
It's no surprise to find some of the greatest names in contemporary game shows working on Pick Me!. Possessed is the imprint of Glenn Hugill, responsible for the glory years of Deal or No Deal. We have reservations about what Mr. Hugill did on that show, but we have admiration for the tremendous effort he put into that work, and every other show he's been involved with.
Pick Me! is bullet-proof television: we cannot find anything wrong with the concept, we cannot fault the rules, we cannot criticise the execution. They've even got the ad breaks in excellent places (after picking people for round 2, before revealing the answer in round 3, and after the audience cheers for the finalist). The only reason why it's not set the world afire is timing: Pick Me! has been going out at 3pm.
This show is loud and colourful enough to appeal to young children. It's clean enough to appeal to family audiences, with just a dash of smut. There's enough substance that intellectual viewers can watch it under the pretence that they'll learn from the questions. Above all, it's riotously good fun. It's a 4pm show, something safe for the kids after they're back from school. It's a 9.25am show for the summer holidays, being almost as loud as Jeremy Kyle and a million times more pleasant.
ITV would do well to make some episodes for early Saturday evenings in the new year, the slot where Stars in Their Eyes failed. At worst, they've spent a daytime budget on a prime-time programme (see also: Pointless Celebrities). At best, they've a breakout hit to get a new audience to the channel. Difficult to see this as a losing proposition.
Of course, there's also the prospect that Pick Me! could be done in a lewd late-night version. Not something we'd choose to see, but there would be an audience. Whether Stephen Mulhern would want to host that, we don't know.
This thought experiment shows how the format is strong and resilient: to have daytime, primetime and rude versions is very rare. We can only think of one show that's succeeded in that: Countdown.
The state of children's television
BAFTA will be giving out some awards for children's television tonight. We're using this as an excuse to look at shows for the young. We were inspired by the outpouring of love for CBBC in September, when they celebrated their 30th anniversary. Stars and nostalgia and warm fuzzy memories.
And, truth to tell, CBBC is doing a lot of great programmes at the moment. Nowhere Boys and Eve maintain the tradition of fantasy dramas. The Dumping Ground is real life, Naomi's Nightmares of Nature explores the natural world, Officially Amazing shows the limits of human endeavour. Sam and Mark's Friday Wind Up is the best entertainment programme in the region. (That last from the Royal Television Society, who say it's better than adult fare like Hip Hop Mastermind and You've Been Framed.) It's all held together by a group of dedicated and passionate presenters, who turn the BBC Office studio in Salford into a home-from-home.
And then there's Cbeebies, which is far too intellectual for this column.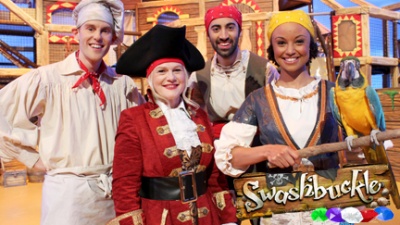 The crew of Swashbuckle.
What are the commercial channels doing? In terms of British television, not a huge amount. Figures published in the summer said that for every £1 the BBC spends on children's shows, the combined might of ITV, Channel 4, and Channel 5 is (er) 3p. Just three pence in the pound.
Channel 4, in particular, has not spent anything on children's programmes for some years. ITV, to give credit where it's due, has splashed out on marquee series like Thunderbirds are Go and Horrible Science, and Channel 5 orders new animations for the pre-school market. Only in Wales is there a serious attempt to make new programmes for children, S4C has shows for the pre-school and older markets. It's a disadvantage that S4C's shows are in Welsh, and some of them are made on very restricted budgets.
Restricted budgets are also a problem at the BBC. Following an unfriendly license fee settlement in 2010, the BBC has been strapped for cash. The BBC's decided to not cut drama for grown-ups, so sport and entertainment and children's all lose money. The children's department is used to operating on small budgets, and has often shown repeats to eke out the allowance. But fewer shows are being commissioned, fewer risks are being taken. It's a system on the verge of failure.
While there's nothing wrong with acquired programmes from overseas (read: the USA), too many of them are skewed by a foreign culture. If we're to believe Nickelodeon and Disney, almost everyone speaks American, has pure teeth, lives by a beach, and bursts into song at the first excuse.
Some have proposed a "contestable fund", money provided to make good programmes for children, and make them in the UK. Not only would this benefit children, it would also help to support jobs in this country. The only question: where would this "contestable fund" come from? Some have suggested another slice of the BBC license fee, already diminished by nine hundred cuts. And who would administer this fund? Would they prefer children to see drama, documentaries, entertainment, comedy..?
If there is to be "contestable funding", make it true extra funding: £10 million is pocket change to central government, it means a big deal to children's telly.
Make no mistake, some of the best television is squirrelled away on children's channels. Cel Spellman and the team make the CBBC Official Chart Show a fine start to any weekend. Junior Bake Off is just as tense, and just as warm, as the grown-up version. The Next Step constructs an innovative drama, using the grammar of reality television. And Swashbuckle makes Only Connect look as easy as falling off a plank.
It would be a shame if this talent were to be lost.
This Week and Next
Answers to the questions: 747s have 2000 ice cubes, the Loonies change the anthem to "Bring me sunshine", and "3000" became "Pretty Woman".
What happens when you cross Eternal Glory with the people who made Prized Apart? We're about to find out. Four retired sports stars will travel the world and do some bizarre challenge. In Turkey, oil wrestling. In Wales, try to outrun a horse. In India, fighting. In Japan, horseback archery. True Grit arrives on BBC2 in January, and features Gareth Thomas (rugbyman), Iwan Thomas (sprinter), Donovan Bailey (sprinter), James Toseland (motorcycle pilot).
The Junior Eurovision Song Contest took place last night. We'll cover the event in much more detail next week.
The senior contest will, once again, be graced by an entry representing SBS of Australia. The announcement came this week, before the Junior contest, so as not to add to the pressure on SBS's entry. We speculate that the "guest spot" will be a regular feature, and that SBS Australia only got the nod because another broadcaster pulled out.
Quiz Update
University Challenge was decided on the second starter.
Q: Oreads inhabited mountains and grottos, naiads rivers and lakes, Oceanids the sea...
Eibhlin McMenamin, Glasgow: Muses? No, nymphs! It's nymphs! Oh, no!
Paxman: I'm sorry, I have to take your first answer and you've now given them the correct answer.
- Sorry!
- I'm going to have to fine you five points. Just be careful next time. I'm sorry about that [..] Forget it and move on.
Glasgow's captain was in trouble: it's "only" a five-point penalty on the scoreboard, but a few minutes of going "oh what did I do" wasn't helpful. Glasgow never quite got back on terms, and fell to a 175-135 defeat. Newcastle progress to the group phase.
Operational Researchers beat Spaghetti Westerners 17-10 on Only Connect. A small advantage on Sequences, a small advantage on the Walls, a larger advantage on Missing Vowels.
Lots to say on the questions. When was a tsunami a piece of weather? We mistook "animal gestation periods" for "animal long jump records", but a mouse can only jump 1/3 of a metre; it gestates for 2/3 of a month. "Candle in the wind '97" is the responsibility of Kate Thornton, still The X Factor host most likely to be out of her depth. We enjoyed the sequence on high jump techniques, and the missing vowels set on films with prime ministers in the title.
Another low-scoring episode of Mastermind, won this week by Richard Tring. Twelve right on the "Tom Kirk" novels by James Twining, twelve right in general knowledge. The other contenders – Annabel Lloyd, Andy Duxbury, Robert Kent – all reached double figures in specialist, and finished with creditable scores.
BARB ratings in the week to 8 November.
Strictly Come Dancing peaked on Sunday, with 10.85m viewers.
The Apprentice came second, with 7.25m. The X Factor? Just 6.05m for Saturday's performance shows, fewer for the results on Sunday.
Pointless Celebrities wowed 4.7m, HIGNFY attracted 4.55m, Mr and Mrs a series peak of 3.15m. A good week for The Chase, Tuesday's episode was seen by 2.89m, just ahead of the 2.88m for University Challenge.
Elsewhere on BBC2, The Great Pottery Throw Down fired up 2.25m, and QI broke to 2.05m. But Only Connect slumped to 1.85m; Simply Nigella spooned in on the 8.30 slot and nabbed 2.7m viewers.
1.31m for Celebrity Juice on ITV2, and 485,000 for Xtra Factor. Ouch. 900,000 for Channel 4's Come Dine with Me, and 305,000 for Masterchef Australia on the pay-tv channel Watch.
There's a new run of 1000 Heartbeats (ITV, weekdays), and the finals of The Fear (BBC3, Monday) and Landscape Artist of the Year (Artsworld, Tuesday). Formula One on Pointless Celebrities, the Quickstepathon on Strictly Come Dancing, and The X Factor limps on.
Photo credits: Possessed, BBC
To have Weaver's Week emailed to you on publication day, receive our exclusive TV roundup of the game shows in the week ahead, and chat to other ukgameshows.com readers, sign up to our Yahoo! Group.