Weaver's Week 2021-06-27
Last week | Weaver's Week Index | Next week
Jason Manford comes to daytime television, with a show that doesn't quite gel.
12 Yard and Possessed (both ITV Studios companies) for BBC1, from 10 May
We're spoiled as game show fans at the moment. Last week, we reviewed The Answer Trap, and saw it was brilliant. Two weeks ago, Quizness, and saw it was brilliant. Earlier this year, we saw This is My House and reviewed Lightning, both do a lot more right than wrong.
Not every show can land as perfectly as those. Some are Bank Balance, a baffling commission that could never have worked. Some are The Bridge, a decent idea executed badly. And some are Unbeatable, there's a good show buried somewhere in there, but so much gravel that we flounder in quicksand.
The daytime shows are hosted by top comic Jason Manford. He briskly explains the general idea: we don't just need the right answer, we need the best answer. It's the exact antithesis of Jason's other show First & Last, where you don't want to find the best or worst answer. Four contestants play the game, and we start the show by meeting each in a solo round. Jason has a quick chat with the contender, but soon we're into the quiz proper.
"Which of these tv shows was aired first?", the typical question. Six answers appear, and the contestant needs to rank them in order. The contestant picks one of the answers, and it comes down to the massive video floor in the middle of the studio. Did you ever wonder what happened to the star of Pressure Pad? It's here, and it's not really put to the best use, just displaying answers.
Anyway, our contestant has a decision to make. If they think they've picked the Unbeatable answer, the show we saw first, they can push their button. It's £1000 if they're right, £0 if they're wrong. Otherwise, our player can pick off single answers for £100 each – but if they pick off an answer that beats theirs, they'll again score nothing for the round.
In our example, the player has chosen The Thick of It as the earliest show. And they've chosen not to call it "Unbeatable", so will be playing for £100 per correct answer. The Inbetweeners might be later, so that comes down to the floor. A graphic appears, lines rush towards each other, and the losing show is pulverised into a squillion tiny brickettes. Our contender can play on, with Gavin and Stacey and Not Going Out, and eventually stick on £300.
We can quickly see that the road to big riches is to pick the "unbeatable" answer – it's £1000, compared with a mere £500 for clearing the board individually. This information is interesting to the show accountants, but has surprisingly little bearing on the game. After all of the players have had their individual moment in the spotlight, whoever's got the most money picks their opponent for the next round, and will get the first pick overall. The other two players will face against each other. Winners of these duels go against each other in the daily final.
Head-to-head
So, the head-to-head round narrows the players from four to two. On each question board, the players choose an option they feel best answers the question. The player with more money starts the first board, their opponent starts the second. If either player believes they've picked the Unbeatable answer, they can buzz in and claim £1000 if they're right – get it wrong and they hand £100 to the opponent.
Should neither player believe they're Unbeatable, the round plays out like the first – three head-to-head battles for £100, with first picks alternating. Whoever wins two battles (or gets the Unbeatable answer) wins the board, and whoever wins two boards wins the round.
It can get a little confusing as to where we are in the round. There's a note on the board as to who's won battles, but not who's won boards. Who picks next, and why, is never clear while the answers are being compared. Confusion doesn't last very long, but it's disconcerting just for a moment.
Eventually, we reach the end of the battle, and the other players take their turn. The two winners then take their places in the final eliminator.
Final eliminator
There's a subtle change here: quite a lot of money is available. It's possible to have qualified for this round with just £200, it's possible to have got here with £3100. Most players seem to arrive with around £1000.
For this round, both players are trying to find the single Unbeatable answer on the board. Whoever has the most money picks first, and there's £1000 if they can find it first time out. Fail, and the opponent can have a go for £800 from the remaining answers. If necessary, the leader will return for £600, the opponent for £400, and the leader gets final crack for £200. We don't know what happens if they get this wrong, it's not happened in the shows we've seen.
Whoever wins two boards goes through to the cash round. This player might occasionally not have the most money, but it's clear they've earned their place on the show.
The cash round is one final Unbeatable grid, albeit with two possible questions – and the contestant picks the question they'd rather play. This round plays like the first. The player selects their Unbeatable answer, and then chooses alternatives to go up against it. Win two of these little battles, and the contestant can retire with half their banked money – £1000 or so.
Or the player can press on and take four battles for the entire amount they won in the main game. And if the player has the unbeatable answer, and the confidence to play all five other possibilities, they'll double their money. But if any of the selected answers beat the "unbeatable" answer, our finalist loses and leaves with nothing. The potential top prize is £10,200, but it's rare for more than £4000 to be on offer. In the shows we've seen, the majority of winners take some money home.
Why does Unbeatable leave us cold?
The core game is sound, and the progression – winner, winner, cash – is solid. It took a few episodes for us to realise that they didn't keep score with the cash, and that's against the trend.
But we never really get to know the contestants. Questions just turn up out of the blue, without rhyme or reason. Are they tailored in favour of contestants, or against their interests? Time doesn't permit host Jason Manford to ask if a player likes a particular topic until we reach the final. We can't help but feel that other hosts would ask a bit more.
The show's presentation is as much miss as hit. We like the blue-red-white colour scheme: blue and red come from traditional boxing colours, white (or grey) is a fine offset between the bright colours. But the text is difficult to read – they've used the Impact typeface, printed bold, with answers shouted in capitals. That combination is both ugly and tiring to look at. When question and answer are on screen, it's hard work to read everything; when we're also seeing the contestant, the text is small and almost unreadable.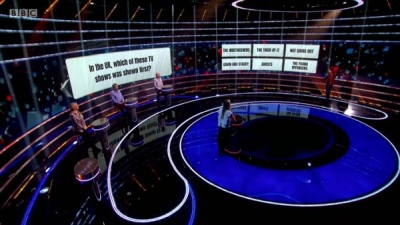 In case you're wondering, The Thick of It was the Unbeatable answer. Well done if you read that at home.
The questions are all much of a muchness, asking with low-hanging fruit. A typical show will cover geography, history, sport, entertainment and pop culture. The questions don't have the "zing" we got from The Answer Trap, they're not as interesting to play along with. Perhaps Only Connect has spoiled us, but when we're looking at a question for a couple of minutes, we rather expect something to keep our attention. Jason's little factoids don't quite cut the mustard.
All that said, Unbeatable is not a bad show at heart. The core game is different and interesting. It can address these little presentation foibles – and perhaps it might convince us that nothing needs to change. We hope it gets the chance to improve and become that bit better.
Panel Quiz Attack 25
After 46 years, it's the end of the road for Panel Quiz Attack 25. The show has been a lunchtime favourite on TBS in Japan since April 1975. Four players, each colour-coded for our convenience, solve teasers and answer trivia questions to fill squares on a 5x5 game board. Buzz in, and turn grey squares to your colour.
Attack 25, as it's generally known, has an interesting core idea. Players "attack" their opponents' squares on the board by surrounding them on opposite sides – doing so flips the surrounded panel or panels to their colour. Contestants literally stand aside from the buzzer when getting an answer wrong.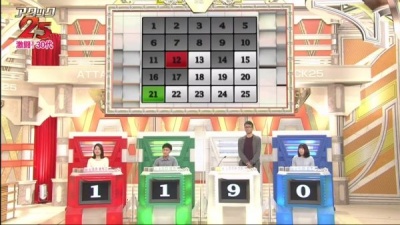 White is doing well on the board, but has to stand aside from the next questions. Red might take square 14, and claim 13 as well.
Near the end of the game, they engage Attack Mode. The host strikes a pose, and the show goes to a commercial break to build up tension.
Whoever gets the next question is to pick one of the unclaimed squares, then blank out another square owned by someone else – it'll be available for everyone to play after the next question. And they won't necessarily be able to defend it: the rules say you've got to make a capture if one's available, and then set up a capture if possible. Only if you've got no attack option may you defend and fill in the hole. There's cash for each player, and daily winners try to solve a rebus to win a trip somewhere exotic.
Kiyoshi Kodama hosted the show from 1975 until shortly before his death in 2011; Yasuyuki Urakawa and Shosuke Tanihara have stood in his stead. The host takes care of the game, a disembodied voice reads out the questions and poses the occasional puzzles. There are computer animations and a movie clip on each show, and also a call-and-lose element.
While each self-contained episode tends to be a runaway result (it's rare for the winner not to have half the 25 squares), the scores can change dramatically late on. Panel Quiz Attack 25 has become a core part of Japanese culture, but faced the problem of a shrinking audience and advertisers not wanting to sell to old folks. TBS is recasting itself as a youthful broadcaster for young people, and Attack 25 is not part of their ideas going forwards. The show will come off the air later in the year.
After eight years, the winner of Blue Peter You Decide has decided to leave Blue Peter. We said in 2013 that "Time will tell how much of a legend she'll be". Now we can answer the question: Lindsey will go down as an absolute legend, up there alongside Peter Duncan and Konnie Huq, one of the best presenters Blue Peter has ever had.
A potted history of Lindsey's career highlights is beyond the scope of this column: we do have our limits. So spin your own from the Red Arrows, pointless Pointless answer, swimming with sharks, training Iggy the guide dog pup, alpacas, grooming model dogs, ably hosting A Question of Sport spin-offs, street origami in Paris, ski races in Switzerland, chats with important people from Stephen Spielberg to Tom Moore to Greta Thunberg, winning the Pointless Celebrities jackpot, and always – always! – taking the top off a blender.
Blue Peter is more than a television show, it's as much of a cultural touchstone here as Attack 25 in Japan. By being a constant presence in so many children's lives, Lindsey has become the big sister, the cool aunt, the teacher we'd love to have, the substitute parent who cares for every child.
When the world went a little bit bonkers last year, Lindsey was still there, a comforting friend helping viewers (and their parents) make sense of uncertain times. And she's as loving and caring in person as on screen: everyone who has met Lindsey comes away with a massive smile. We wish her huge success in everything to come.
In other news
Countdown had its semi-annual finals tournament. Adam Latchford was the winner, defeating the top two seeds in the last two matches. He defeated top seed Luke Boynton by 101-86 in the final: Luke's "pawless" was disallowed in the first round, and he was never able to catch up. James Burley was the second seed, losing to Adam in the semi-final. Adam's style is to take a lot of risks: 4-large numbers selections, minimalist 3-vowel letters rounds, and a lot of disallowed words. It doesn't run up the score, but it's proven very effective in the Leeds arena.
This week also saw Countdown bid farewell to Nick Hewer, who's left the show after nine-and-a-half years. Tributes included a message from his former boss Alan Sugar, and reminiscences from Rachel Riley and Susie Dent. These companions will remain with Countdown, but the host has regenerated into a new form.
BBC Daytime has announced its suite of new shows. One is a bit gamey. "Take a Hike" follows people on a hike. Each day, one of them will lead a walk, bring a picnic, offer views and entertainment. The other hikers will rate the day's ramble. The prize is the Golden Walking Stick, awarded weekly to the best walk of the week on a week-by-walk basis.
BBC Primetime has named a couple of new programmes. "Bridge of Lies" has teams competing to cross a set of stepping stones, choosing the correct answer at every turn. Feels like S4C's long-running Celwydd Noeth crossed with The Wisdom Tree from Raven. (Not the only Raven spin-off we've seen this week: Blue Peter had Richie and Mwaksy taking army training, specifically the Leap of Faith.) The Beeb have also commissioned a show called "The Tournament", about which they've said precisely nothing more.
Top Takeaways is coming to BBC2. Sara Cox seeks to find the best in lots of sectors. Five hand-picked eateries will make their food in a pop-up kitchen, with a menu to include a classic dish, a chef's special, something without meat, and some sides. Each episode will stand alone, this isn't a format with a grand final.
Over on ITV, Walk the Line is a "brand new high octane musical game show format". Each week will see lots of performers take part, with the winners invited to take lots of money now, or come back on the next show for even more dosh.
A press release quotes Simon Cowell as saying, "Each show there will be a champion who must make a vital decision: either cash out then and there or stay in the contest to compete again the following night and have a chance to claim the huge prize. It's the kind of decision that will have viewers on the edge of their seats – real event TV." Walk the Line is a passion project for Simon Cowell, just like Red or Black?, just like Food Glorious Food, and we all remember how those turned out.
Although there's shedloads of great new ideas coming to our telly soon, there's very little coming to screens right now. We're going to take next week off, and plan to return on 11 July with the first part of a profile of Michael Aspel. Before then, we'll leave you in the company of Anne Robinson on Countdown, The Fabulous Iain Stirling and The Delightful Laura Whitmore on Love Island (ITV2), or the devious Ball 35 and his new love interest Christie the Badger on Dan's Quiz Golden Jubilee (twitch.tv/quizzydan, Thursday).
Pictures: 12 Yard and Possessed (both ITV Studios companies), TBS, BBC Children's Productions, YTV.
To have Weaver's Week emailed to you on publication day, receive our exclusive TV roundup of the game shows in the week ahead, and chat to other ukgameshows.com readers, sign up to our Google Group.