Weaver's Week 2021-06-13
Last week | Weaver's Week Index | Next week
The most confident first episode since The Wheel.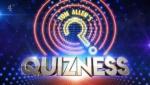 CPL for Channel 4, 14 May – 11 June
Tom Allen's new quiz zips on to our screens at a breathless pace, and doesn't let up through its length. We're promised questions on anything from "crisp flavours" to "Nigel Havers", and a potential jackpot of £25,000.
The broad idea is very simple, and very familiar. Tom will ask general knowledge questions; the contestants are to buzz in with the correct answer. It's the basic idea behind just about every single game show in history, from Spelling Bee and Ask Me Another to the present day. It's used in simple accessible shows like Tipping Point and House of Games (3), it's in programmes too intellectual for us like Only Connect (2) and Gigglequiz.
To make things more difficult, there's a twist. Different twist in each round, keeps our contestants on their toes.
The show opens with its signature round, Subbly Jubbly. Here, many of the words in the answers will begin with three specific letters. The contestants are to substitute sillier words wherever these appear. So, for instance, the "Can't stop the feeling" singer isn't Justin Timberlake, but "Jerky Turkey".
Brain Chain follows next. The twist in this round is subtle. All of the answers are quite simple, but they're to be added on to the end of the list of the previous answers. So, for instance, the answer to one question might be "Who do you think you are mate, get out", referring to a Spice Girls song, a position in chess, and a recent film. The next question, about a type of tree, takes the answer "Who do you think you are mate, get out, yew".
It can quickly be seen that the answers build up to a complete sentence; whoever finishes this sentence gets a bonus point. And a bit of a laugh from the canned audience; Quizness was recorded during the present health crisis, and the only laughter comes from people working on the floor.
Turkey.
After the break, another round of quizzing looms. Risky Quizness requires the players to be very sure of their answers: it's one point for a correct response, but two points away for an error. Where's the twist in this round? Let's take a look at some questions, and their answers.
Complete the saying, robbing Peter to pay – Paul.
What is the first name of the footballer nicknamed Gazza – Paul.
What English first name is the equivalent to the Spanish Pablo – Paul.
Electric guitar pioneer Lester Polsfuss was better known as Les – Paul.
What is the first name of this musician?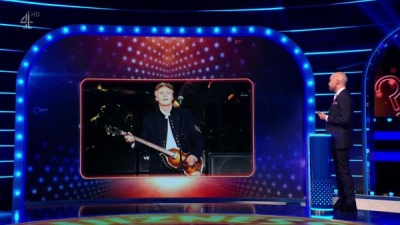 No, it's James.
And the round continues in this vein: most of the answers are Paul, but some are not. The twist for the contestants is to work out what is a Paul question, and what isn't.
What's next? Double Trouble, the shapeshifting mercenary for hire with an extra row of questions. Tom will ask a question, and the answer will be one of the three displayed on screen. The contestants don't give this response, but they give the answer to the question beneath it.
For instance, Tom might ask, "Who is the patron saint of Spain?" If it's James, answer a question about a tennis player. If it's Joseph, a question about a pop star. Jerome, answer a question about an actor. The answer to Tom's question is James, so he expects to hear "Rafael Nadal".
We'll run through the next question in sound only. "In rowing, who sits facing the rowers and steers the boat?" "Captain Birdseye". That's the comedy point they're achieving: an absurd and surreal answer to a sensible question, one that might be offered by a contestant flailing around at the limits of their knowledge and ability.
At the end of this round, the contestant with the lowest score leaves the game. But they might not leave with nothing: they can earn the consolation prize, a Tom Allen Pocket Square. Made of silk and infinitely foldable, Tom Allen is the host of the show. To earn this memento, the contestant needs to give an answer without any vowels (or consonants) in it.
"All puns are evil" – Chris Maslanka
Three remain for the next round, Doubly Jubbly. It's Subbly Jubbly, but played with different words, and with some questions played for double points – two, rather than the usual one.
What's next? Pundreds and Thousands, a round built around everyone's favourite topical baked good, the doughnut. No! It's the current pun. Tom will ask a question, to which the answer is a spectacularly awful pun. For instance, "Which kitchen appliance would you use to clean a trout?" A fish washer, obviously.
For this round, and for this round only, contestants pilfer points off each other. If you're trailing, peg back the person in second place. If you're leading, nab something from the player in second place, extend your lead for the final. If you're in second place and being picked on by both players, get things right.
Now, not everyone loves puns. Some people merely like these humorous wordplays and misunderstandings for comic effect. A few stick-in-the-muds, like the erstwhile host of Radio 4's Puzzle Panel, believe a pun is the work of Satan, and the authors of this round are his devilish and all-powerful minions. This round works if you like puns, doesn't if you hate them, but if you don't like people being funny might we recommend Vanilla Ice on Top of the Pops.
The lowest-placed player leaves after this round, and again has the chance to earn a pocket square.
Perky Turkey
Dental Mexterity is the last eliminator, a round of spoonerisms. The first sounds of answers have been swapped over – and some of the questions contain a spoonerism of their own. For instance, "Which two countries make up the Iberian peninsula?" requires the answer "Sportugal and Pain", swapping the initial sounds of the two answers. Two points for a correct answer, two points away for an error – either on the spoonerism, or answering the question.
The lower-placed player leaves with a pocket square.
The final round is Super Subbly Jubbly, with both of the sets of substitutions from earlier in the game, plus three new ones. Seven correct answers will win the jackpot of £25,000; if the contestant doesn't reach that mark, they get a consolation £1000.
Questions in this round start easy – "What is Ant and Dec's variety show starting in 2002?" (Shankle Noogle Turkey), and finish more difficult – "What is the question in Hamlet?" (Turkey be, oogle noogle turkey be). Well done if you got that at home.
To win the top prize is an achievement. It will only ever be apparent in the closing seconds that the player isn't going to win the prize, and we've still the chance to play along at home and beat this person.
Why Quizness is the best thing in ages
Quizness has cast some strong characters. Everyone is outgoing, bright, brash, up for playing the game. We feared that the show might fail if there were players who didn't get it, who weren't switched on, but everyone has been up for the challenges.
Tom Allen impressed us. He's a high-energy comedian, needs to keep up a fast pace and never stand still. This show is the right fit for him. There's a lot of quiz in here, too, something like 100 questions over the running time. Laura Shavin's voiceover is pleasantly chilly, Dan McGrath and Josh Phillips brought warmth from their original music.
Most importantly, Quizness is a solid format. There isn't an inch of filler to be found. Every moment is dedicated to making us laugh: a one-liner, or setting up a running joke for later, or asking a question. Like a good joke, each question gives us both the moment of expectation while we hunt for the punchline, and then the cathartic relief when our answer turns out to be the punchline. Quizness hit the ground hard, and running. We've not seen a first episode with such confidence and bravado since The Wheel.
As with all first series, Quizness isn't perfect. They might benefit from a round not on the buzzers, where contestants face questions on their own. To combine this with the introductory talk would be interesting, or they could do it after the break like on Tipping Point. Had they used the great comedy quiz canard "answering the question before last", they would be sailing too close to Lose a Million, and Quizness would have appeared unoriginal. We're glad they avoided this pitfall.
Like all good shows, Quizness gave us a lot to think about. It's a very Channel 4 programme, it combines familiar elements in a very unusual way. We're reminded of Remote Control, hosted by Tony Wilson in the early 90s, living in a world of television and laughing with the absurdity of what's on the box. Remote Control hasn't dated well, and it wasn't intended to. These days, the shared culture isn't television, but the pub quiz, or the pub quiz done over your screen. In coming years, we're going to remember Quizness as a time capsule of what we found funny in the time of the you-know-what.
They could have chosen to make Quizness lean into its absurdity, become a self-aware comedy quiz like The Time it Takes or Lose a Million. But they didn't – it's a serious quiz where the answers happen to be absurd if you're not paying close attention. If you're deep in the game, it all makes sense. Only if you drift off does it sound odd. It's a better show because of this choice.
Quizness wears its influences lightly. Where we see Remote Control, others see regular people playing House of Games games: spoonerisms have cropped up before, and we rather hope Richard Osman would welcome a round of puns. There's a wide range of subjects, whipping from serious academic to fluffy pop culture in no time at all; this is how Only Connect has made quiz wider and better. The show in general – and the final round in particular – requires great mental agility: it could have been a challenge on The Krypton Factor.
Channel 4 doesn't have the perfect schedule slot for Quizness. This would be best as a 30-minute show, aired at 6.30 on a Friday night, part of a balanced diet of programmes for the young and the young-at-heart. But Channel 4 has thrown the 6pm hour to soap opera The Simpsons and live-action cartoon Hollyoaks, and nothing is allowed to disrupt these programmes.
Quizness has had to settle for an 8pm Friday slot, previously occupied by Food Unwrapped and earlier by Grayson Perry. It's not a place we expect to find entertainment, there wasn't a huge amount of promotion for the show, and it appears to have been ground down by Coronation Street and the weather.
A shame, Quizness could have been a hit, and should have been a hit. Might still be, but we aren't holding our breath.
Next week, we expect to look at The Answer Trap, another show Channel 4 doesn't know what to do with.
In other news
Awards season has continued. The Broadcast Magazine Awards (voted 100% by the television industry's fashionistas) shortlisted some game shows, and named a few as a winner.
Best Daytime Programme – House of Games (3) and The Chase fell to drama anthology Moving On.
Best Drama Series – Quiz lost to I May Destroy You.
Best Entertainment Programme – RuPaul's Drag Race beat off Hypothetical, I'm a Celebrity, Strictly Come Dancing, The Masked Singer, and The Wall.
Best Lockdown Programme – A League of Their Own was defeated by The Ranganation.
Best Multichannel Programme – RuPaul's Drag Race again, with Don't Hate the Playaz nominated.
Best Popular Factual Programme – Race Across the World defeated Five Guys a Week and Bake Off.
Best Original Programme – Snackmasters lost to Your Home Made Perfect.
BAFTA has also announced their winners. Diversity's performance on Got Talent was named "Must-See Moment". The Great House Giveaway won in the Daytime category, and I'm a Celebrity... Get Me Out of Here! won for the Entertainment Craft Team.
We've enjoyed Scott Mills on Popmaster this week. Scott is always enthusiastic about everything he does, and has the knowledge to chat with the contestants about their shared passion for pop music. It's like luxuriating in a bath with flower petals, when we've become accustomed to the brisk function of a shower.
Last week, All Day Popmaster took place, with the final won by Jenny Ryan from Fingers on Buzzers. Jeremy Vine finished second, he's clearly learned something while depping on The Jimmy Young Show for eighteen years. Shaun Wallace from The Chase fell in the semi-finals, as did the last member of the public.
Mark Pougatch's World Cup The European Edition of Last Year This Year continues, and schedules are as full of holes as the fishing nets behind the crossbars. They're even moving Pointless and The Chase for it!
But if you're into incomprehensible babbling, I'm Sorry I Haven't a Clue returns (Radio 4, Mon). Rather have a letter from a correspondent in Wales? Cardiff Singer of the World has a new run (BBC2 Wales and BBC4 everywhere, from Sun; final on Sat).
Channel 5 have found some episodes of Gino's Win Your Wish List Colon The Big Win from two years ago: they're now a key part of the 4pm weekdays schedule, for quiz fans displaced by sport. Next Saturday's Pointless Celebrities answers the question on literally nobody's lips: whatever happened to Miranda Pudsey from CITV's primary school drama three seven eleven?
CPL Productions, EBU/SVT from tx, EBU/BBC from tx.
To have Weaver's Week emailed to you on publication day, receive our exclusive TV roundup of the game shows in the week ahead, and chat to other ukgameshows.com readers, sign up to our Google Group.