Anna Ford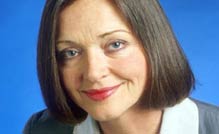 Biography
Former newsreader, initially with Granada in the mid-70s, then with ITN from 1977 to 1986 (including a short spell as part of TV-am's ill-fated "famous five" launch line-up, alongside Parky, Frosty, Angela Rippon and Robert Kee) and the BBC from 1989 to 2006, when she quit to take up a post on the board of the supermarket chain J. Sainsbury.
Trivia
In her youth she performed as a folk singer in Manchester pubs, and an oft-repeated clip from the late 1960s shows her singing and playing guitar on local radio.
In the early 1970s she worked as a tutor for the Open University, in which guise she made her presenting debut fronting an OU social sciences programme under her (then) married name of Anna Bittles.
Shortly before joining ITN, she had a brief stint as a presenter on the BBC's 'Tomorrow's World'. More recently, she has also presented Radio Four's 'Today' programme.
Feedback