Iain Coyle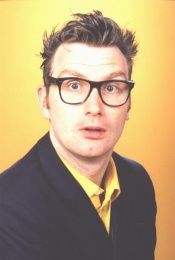 Biography
Iain is an active behind-the-scenes figure in game shows. He was the question writer for Shooting Stars, and has written for or generally meddled with many successful comedy shows, as the list alongside demonstrates.
As of 2019, he's Head of Comedy and Entertainment for UKTV, and so commissions shows for Dave and Gold. You'll have seen him on screen if you get Challenge TV, where he played second fiddle to Donna Air's hosting role on The Cooler, and on Meet the Richardsons, where he plays himself. And he once sent us a nice email, so he can't be all bad.
Trivia
He came up with the concept of the "Cubiscus", the excellent grabbing-machine end game seen in Families at War.
Web links
Feedback