Artist of the Year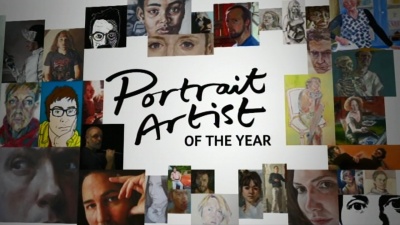 Host
Joan Bakewell (2013-) (but see Trivia)
Frank Skinner (2013-18)
Stephen Mangan (2018-)
Co-hosts
Judges: Kate Bryan, Tai-Shan Schierenberg, Kathleen Soriano
Broadcast
Storyvault Films for Sky Arts, 5 November 2013 to present
Portrait Artist of the Week, Facebook Live and Sky Arts, 3 May 2020 to 14 March 2021 (21 episodes in 3 series)
Synopsis
In the latest union of high and low culture, art critic Joan Bakewell and football fan Frank Skinner combine forces to find the best portrait painter in the country. The prize is a £10,000 commission to paint a major cultural figure (in the first series, a portrait of author Hilary Mantel for permanent display in the British Library).
Heats took place in a travelling marquee, with competitors depicting various celebrities who could sit still for four hours. Three celebrities featured in each heat, with seven artists assigned to each one. Any non-digital 2D medium was acceptable, and indeed a lot of the interest lay in having contestants working in (for example) pastels, watercolour and pencil all up against each other. The best artist in each heat went to Paris for mentoring, before producing a piece for the final. Subsequent series dropped the mentoring. The marquee was also put into storage, with the 2014 series visiting art galleries across the UK and Ireland and assigning four artists to each sitter.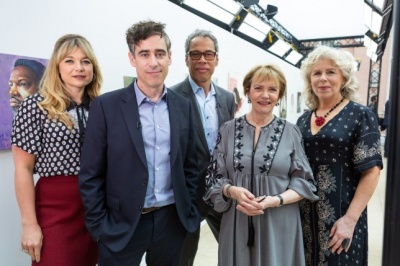 An excellent likeness of Kate Bryan, Stephen Mangan, Tai Shan Schierenberg, Joan Bakewell and Kathleen Soriano
After two years in the portrait shape, Sky rotated the canvas to produce Landscape Artist of the Year. This tours the country, featuring eight contestants in each heat, together with 50 "wildcards" - a wildcard winner from each heat goes into a pool from which the judges select one to go forward to the semi-final. Competitions ran in both orientations from 2017, with the Portrait series settling down first at the Wallace Collection in London, then from 2019 at Battersea Arts Centre. Portrait series finals have been held at the National Portrait Gallery from the start.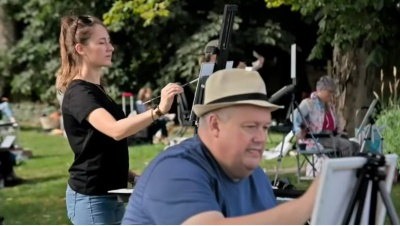 Wildcards at work
With the adoption of a regular location, the 2017 competition saw the Portrait series settle into its now-familiar form, with only three artists painting (or in some way depicting) each sitter instead of four, and the big reveal of the portraits to their subjects given its due prominence; the earlier series now look incredibly rushed in comparison.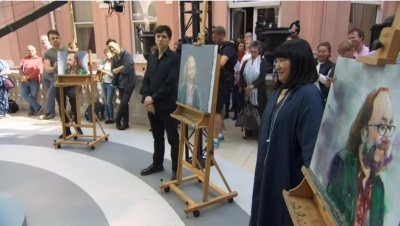 Three artists reveal their portraits of Dave Myers
The calibre of sitters remains high, even after all these years; there's the odd "up and coming" actor in the mix (largely to balance the fact that their natural pool of subjects generally skews older), but the prestige of having one's portrait painted, and the fact that they only have to give up one day to do it, enables the show to attract an enviably high proportion of "household names", people whose achievements are measured in gold plate - be it medals, BAFTAs, framed records or Blue Peter badges.
Channel 4 bought the series in 2019, as part of a wider content-sharing deal with Sky. The 2020 COVID-19 pandemic resulted in a few changes, with that year's second Portrait series being socially-distanced, audience-free, and with Stephen Mangan hosting solo as 87-year-old Joan Bakewell was shielding. Bakewell fronted the audience-participation spin-off Portrait Artist of the Week (a sitting livestreamed on Facebook with Sky Arts joining in for the last hour, after which viewers can submit their handiwork with a winner declared the following week) from home, and was still able to join Mangan for the Landscape series as it is, naturally, filmed almost entirely out of doors.
Trivia
Kate Bryan was absent from three episodes of the 2019 Landscape series (two heats and the semi-final) due to the birth of her daughter Juno - whom she brought along to the final, to much ooh-ing and aww-ing. The three-year-old Juno appeared again in 2022's Christmas celebrity portrait special when three generations of the family were present, with Kate's mum turning up to supply the painters with her own homemade mince pies.
Joan Bakewell missed the 2023 Landscape semi-final and final as she was undergoing treatment for colon cancer, so Stephen Mangan again hosted solo. Bakewell returned for the unveiling of the winner's commission.
When Gareth Reid won the 2017 Portrait series, the prize was a commission to paint Graham Norton for the National Gallery of Ireland. As part of his preparation, Reid watched Norton's episode of Who Do You Think You Are?, from which he discovered that they had a shared ancestor and were in fact third cousins. Norton noted that his family wasn't one where there were typically lots and lots of siblings, making the coincidence even more surprising.
The potentially somewhat intimidating painting that the sitter for the Portrait final is always posed in front of is George Hayter's scene of the House of Commons in 1833. One of the National Portrait Gallery's earliest acquisitions, it includes among its 375 figures ten past, present and future Prime Ministers.
The 2022 Portrait final was held at the show's regular home of Battersea Arts Centre rather than the traditional final venue of the National Portrait Gallery due to the latter being closed for refurbishment. The unveiling of the winner's prize portrait (which happened to be commissioned by the NPG that year) took place at the National Theatre, considered an appropriate venue given that the sitter was Sir Lenny Henry.
Eddie Izzard used a 2020 episode to request the use of she/her pronouns. Well, sort of. It wasn't meant to be a permanent change, just an on-the-day thing, but an explanation of this got cut for time and she ended up stuck with it.
Tying in with Sky Arts' "Access All Arts" campaign for schools, a 2023 Portrait special was billed as "celebrities v kids" and had six children painting alongside six celebrities, though the only competition was among the celebrities. The children's finished portraits were shown but not judged, and no winner was named from among them.
Champions
2013 (Portrait)
Nick Lord
2014 (Portrait)
Christian Hook
2015 (Landscape)
Nerine Tassie (as Nerine McIntyre)
2016 (Landscape)
Richard Allen
2017 (Portrait)
Gareth Reid
2017 (Landscape)
Tom Voyce
2018 (Portrait)
Samira Addo
2018 (Landscape)
Jen Gash
2019 (Portrait)
Duncan Shoosmith
2019 (Landscape)
Fujiko Rose
2020 (Portrait, March)
Christabel Blackburn
2020 (Portrait, December)
Curtis Holder
2021 (Landscape)
Ophelia Redpath
2021 (Portrait)
Calum Stevenson
2022 (Landscape)
Elisha Enfield
2022 (Portrait)
Morag Caister
2023 (Landscape)
Finn Campbell-Notman
Celebrity editions
2019 (Portrait)
Jim Moir
2019 (Portrait)
Fenella Woolgar
2021 (Landscape)
Tomasz Schafernaker
2022 (Portrait)
Jason Merrells
2023 (Portrait)
Leigh Francis
Theme music
Nick Harvey
Web links
The show publicised the hashtags #PAOTY or #LAOTY as appropriate.
Feedback