Lisa Rogers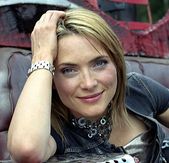 Biography
Probably best known for Scrapheap Challenge, Lisa Rogers studied drama to degree level and worked in a chocolate factory before moving into TV as a researcher for shows including Johnny Vaughan's hidden-camera show The Fall Guy and Light Lunch, where Dermot O'Leary was also working behind the scenes.
Being mad on football and cars, she hosted Football Fever and 45 Minutes of Football before landing the job of presenting Scrapheap Challenge. She's also done some acting in the series Lock, Stock... and what was apparently an "acclaimed experimental film short" (no, we've never seen it either) The Life of a Lighter.
Trivia
While appearing on the late-night Danny Kelly-helmed sports phone-in show Under the Moon, Rogers (then aged 19) took one piece of clothing off each time England won an international. So she maintained her modesty, natch. She has appeared naked on television though, and on daytime TV to boot - for Channel 4's educational series Self Portrait UK, in which various celebs created their own self portraits. Lisa chose to do this by stripping bare, covering herself in paint and lying on a big sheet of paper.
Contact
Take 3 Management, 110 Gloucester Avenue, Primrose Hill, London NW1 8HX
Web links
Take 3 Management's Lisa Rogers page
Feedback