Pyramid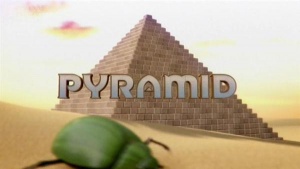 Host
Rhian Temple
Broadcast
Boom Pictures for S4C, 8 September 2014 to 25 April 2016 (44 episodes in 2 series)
Synopsis
Eight young contestants are challenged in a series of physical, mental, and screen-tap games. The most successful at the end wins a prize.
The show begins with a long run of quiz rounds, reducing eight contenders to four. These players take part in head-to-head video games, doing things like finding the hieroglyph in a series of rings, and shooting balls at targets while avoiding the beetles.
Winning any one game qualifies the player for the physical challenge. One example game gives clues to open locked boxes, another game has players taking blocks from a wall without causing it to collapse.
The winner of this physical game goes through to the final. Everyone else takes part in one final quiz round, and the winner makes the final. That final round is mathematics involving hieroglyphs.
Pyramid has all the little details in place: the set meets the stereotypes of ancient Egypt, and the beetle motif is used throughout. Unlike Boom's earlier appalong shows Ludus and Y Lifft, we didn't get a compelling story through the show.
Web links
See also
Feedback